Here's the file.

Nice example and thanks for sharing.
Thanks Mick, I'll bookmark and check this later, looks interesting.
:)
J

Thank you!
Kewl
Many thanks!
nice file! Thx! :)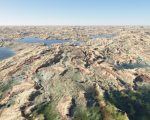 Thanks for sharing!
Mighty nice - and generous of you to share! I'll bet I can find a use for it.
Thanks for sharing ! Appreciated !
Paul