Hope you have birthday or something like that, Oshyan... this is for you! ;D

https://1drv.ms/v/s!AvEpmvBUHi6qgrw8arYOuvPTJB4TGg (https://1drv.ms/v/s!AvEpmvBUHi6qgrw8arYOuvPTJB4TGg)

The Airwolf model is from "dartiste" on cgtrader (the artist I got the Airwolf suits from, too) and was fortunately for sale :)

This is in fact really only a test, if my skills are meanwhile high enough to animate the rotors of the helicopter for a stert procedure in blender. It was a little challenge to get them started slowly and increase the rotation speed (after the other challenge: to find - or better to correctly define the rotation point of all interconnected objects)

Now it is official! you'll get an Airwolf scene in my film :)

In the next months I will choose a nice hangar as the "Starfleets Warehouse 13a" where the helicopter is hidden... then go back to school learning about squarenoise rocks and deserts in TG... and so on....

But I hope you have a little bit anicipation with my little experimantal Blender-Export :)


... I almost forgot:
The pilots of course wear helmets... safety first :)

[attach=1] [attach=2]



...sh*t! I saw it in this second... this very evil main rotor makes itself independent! ::) ;D ... I'll have to fix that...
Awesome!
Thanks Ulco :)

I already found the mistake: I confused global and local rotation and orientation of the objects...
By the way I changed the start to a start straight through the roof of the planned warehouse... (a bit closer to the series I think)
Additionally the tail rotor had to be speeded up before lift of... Or we would have driven carousel until we puked ... :P ;D

The camera is less moving this time because I wanted to see if the slight springing back of the landing gear looks reasonably good... I'm satisfied... for today!... ;)

Fasten your seat belts and enjoy the ride...

https://1drv.ms/v/s!AvEpmvBUHi6qgrw9pkSA-9XLUO8kuA (https://1drv.ms/v/s!AvEpmvBUHi6qgrw9pkSA-9XLUO8kuA)
Well, I did!
Impressing!!!! Good job. You can clearly see, that it will look absolutely convincing with the appropriate lighting and motion blur!
Oh hell yeah!!! My birthday was back in March, but I'll consider this a late present, and thank you very much. :D

- Oshyan
Thanks and nice to know that you like the concept, Oshyan :)
Big experiments these days...
Just for finding an adequate surrounding for the helicopter start I was shopping last week again ;D
My shopping list:
A set of canyons from the shop of Luc Bianco.
A Big Warehouse - I found a great modular pack wit some additional stuff by igblocks on cgtrader
Some lockers by weeray on cgtrader
and some office interior props by GamePoly on cgtrader
The biggest challenge was to get an oval funnel into Luc's canyon without destroying the node network in TG. I still don't know how all nodes work but I have now what I wanted. The warehouse is built into the mountain now. I will see how the border looks better: some concrete construction or overgrown with dead ivy and more dry plants...
The warehouse had to be modified. I cut a hole into the roof and the metal structure to get a kind of sunroof that will open when the helicopter starts or lands.
Later I'll add some stuff outside the warehouse like a few smaller sheds, unnecessary junk and all that stuff. An because Nadine is one of the pilots, there unfortunately must be a few small flowerbeds around the warehouse... nice and clean gravel paths... you know... ;)
This part of the film project will last quite long. But first steps are done. Here some Test renders from inside and outside:
The basin with the hangar in the overview:
[attach=1]
and closer:
[attach=2]
almost inside:
[attach=3]
...and when the roof is closed:
[attach=4]
And here is a concept how the helcopterstart could work - just a quick Blender-Render export to test if the helicopter ever fits through the roof opening.
See for yourself: ;)
Comment: It's a not listed "secret" YouTube link I showed Nadine yesterday because it was her birthday ;)
It's all sooo cool, you even moved the little chopperwheels at takeoff! Congratulations, Nadine! And Nils, of course ;)
Amazing!! That looks so cool! And congratulations from me as well.
Yes, this looks like exactly the sort of place Airwolf would hang out! :D Also the interior of the hangar/warehouse looks surprisingly good! The whole scene does. And finally, Happy Birthday to your co-pilot! :D

- Oshyan
Looking really good!!
:)
Thank you all :) I forwarded the birthday wishes already ;D

Now it's time to wait, untill my brain has place for the detail-ideas and is relaxed enough to go on with this... it's full of other stuff at the moment so e.g. I still didn't finish the Galactica Bridge scene so far, I have to re-render the Dancing Borg-Queen because of the - I call it "MIXAMO-upgrade problem" ;) ... and some more things.

...and I hope this week a many months render will be finished ... surprise ;)
An update of the environmental development...

[attach=1]

A third person will appear but I first have to generate his face - my oldest and best friend agreed to take part at this :) So I just added a second "me" as placeholder.

Some cars from my collection:
Aston Martin DB5 1963 from archive3d.net
Volkswagen Type 2 Black by 3d_molier International on turbosquid

Most important was the gravel on the place in front of the warehouse. Just my traditional combination of fakestone layers.
I added the first pops of my animated Wallis dry reeds.
Some pops of dirt items like rotten leaves, branches and old grass.
Also I used the ivy generator again and exchanged the original leaf textures by dry and rotten leaves or kept them out by setting opacity to 0.
Some boxes for Nadine to sit on: Sci-fi box 3D model by SkilHardRU
An some more stuff .. and a hidden "whatsit" you must find out on your own... I thought in a "Warehouse 13A" it MUST be there :)

in the coming weeks and months I'll care about some metal fence and what's around this area...



It's already looking quite detailed. I remain stupidly excited about this scene ;D

- Oshyan
Great update!!
And again a great sublimation of stuff, very believable. One tiny suggestion would be to make the walls and glass dirty. Especially lower end where the veggies grow would have some algae and dirt.
Grafity on the walls? Would be a nice means to tell people something.....
I understand ...like this... :)

[attach=1]
:) You made my (birth)day!
Oh really - today? Happy birthday, Ulco! 8) :)
... means you're 3 days younger than me? ;) ;D
Thanks Nils. Is that so? Great, so happy birdthday to you too, though 3 days late :P
Thanks Ulco. What a funny coincidence :)
Have a really nice rest of the day. Hope you'll have a nice party tonight and drink one for me :)
Thanks. I certainly will!
Nicely done Nils. 8)

And Happy Birthday to both of you birthday-boys. Cheers. :)
Guess who is the oldest Gemini, 5/28/51. Happy Birthday to us!

Nice work!
Looks fantastic, Nils! And happy birthday to all!!!!
Wow, quite a birthday conflagration. Happy birthday to all of you!

Also the graffiti is a fun addition, definitely helps with realism (and more humor). :D

- Oshyan
This is so cool! Love the takeoff animation. I liked Airwolf when I was a kid. Haven't seen it in decades.
I'm looking forward to see the next steps ! :)
Thanks all :)
Luc, I hope I use your tgd appropriately ... but looks promising so far :)
At the moment I am on several construction sites at the same time. I had big problems to correctly animate the helicopter parts. Each part made just what it wanted and I was really about to despair.
But finally I have the animation itself ready now and I can take care of scenes and props.
Here the first time that the rotors rotated correctly for the first time without deforming of the individual object parts:
Here some testshots of the terrain:
I had to do little changes in the original canyon tgd: find all reflective shaders, set them to minimum reflection and deactivate specular highlights. So I hope to reduce flickering to a minimum and I already could increase render speed about 5 times! Very important for rendering 1000 frames ;)
Here the final tests of a camera pivoting on the forecourt of the "Warehouse 13A".
[attach=1]
[attach=2]
[attach=3]
As you can see I added some more props and the gate doors are beautified with some graffity now, too :)
In parallel I work on the warehouse interior and the artifacts inside (I don't know if you know about the TV show Warehouse 13 - I needed some seldom and strange, dangerous or famous vehicles for my "Warehouse 13A":
And last but not least a few small side actions are needed: In fact this is one of the most important scenes in every Airwolf start sequence ;D
...Did you know Christine and did you recognize her? :)

But there are not only dangerous types - there are "nice" artefacts / vehicles as well...
Perhaps someone knows this old friend:

[attach=1]

the darkness is intended -- it's the time before the Airwolf crew arrives and all is offline in the darkness of a mysterious "Warehouse" of the Starfleet.

A little bit I am proud of having textured and painted Herbie on my own. The render-ready Herbies cost 70 $ minimum... I found a nice beetle for 5 $ and I freely modeled the paintings and design after a few photos from the Internet. Hope you like it, too :)
ohh and the car from Knight Rider! My favorite show... :D
Knight Rider and Airwolf together!? The fanboys will riot! 😄🤣

Really looking fantastic though. And did you path trace the visor scene?

- Oshyan
Thx :)

No Oshyan, so far I still stick to 4.1.24 because my maintenance period was over before the updates came out.
At the moment I had to renew some PC equipment with my budget so I am waiting for some special features before I will invest in software: like object motion blur, some more lense flare options... ;)

But anyway I am in absoltultely desperate learning and researching stress with the outside scenes here... the light conditions combined with very variing model quality in a procedural canyon like this and my as usual extreme camera paths will cost me many many weeks of testing and rerendering again and again.

Most annoing is that sometimes mistakes appear in higher resolution /AA renders at first time so that all testrenders - even animation tests are almost useless...

At the moment I am learning and experimenting with Ray Detail Region, funny popping up shadows of mountains wihich even don't exist... flickering reflections though switched off spec highlights (at first it seemed only to happen with self illuminated objects with a value above "1" - but now I found out it also happens if light sources illuminate surfaces highly even if the light sources are set to don't cause spec highlights)...

...besides there's Murphy's law! Usually you find these mistakes only after rendering 2-4 weeks. The corrections you have to do are always those kind of changes which force you to a.) rerender the complete 500 frames animation from the 1rst frame. And b.) the changes additionally force you to rerender 5-10 other animations because light conditions or props change in a way that you can't keep the other animations for logical or script/plot- reasons... :P ::) :-\


Just too many construction sites to work so that I am not interested in any new features - sorry :)

But I'll try to not give up... all that has just grown too big...



... and it grows... because in a canyon THIS TV SHOW HAS TO BE MENTIONED:
[attach=1]

I found the foto of this sign in Internet and I just wanted it ;D
That means this sign in a bit different way does really exist!
...only an experimental still shot ... You may guess who will appear behind the sign a few frames later passing over... ;)
...no story planned only passing the scene. Otherwise it would destroy the film script...
Warehouse 13A?
One more sci-fi theme worked into the mix. Love it! :D :D
;D Don't get overworked, Nils! I truly wouldn't want you to get sick or anything bad!!
;D Haha, nice sign.
Beep beep!
Hahaha! The coyote sign is fantastic.

- Oshyan
LOL!
Perhaps some of us can help to render some frames for you?
Thanks all :)

archonforest thanks for the offer - That would have been possible at the beginning about 6-7 years ago. Meanwhile my home network and so my paths to the models as well are so compülicated that it would not make sense. For the helicopter start sequence render there're approx. 6000 different objects on different servers with additional 3000 animated illumination maps... Here I have a strange kind of overview where everything is ... I don't know why --- usually everyone incl. me should get lost in my object and texture chaos ;D

Anyway meanwhile the real problem is not the render time it self - it's my skills which are lower as your compliment let me sometimes think. I too often make mistakes and have to rerender because of stupidity (or just missing knowledge or experience)

But thanks for the offer :)

...and of course a little update:
I hope the final version of the coyote warning... some rusty bolds and some more dirt...
Animation is rendering:

[attach=1]


... and many more will follow ;)





In the meantime, hopefully, from this perspective I will get a largely flawless animation, too...
Last but not least, I did without the exaggeratedly clean chrome parts to get rid of the flickering and it's a bit more realistic. Fortunately I found out the correct car license plate for the Austin... Of course, the license plate is self made even though it was not easy to get the correct font.

Only some 0.2 detail x AA2 renders of the 550 Frames anim:

[attach=1]

[attach=2]

[attach=3]

[attach=4]

[attach=5]

The lamp on the right side will look a bit better finally. I have modified the textures a bit :)
Beautiful!
This is looking very good
Big wow! 8) 8) 8)
Thanks

but at the moment despair is regaining its upper hand.
Since 3 days I try to find out why THIS happens:
(I rendered only with Detail 0.2 / AA2 since the problem arose)

Fame 1 ok...
[attach=1]

Frame 61 ... what the... is this?
[attach=2]

From 65 some frames ok again... then again the "blue hole" where the landscape is not rendered.
And it's always at the upper borders of a render bucket. (a smaller defective area is beneath the radio tower)

I already tried:
change camera position: Result --- mistake moves just to some frames later in the animation
I tried all setting versions of Ray Detail Region: Result: no change
Different settings for Ray Detail Region padding: Result: no change
Different settings with GI without GI. Result: no change
Cropping the region: Defective area gets smaller! - but doesn't goes away.

Now it blows me away: Rendered the bad frame 61
And only because of my suspicion of a context with the bucket borders, I have changed the preset bucket size of 256x256 to 512x512:


... this frame was ok now...
does anyone know, what is going on there? I found nothing about bucket settings here https://planetside.co.uk/wiki/index.php?title=Render_Bucket_Controls (https://planetside.co.uk/wiki/index.php?title=Render_Bucket_Controls)
And does this workaround make sense - or will my workaround cause the breakdown of the whole internet, worldwide power failure or world war 3?







This is most likely due to extreme displacement and you need to increase Displacement Tolerance in the Planet node's settings to fix it. It will increase render time. Start with a value of 1.2 or something. You can try up to 2, but above that the render time hit can be pretty high. And keep in mind this issue unfortunately may not show up in crop renders, so you will need to do full frame tests to make sure you've fixed it. On the plus side (maybe), you can return all the Ray Detail Region, GI Padding, etc. to what they were before, they're not responsible.

- Oshyan
Thanks Oshyan, I'll try that, too.
A the moment just for test I render the animation in steps of 10 frames with my 512px buckets...

So far no police ringing my doorbell, I hear no alarm siren in the town and the street lights keep working ::) ;D
Besides I don't have rendertime changes so far and my PC RAM isn't as close at the 16 gb limit (the smaller PC) as before with 256px buckets.
Before the memory was @ 98% usage - now 89%

Can what you suggested also help against the problem with popping shadows? I guess the canyon with it's complexity is predestinated for problems like this?
Not sure about popping shadows, it depends on where they're coming from. But given that you are getting geometry flickering in and out of renders, the shadow issues could be due to similar problems (displacement tolerance).

How many cores/threads are you using for rendering? Is your CPU use still near 100% with the 256px buckets? And did you uncheck "auto-reduce"?

- Oshyan
The resource monitor says 28 threads, 8 cores and yes auto-reduce off. CPU usage decreased to 80% now what sounds logic because each frame has less buckets to render now at the same time. I fear that is less effective.

...uups!

ok - now I'll test your suggestion - my experiment just moved the problem again. This time from frame 61 to frame 71...

Ok... test is running - I'll look tomorrow in the morning and give you info if the problem is solved.
37 threads, and 100% CPU now again...



Yes, exactly, that's the thing with increasing bucket size: fewer buckets rendering simultaneously, especially on high core machines (which it sounds like you have :D).

- Oshyan
The test results looked good this morning (no missing parts) so I restarted the anim render. That means waiting and watch out for mistakes ... I hope there don't appear further errors... cross your fingers! :)
Fingers crossed! :D

- Oshyan
Oh thanks, Oshyan - in this case, thank you for support and fingers crossing, and a little "reward": here is an omitted scene - or a scene that will appear absolute differently in the finished movie ;)
Hah! Fantastic. :)

- Oshyan
;D
;D ;D 8)
Very cool!
ok, that was funny. ;)
Haha! That was awesome! Super cute. I love Wile E Coyote. My grandfather made him "real" for me. He always had stories of what Wile E Coyote was up too out in the south. Spotting him on his drives up to see us. Magical memories.
Quote from: Oshyan on July 08, 2019, 02:33:17 pm
Fingers crossed! :D

- Oshyan

äähemm... I assume you only crossed one finger not both - right? ;D
Unfortunately on one side the test renders were ok (10 frames steps) during the render the "critical frame61" was ok too, but then the frame 62 had that problem... ::)
I had to increase Displacement Tolerance up to 3 until the problem was fixed but now it seems to be solved completely! :)
Another big fortune is that changing Displacement Tolerance didn't have any effects on the general appearance or color or brightness changes. The animation could be seamlessly re-rendered without repetition of the first 61 frames. :)
The Helicopter start sequence was at frame 746 of 1000 this morning... It is finally an end foreseeable!
Some new little additions in my pipeline:
Does someone know who from this forum could have been this Graffiti artist??? I can't read it exactly... something with "..co was here"
[attachimg=1]
... only a little tribute ;)
This is part of two planned animations: Before anyone can fly the heli, first some pilots must arrive.
First part is just for information, that someone is coming.
The second part is intentionally NOT realistic! I want it a bit like some "Hero-scenes" from movies.
https://1drv.ms/v/s!AvEpmvBUHi6qg402KakAMX6hU7isvA (https://1drv.ms/v/s!AvEpmvBUHi6qg402KakAMX6hU7isvA)
Rendered frames:
Outside:
[attach=2]
View frominside... Totally exaggerated glorified arrival ;D :
[attach=3]
[attach=4]
Here the RAW Test in lower quality but via YT in 460p easier to watch:
Hah, the fellow on the left has quite some "macho" (very big) arm swing. But otherwise looks excellent.

- Oshyan
Super!
Ok, Oshyan... last night I met Heidi Klum, had some lessons in male catwalk and this morning I restarted the render...
I do not want to embarrass myself again as much as the day when I was stumbling on the Galactica bridge! ;D

Besides:
Helicopter start animation now at frame 796 of 1000.
At 801 the next critical phase of the render job begins when the real takeoff of Airwolf begins and bigger camera movement could cause complications... ::)

The render job with the camera movement top down in the rock basin works still without failures though almost double rendertime (as you predicted)
Sooo cool!!!
I'm glad it's all working out. And don't take my minor criticisms too seriously. I would not want you to have to redo even more render time! It will look superb already, I know. :)

- Oshyan
Nice to see you back Hannes. Already missed you and your ideas :)

No problem Oshyan :)
In this case I was undecided these days, too. But when I read that you saw the same strange walking style like me, I decided to change it. Today fortunately my new i7 8 core (9th gen.) finished it's job with the front view of the hangar so I have that ultra fast device to render really really fast. While all my older i7 PCs (4th gen.) needed 30-40 minutes - the new one only needs 11 minutes per frame!

My second oldest (favorite) i7 died the last month so I had to do some changes in my network.

... OK I must admit 5-7 years is a long time for my PCs to run 24/7 nonstop -- on 100% CPU ;D (But I think this stable average usage is better for their health than always changing usage - at least thats my impression)

Fortunately I could take the complete ssd + hdd out of the dead PC and it runs now slowly but smooth on a reserve board I had with an old i3... good enough for constructing some scenes but slow rendering of course. And all files - even all the software is safe and step by step I can move all software and their licences to the newer PC...
Sounds good. Glad you did not change it just because of my comment.

- Oshyan
Good to hear that you could save all files and run much faster now, Nils. Sounds really like a cool machine. But what actually died in the old one; MB I guess?
I guess, too it was the MB. I had no time so far to do experiments. But the cpu fan didn't work any more. ...No try of the board to access the hdd...

Quote from: DocCharly65 on July 13, 2019, 02:30:33 pm
Nice to see you back Hannes. Already missed you and your ideas :)

Thanks Nils. I was on vacation for a fw weeks.
... what if you chose the place for your animations in the red rectangle...
[attach=1] [attach=2]
Is there a chance to integrate that straight border into the animations?
YESSS!
I remembered an animation tgd, I got from Ulco some years ago. I never finished and still now I don't know how most of the nodes work ;D ... but... any idea where this goes, Ulco?
Somewhere we have to start...
[attach=3]
...but then...
...we are here...
[attach=4]
A close view from a very different POV:
[attach=5]
... and that's it... a small addition :)
I hope it's an adaequad usage of your tgd, Ulco, I avoided changing much so I hope I didn't destroy any functionality.
Because of all the problems that crop up again and again on all renders (I had to throw away 200 frames again, which were crap), comments are welcome. Critics will be noted and ignored to the best of my knowledge. ;) ::)
Great use of that file, Nils! Love it! Btw. the hard line is just the image map border, which can be softened. But I guess you know that.
Thanks Ulco :)
Yepp... I already thought about smoothing the heightmap - but that idea came after I had finished too much of the other renders. So I didn't want to risk procedural changes within the "hangar"-area.

In this case I am happy because I could bring in your waves animation with your original rock as resting place for a lazy seal :)

I almost forgot:
The Seal is an animated model by Billl90 I found on CGTrader
I subdivided, smoothed it and changed the animation a little bit.
The seagulls are animated versions from 3DRT
This is really fun to watch come along. Always fun, something cool or funny to see, or just some great use of keying.
I think this looks pretty great! The wave motion is really pretty good considering it's not a dedicated wave function/simulation but some procedural wizardry.

- Oshyan
Quote from: Oshyan on July 19, 2019, 01:59:26 pm
I think this looks pretty great! The wave motion is really pretty good considering it's not a dedicated wave function/simulation but some procedural wizardry.

- Oshyan

Yeah, in the beginning it almost looks as though the waves are hitting a zenith and falling on themselves to the left of the rock.
Thanks friends. --- Ulco I pass the recognition on to you of course! Your waves --- your praise! :)

In approx. 90-95 hours the big 1000 frames animation render job should be finished. At frame 920 I found another mistake and had to go back to re render from 800 to get the change seamlessly integrated...

Still not listed (waiting for permission for the music)
But the 1000 frames monster render job is finished! :)
Welcome my old friend Sgt. Baskim Abazovsky as Nadine's and my boss ... and don't try the code! NSA will ring your doorbell within seconds if you do! ;D ;D
still much to do but I'm just in the mood to share my actual happieness about another little step - have fun:
In the meantime I am working on a workaround to get the rotors blurred - and ONLY the rotors!... another 2000-3000 frames plus the sam amount of masks to render but it seems to work. That means at least technically I found a solution but I don't know if it looks good untill it's finished and cut and blended and mixed...
I found the solution when I tried to find a masking solution to get rid of the sun shining through the helicopter in the last 100 frames of the start animation. I must strictly divide the render jobs because of the different camera settings per object and had many experiments to do with the renderlayer node... I should have tried this earlier ... but my learning curve has it's own will ;D
Now again... cross your fingers. Not that it works - because it does - but because I don't know if it will look good.
If it doesn't look better than what I have now it's no catastrophy but a pity for the effort.
You're the 8th World Wonder! Absolutely stunning. I am much in awe of your skills. The little details (rodent, etc) are awesome too, love them.
Wow, this is very very cool!!!
Amazing!!!!! I love all the little details. Awesome!
8) Great effort, applause. :)
Hello DocCharly65,

it is really hard to believe that this is a ONE MAN SHOW!!!
Does your day have more than the 24 hours the rest of have to deal with?

Time to comment once more how much I like the stuff you do.
And how much I am impressed what is possible with TG it seems.
The ideas, concepts and the fine litlle funny details. But most of all I like your camera animation work, I think.
The movements look very much film-like to me. I enjoy everymovie you release.
Actually so much, that I don`t care that much about a possible final cut :)
Keep`em coming!

CHeers, Klaus

Lots to hard work to look at ! NICE
Thank you my friends - your praise is an honor and pleasure :)

Ulco I can only repeat: thanks to you because of the animated waves, Hannes with his tipp about mixomi-anims or Luc Bianco's canyon. What I'm in fact a little proud of, is that I didn't destroy the tgd's completely and that I like to (and luckily can) tell stories with little trivialities ;) Seems my real and biggest talent is to hide imperfections of my true TG skills by these trivialities ;D

But in any case your encouragement and all this confirmation again and again gives me strength, ideas and a feeling of home in this forum.

Making the Airwolf scene will last a little further. The YT video is only the concept I just cut with the MS Moviemaker.

I'll add some more seconds of details while the pilots are getting into the Helicopter. The rock basin will be introduced and of course you'll get a more detailed tour of the Warehouse entrance hall with some of the artifacts. Unfortunately I still lack the time and the skills for a complete tour (as evrybody knows, Warehouse 13A is still miles long in the rocks, where the really rare and dangerous artifacts are stored ;) )

Recently added animation idea: The first look inside the Warehouse will fall on this plate and zoom back until Airwolf is completely visible.

[attach=1]

Later but I am not really sure at this moment something could appear from the dark depth of my brain... something like a little conclusion what happened to the coyote while the helicopter started... only a short sequence about the result of his actions - no more details today :)
Echo what everyone else said. Simply amazing work! I especially like the spider being blown away from the wind. :D

- Oshyan
Thanks Oshyan :)
When I had the idea I was almost sure that the spider would make you lough ;D
Hah! You know me well by now. Especially this whole Airwolf sequence tickles me very much. :D

- Oshyan
Quote from: Oshyan on July 26, 2019, 01:45:20 am
Hah! You know me well by now. Especially this whole Airwolf sequence tickles me very much. :D

- Oshyan

I saw the spider and the debris move and was like "Not the spider!" haha
Only a little coyote update today...

You already know our little friend made of plush and his slight affinity to explosives and boxes with the inscription: ... well you know ...

[attach=2]

usually I would have preferred to keep it secret as long as possible, but I don't want to be forced to re-render a complete scene because of too weak-minded lettering ;D
I hope it's mostly correct what's written on the backside of the Coyote Warning plate...

In the final film you will not see much more than the count down ... and a clear sound backdrop ;)
... ok - - perhaps you will see a small flash of an explosion in the mirror image of the LED indicator...

perhaps!

[attach=1]
Disaster... cool, Nils. Unless you mean a mix between disaster and demolition ;)
Quote from: Dune on July 30, 2019, 01:19:49 am
Disaster... cool, Nils. Unless you mean a mix between disaster and demolition ;)

... haha ;D
thanks Ulco... I knew I would have a mistake somewhere ??? ;D
...will be corrected tonight after coming home from office...
This all looks incredibly cool!!!
Thanks masonspappy :)
At the moment I have to be very very patient because there are many renders running and I don't want to find too many little changes to do too often... ;)
Just a little hint what will come... (but not only that... :) )
A little craftsman lesson... Believe me! THIS WILL NOT WORK!!!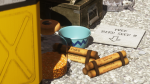 ... and here the irrefutable proof!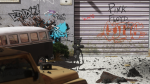 ;D ;D ;D ;D
I justed noticed the portal robot dude :o hahaha Notice something new every time. I tried to upload a screenshot of him all zoomed in on my phone but figured I'd spare PlanetSide a 4k PNG screenshot. :O Yikes. I wish I could change that without going into image editors.

Also new post didn't take me to the new posts..... Omg love the latest two snapshots.... lOl. Also I really like the feed in the jar for some reason. Looks really good.
;D Poor old Wile E., but maybe he needs it.
Thanks :)
In fact I am thinking about giving the coyote a central role in the final showdown... I guess it should work, because I will need 7-10 years to get there so my skills and the PC technology should be able to manage my idea... I have some plans with a mass brawl ... big fight with the end boss - and the coyote will save the day as the biggest hero... ;)
But for today only a small step forward that unfortunately throws me back a little bit.
I found a solution for a kind of blurred helicopter rotors. It's still not really perfect, but now I can live with it.
But now I'll (have to ;) ) try if this works with the Airwolf start and the flight over the seal, too... many many new frames :)
What I did:
these frames and masks composited: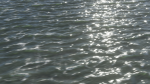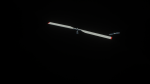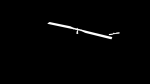 get this as result
this is a test in Corelpaint (the for me affordable Photoshop :) )
Important was to render all Helicopter parts without any blur and add the blur effect (just Gaussian blur) at last.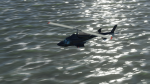 Still physically not really correct because it's not a real motion blur of the rotors but I can live with it. Thinking about the physics of that kind of motion blur (different effective speed depending on the radius) I think I'll give Matt some more time for motion blur of objects -- I couldn't calculate it ;D
The most progress I achieved by finally practising and dealing with the render layer nodes... cool tool! :)
And the final result composited in Magix Video:
Sorry - with consideration for the unexplained music copyright situation unlisted again, so no possibility to like on youtube :)
But the link should work -- have fun...
Getting better and better! Did you rotate the rotor alpha image in an animated way? Maybe you could also load a series of low poly alpha images each fading into eachother in animation, giving a smoother motion blur? Just thinking aloud... maybe that doesn't work at all.
Thanks Ulco :)
The rotors are done with a object sequence of 500 single objects, every one with a rotation according to the true bell helicopter rotor rpm I found somewhere in the internet.
Your idea was one of the first things I tried :) but I guess my video editing software could not handle blurred alpha masks... looked just cheap and wrong.
To finally cope with this scene and bring the film back on, I'll leave this technique as it is for this moment and perhaps do a remake.
Meanwhile just a funny experiment, I did while rendering the canyon scene... Only for people who always wanted to know what Terragen does in a time laps :)
I just took a screenshot every 5 seconds - a constant period of time in which at least the 3D display seems to depict what was done in the renderbuckets:
I found it interesting to see, which areas render very slowly and the times when the areas were smoothed by antialiasing (I am not sure if that is what it really does?)
That's the perfect render speed! ;D
Time again for a check if my concept of the story and the concept of a silent movie will work...
The coming days I'll re-upload the old Magnum animation just as explanation of the story leading to this scene... it will change but not too much...
Have fun :) :
It's amazing! You did it again! ;D ;D ;D
Thank you Ulco :)
But again I was / I am unsatisfied... but this time I chose to offer you a second version immediately.
The problem: No voiceover no professional voice talents and no chance to get any (in this life ;D )
So I decided that silent movie thing. But I think it doesn't work so good with subtitles.
I think they distract too much from the movie.
A new concept: Real silent movie flair...
What do you say? Agree that it's better? ...though a little bit more confusing who say what and when?
Hard to say. The subtitles are indeed a bit distracting. You have to read them and don't have attention to details at that moment. But this is also a bit 'old-fashioned'. Is it not possible for you to have people speak those words?

Maybe ( I think there probably is!) it's even possible to insert text on some website and have a computer speak the words
https://www.naturalreaders.com/online/ (https://www.naturalreaders.com/online/)
I can understand your argument on one side, Ulco.

Funny! ;D - I HAVE that natural reader (full professional version) but I gave up using it since a while because I don't like those sounds.

Getting the right voice talents for imitating known people with special characteristics is not so easy (or really expensive ;) )

Perhaps one day in the future that software from Adobe, I saw in a documantary last year is ready for usage... It was like natural speaker but could scan original voices and use them!So I hope the Charme of silent movie style will help until being able to present the "Director's Cut - WITH VOICES!" ;D

Mhh... if there's something not so pretty and old fashioned - why not exactly celebrate that effect... perhaps I should insert some ornaments on the black text tables like the real old movies had :)
Good idea. Or make it really modern, like graffiti speech.
Ornaments would be nice indeed.
And something to indicate the explosion, maybe musically or with a comic like
boom or bang in a star-shape or so. Just a thought.
Keep rocking Nils.
:)

an animation to recognize (though not directly see) the explosion is already in the pipeline.

Last hour I checked both videos on the big TV and what is unbelievable: The version with the subtitles looks better there.
Maybe the black boards version looks better on small monitors, tablets and mobiles...

Anyway I saw again that the quality of my fast cut Microsoft Movie Maker versions is really crap... :P
Too much stuttering. It's really only a raw test of the concept.

So I'll have to wait until all render jobs are finished and I can test the final cut.
That means the question if I use subtitles or black boards is still open ::)
I think I like the "speech card" version better than subtitles myself, but I'm watching on a mere 15" laptop screen. :D

Regardless it all looks awesome overall! Especially the Airwolf exterior stuff and the Wile E. Coyote character movement. I only wish I could see the explosion. ;)

- Oshyan
Oshyan - promised you'll get a better way to recognize the explosion but not the direct view... perhaps later in some years ;)
And you'll see a tiny little bit more trouble caused by the coyote - An explosion is not the only classic stuff of torturing Wile E. Coyote ;D
And as promised I re-uploaded the old Magnum stuff on youtube.
Some of you will know it already but it is a little help to understand how the story leads to the Airwolf scene.
I described a little bit of the animation's history and the future plans on the channel description.
... or just have fun :)
;D ;D ;D ;D I love that part where he's smoking in his vehicle. And the subtitles here. And all those details!
;D

I first thought, it will be not so easy to keep the titles in the film... on the other side I could keep them as a kind of parody on advertisings in films - e.g. the fictitious TV show "Magum S.I." directly as fictitious advertising in my film. 8)

... and once again --- you have inspired my spirit ;D :)
:)
Sometimes I feel there is only so much I can say how much I love your videos. But I have to keep saying it. :D The humor is great, but without the amazing execution of the environments and animation it wouldn't work nearly as well. I do wish the chase scene sped up a bit more for a better sense of excitement, but it's really well done anyway. :) (and yes the "hotbox" scene is great, haha)

- Oshyan
This is really stunning!!!! These details are so good!
Thanks :)

Oshyan, due to the changes in the "script" I'll anyway have to change the cut of the scene. So I hope I can increase the frame rate in the video editing software. It's a bit tricky to keep the quality - as you can see the raw test cuts I often do with Microsofts Movie Maker have quite low quality and are stuttering extremely. It's a jugglers job with the different frame rates. I basically try to get an average framerate of 25 fps but the software sometimes resets it to 29.95 or 24 or other values and then it stutters... weird!

Yesterday I got the last needed cable to reactivate my old "music studio" for the re-arrangement of the Airwolf theme. On weekend I want to connect the old JBL active speakers I still have in one of my moving boxes :) I already played around a bit with my new Samplitude Midi software... promising but much to do.

Later I'll finish the animation parts showing what happens to Doc's shuttle and the Airwolf. I must take care that I don't change the overall style, quality and look of the scene in the jungle too much with the new possibilities of TG since 2016.

In parallel I finish many missing animations for the first third of the final film: Klingons, the Borg cube, the Valkyries planet...

Also again and again I get some new ideas for details of the story like what happens on the discovery at Jupiter, and last but not least connect all storylines with each other.

That's the plan :)


I'm a little sad that it keeps my TG learning curve a bit flat at the moment, because all these activities mean working on already existing scenes. I hope anyway I'll find time to look into that great new "Function Nodes In Practice". That was something I always dreamed about in the past to find something like this! -- Great idea - that forum part!
Today very close to "topic missed"... :)
But anyway it's part of the way and perhaps the one or the other is interested anyway: A screenshot what is happening on one of my PCs at the moment since two weeks: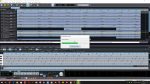 At the moment I check all versions I could cut the Helicopter start and already had to redo some animations I don't like any more. Also of course the sound and music has to be synchronized. I hope with crediting the original composer and having done an own remix I'll comply with the copyright regulations.
This is what I started with:
airwolf basic midifile.zip
I think found it on hamienet.com. *.mid should play on most PCs with sound device and the usually installed General Midi device but it is anyway very basic.
Within the last week I had to re- learn some of my for many years lost midi and music skills. My first aim is not to get a perfect new version but good enough to be not ashamed ;)
The length is almost good, and all track are - let's call it "retextured" with new instruments - some more details and I'll restart a new cut of the Helicopter start. Then integrate the Admirals advise, the introducing of the Warehouse 13A, the coyote's catastrophe - and we're on the finish line of the final version...
The actual version from tonight:
uups... it was too big to be added to the last post... :P ::)
ok here it comes:
Airwolf Theme 191022 0627.zip
Quote from: DocCharly65 on October 22, 2019, 01:56:04 amuups... it was too big to be added to the last post... :P ::)

ok here it comes:

Airwolf Theme 191022 0627.zip

I love synth so, already love your midi remake.
Quote from: WAS on October 26, 2019, 03:36:00 pmI love synth so, already love your midi remake.
I'll do my best :) A better update is already done but cutting the complete scene including the Admiral, Enterprise Airwolf and Coyote is after over 20 hours of work still in progress... not easy to get me satisfied with the result ;)
FINALLLY... (without the Starfleet Center - that's for later)
The final version of the complete Airwolf Scene.
In this case "final" means I will not touch it again in the next time... I hope... ;D
Also I hope I will not get any copyright trouble because of the music. I did the best I could to mention everybody necessary and to give the hint to the non commercial and non profit character of the film.
I added the comments in English and German in the youtube description so I won't repeat it here again... :)
Just enjoy
8) Bravo Nils,
Very well done!
That is bloody awesome again! What else can I say.
Brilliant! All the little details. I love it so much. As an Airwolf fan I miss only one thing...
https://youtu.be/H3J8FiLNEtc?t=103
https://youtu.be/ucsWZD9nHgA?t=89

We need turbo! Hah. Not to make you do more work or anything though. ;) I already love it, it's fantastic all around. Truly amazing work.

- Oshyan
Thanks all :)

;D ...and good news, Oshyan ;) : Because there's planned a chase between Airwolf and the doc's shuttle in the jungle I have already two little additions on my todo-/wishlist: The turbo and some little weapon disaster. But for these additions you'll have to be very patient. First I'll go back to the beginning of the film for a while.

At the moment I'm trying to finish the first third of the overall film introducing the duck-danger... means ducks, Klingons (this time mixamo animated), the Death Star, ducks again, the machines planet with the Valkyrie and the Borg Queen with some new mixamo animated headless suits dancing excessively and playing air guitar in the Borgcube... and even more ducks! ;)
Ah, excellent. I can be very patient! :D

- Oshyan