These days I spend my time mostly in the the animations area but for this there doesn't exist any animation ... so far.
I accidently killed one antagonist of my film in one scene... so I needed another bad boy... ::) ;D
Just the face of Hugo Weaving, the skull of the Skeleton N020309 by Maja Chen on archive3D and the "Wehrmacht officer" by jelenmaciej on Turbosquid...
Then I joined all, played around and modelled the face area a bit in the skulpture mode of Blender3D... and here you are...
My Res Skull Interpretation (provisionally set onto the bridge of my borg cube... ;) )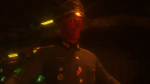 What will happen with this depends on the possibilities I have on Mixamo and some time for my brain to develop crazy new ideas... ;)
He looks like a nice guy :P
Wow, cool!!!! Hugo lost some weight recently? ;D ;D ;D
Thanks ... :)
But I was so sorry for Hugo that I gave him some food and put him in his natural surroundings. I think he feels more at home together with his illegitimate cloned stepbrothers...
And so he increased immediately a few kilos ... ;)
In fact I played around with the skulpture mode of Blender3D again to get some smoother transitions between skull and face.
Additionally I worked on the completely hand painted bumpmap for the slightly rotten decayed and withered cheeks...
I am not sure if I'd better replace all swastikas with the hydra logo... some day I will watch "The First Avenger" again and decide then.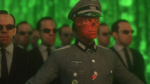 As you can see, this Red Skull model is posed in T-pose because this time I wasn't so stupid to animate the model before some testrenders. ;D
It looks a bit as if he stands behind a desk to make a speech - ok for me at this moment.
...That was important to me ... to get rid of those swastikas. I hope I forgot none. ::)
Then I had the idea to loot my stock of bark textures in my xfrog trees collection to increase the detail level of the rotten skin :)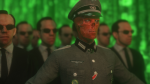 Some day in future I'll give these bad boys a detailed story -- and most important -- a place like a kind of Sci Fi Reactor Room where they can indulge their useless, evil and obnoxious activities... ::)