This is a project I have been working at off and on for the last month or so. I wanted to see if I could map out a large area and get it fairly realistic. I chose an area along the Red River at the border of North Dakota and Minnesota as the DEM data is at a really nice 1/9 arc second resolution. There is also some really high resolution orthophotos for the area to help map out the trees etc.
I started with the DEM data and merged a few quads together to give a nice area. I then brought that into photoshop to start working on the masks. So far I have a river mask, paved road mask, dirt road mask, forest mask, wheat field mask, green field mask, light green field mask and a farm areas mask, as well as bump maps for most of the fields and forest areas.
The full area mapped out is currently around 10km x 10km
There are quite a few things left that I would like to do including better texturing, more vegetation and adding all the farmhouses, barns etc.
Here are a few sample renders from different areas, with more to come eventually.
---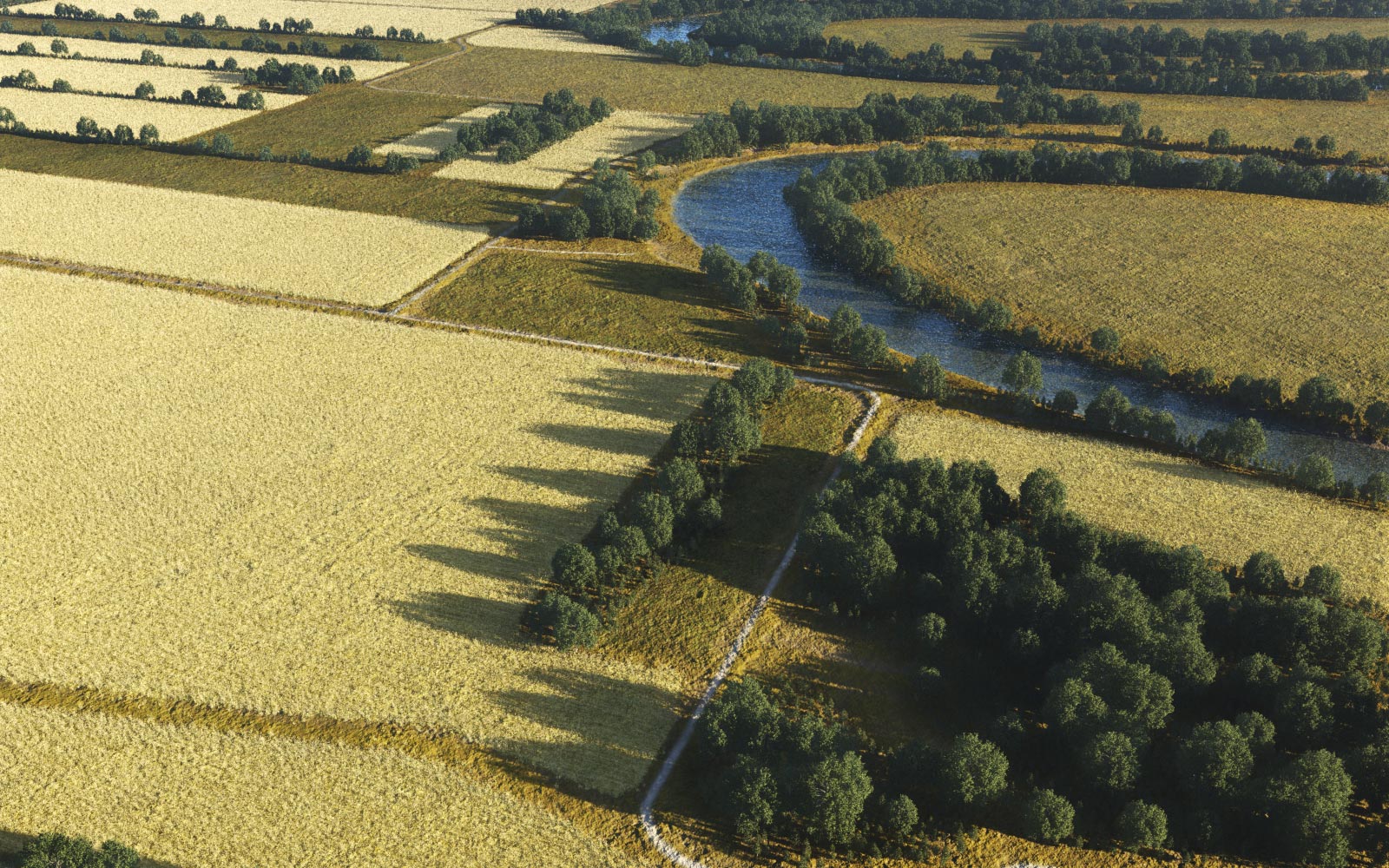 From higher above
---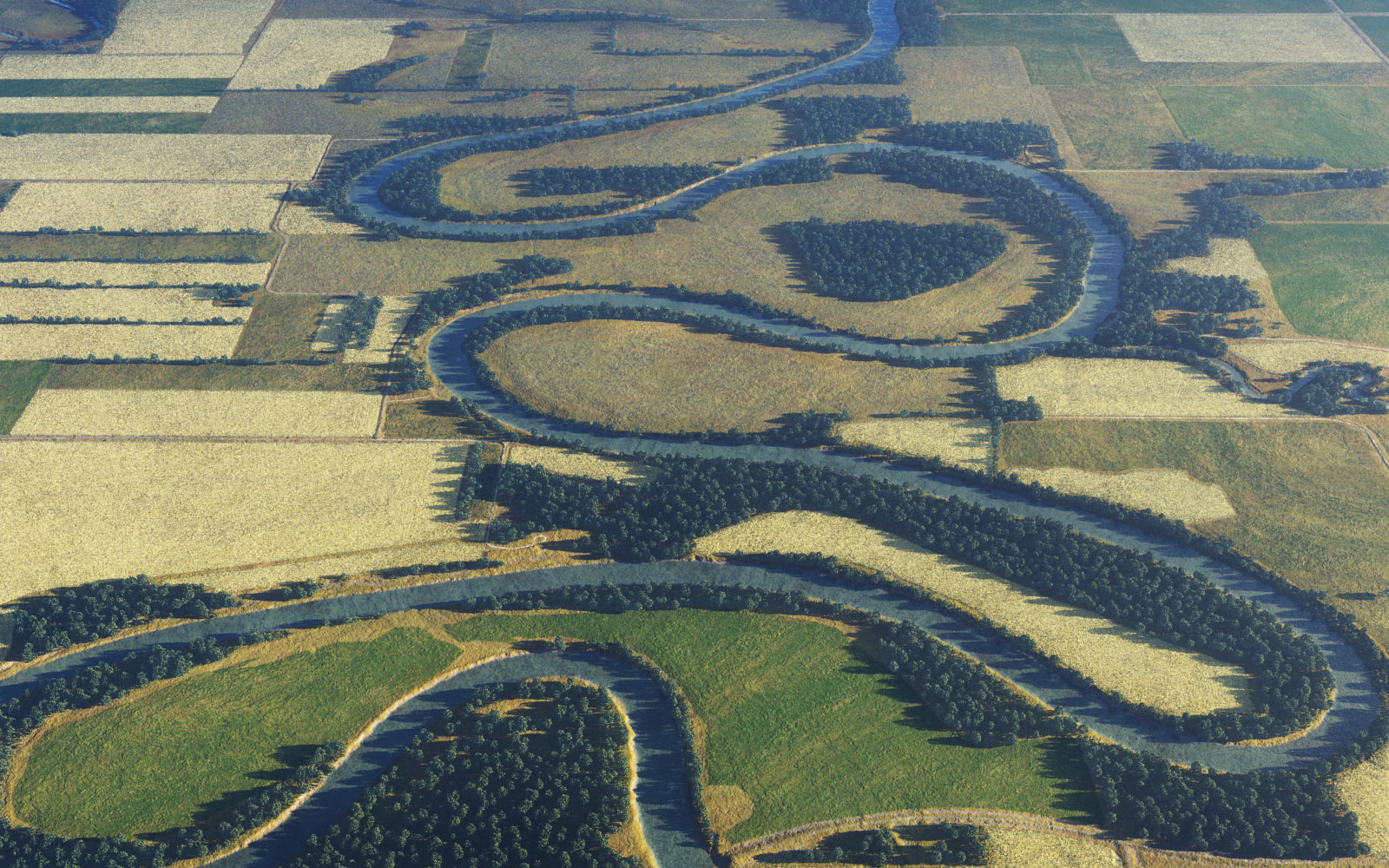 From ground level in a field
---
Oh my !!!!
Very very good Oo
Holy Smokes Batman! This is awesome! I am particularly a fan of the first one but they all are very realistic!
Thanks guys. I'm hoping to get it to the point where I can put the camera pretty much anywhere at any altitude and get a realistic shot.
one comment i have is that the water doesn't look right. I think it needs to be less clear, and have a sediment texture below it, rather than what looks like brown grass. The only other think that I can think of is that there is too much detail/edge in the photo. I would try to lose a little but of the detail in the grass, and add some color variations in the trees. It looks great right now, but more along the lines of a paintings than a photo.
Thanks for your suggestions Alex. You are quite right about the water, I have yet to add any volumetrics/silt etc. The water and roads were also being affected by some of the displacement details added afterward. These have now been masked out to fix the overly rough roads and water.
Looking great. Just a bit "sharp" to my eye (has it been posted sharpened or using a sharper AA filter?). I love the idea of creating a large, cohesive scene and being able to "put a camera anywhere". It begs for an animation. So... what about the render times? ;)

- Oshyan
Oshyan, No post sharpening. I think the sharpness is from some displacements that need to be toned down somewhat. I used the Narrow Cubic filter but perhaps a bit more haze for the distance would also solve some of the sharpness. So far the render times have been pretty good. 1600 x 1200 at Detail 1, AA 5, GI 2/4 have been around 5-6 hours for the aerial shots and around 9-10 for the lower shots. Memory limitations have been a problem so far as I have a ton of high res masks loaded in sucking up the available memory.
I do believe Narrow Cubic is one of the sharper filters. I prefer Mitchell-Netrevali myself, but to each their own. ;D

It sounds like rendering that at DVD resolution, 720x480, could be do-able for an animation...

- Oshyan
amazing, Ryan! It's obvious how much work went into making this!

Cheers;
Frank
That's cool, Ryan. I work in exactly the same way to achieve modern, and ancient landscapes. Lots of masks. To diminish their 'load', some masks can be reduced in size dramatically. Such as where the trees are supposed to be. I also save them as gray scale. Where detailed masks are needed I sometimes enlarge them and repaint from there with sharper lines. Takes only some calculation where to put it. I hope you don't mind, I've uploaded one I did recently. The biggest problem I find is getting a whole village (of which I have a mask) to fill with houses in the right angles. It cannot be done, unless 'by hand', or in groups with sort of the same angles.
Do you have the wheat all over the fields? That must be a huge population.
--Dune
---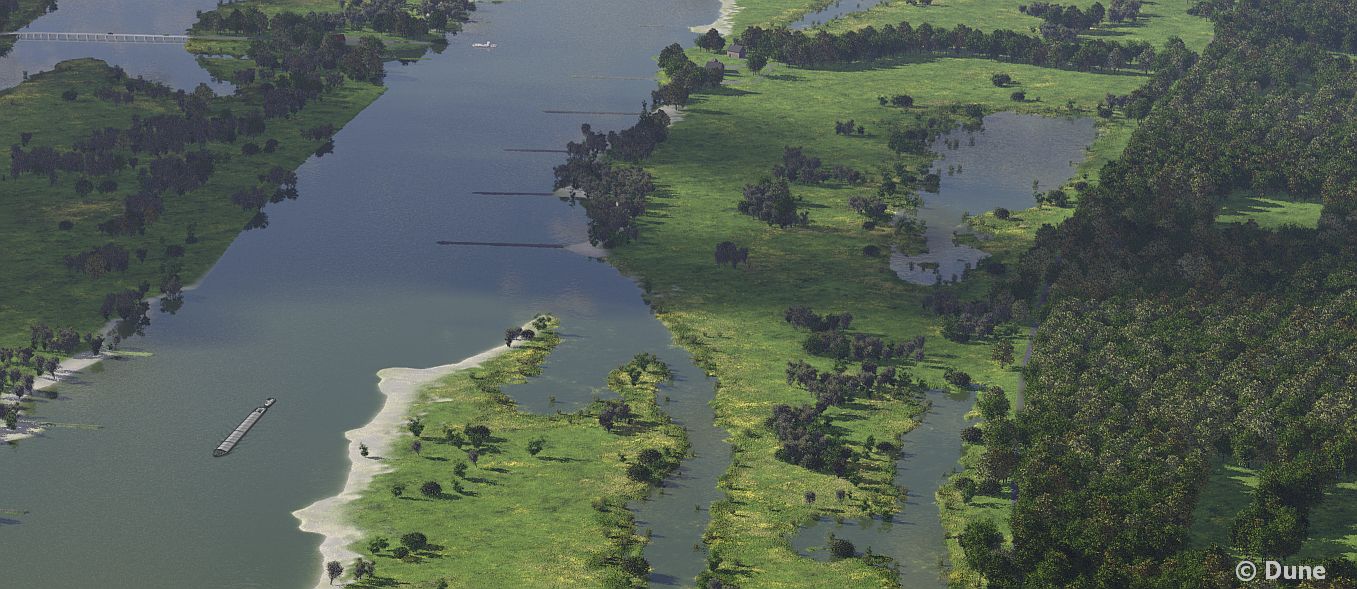 great work. Some large scale color variations, especially in the distant shots, would be a nice thing.
very very nice work Ryan, (and Dune's too)...what about an easy tutorial? hint hint!!
thanks for sharing, this is very inspirational!
Quote from: inkydigit on November 24, 2009, 11:21:08 am
..what about an easy tutorial? hint hint!!

what about this http://www.archer-designs.com/tutorials.php
:)
Frank
Quote from: FrankB on November 24, 2009, 12:33:10 pm


Quote from: inkydigit on November 24, 2009, 11:21:08 am
..what about an easy tutorial? hint hint!!




what about this http://www.archer-designs.com/tutorials.php

:)

Frank

thanks Frank, I knew of these, but was interested more in the masks and layout of the fields and the river...I will re-read the tutorial and see where I get!
:)
This is simply fantastic stuff! I'd also like to see a mini-tutorial on using masks in Terragen.

Those pictures seem super-digital to me. I like this appearance but I'd add some fuzziness in Photoshop if I were going for natural look. A slight (very slight) blurring and perhaps some very slight glare for example. Other than that - top notch.
Impressive work all over! However on the first render the paths really seem to be just painted. Anyways, just a small detail ;D
Thanks guys, all your suggestions are great and I will try and work them all in.

Dune, that is a really nice image you have going on there. Lots of life and little details which my renders typically lack. Thanks for the tip about reducing the size of the masks, it should help with the memory issues. Right now there are two populations of wheat, but I disable one and increase the spacing of the other for the aerial shots. For the ground shots I limit the wheat instances depending on how far you can see in the distance.

There will be no tutorial for at least a while. I'm still not comfortable enough with the masking and blending to be able to write anything worth reading. Hopefully by the time this project is done I will be.
This looks already impressive , Ryan.
I am curiously waiting for the next renders :)

Kadri.
*gulp* .... unbelievable ......
Superb Ryan.... Liking the first and third ones best, almost photo quality.
Simon.
Brilliant work Ryan; you've furthered the potential of this amazing program. And, have fired up many inspirations.
WOW. this really really cool. 8) 8) 8) :)
i've been wondering when i would see more of this this sort of thing done in TG2
one of these days i may try something similar.
These are really amazing Ryan. The potential for further development is immense.
The only "faults" I see are the usual ones of ray traced images i.e. everything is too clean and perfect making things almost unreal.
Brilliant images non the less.

I do wish though that somebody (ahem, hint hint, nudge nudge, Ryan) would make a tutorial or even a few detailed examples of how you use masking techniques.
I've never fully understood the principles of this way of working.
Ditto to others comments, really beautiful work.
Actually masking is not that difficult. If you have a terrain of a certain ratio, just make the mask the same ratio (paint in PS over an aerial photo or so, greyscale, safe as TIF or so). Make it smaller if less detail is needed (distribution of trees e.g.), but keep the ratio. Make an image map shader and import the mask, set to Y, fill in the size of the terrain, and use as a blend shader for whatever.
You can put several masks next to each other or over each other, as long as you find out the coordinates and ratio's. Use them to displace certain parts of terrain (before compute terrain, or for minor displacement in the shader department), or use it to color areas. Hope this helps.

---Dune
Spectacular lighting, Ryan.
I used to make a large square render in orthographic projection from directly overhead. Adding some boxes or sphere objects at known intervals can help with scale. Then just paint a new layer with the mask you need. Save just the layer mask as an image.
I'd like to chime in here with everyone else and say that this is absolutely awesome. I am still pretty much completely new to TG2 and it seems that I keep becoming more and more amazed at what people are doing with this awesome program!! Excellent and inspiring work!
Gobsmacking good!! Linda
That's some nice work there!!
This Really Quite Amazing and I do believe you have the realism down pat.
My Only question is: How do you Mask? I know how to make a mask, but I can not figure out how to use it in TG2. Any help would Greatly Appreciated I assure you!!!
Yeah really nice image. This would be amazing animated. I could just imagine the camera starting out in the fields like in your 3rd shots, in amongst the trees then the camera moving up and flying over the landscape.

I wonder if Ryan or Dune could create a tutorial on using masks within TG?
No need to write a tutorial, it's quite straightforward. Best is if you have a detailed map where all the different elements (grass, arable land, river, roads, woods...) have a different color. Import in PS, select the ground cover (say woods) you want, make another layer, fill with white, inverse selection, fill with black, save this layer as 'wood-mask.tif' (make it gray-scale to decrease file size). You can even decrease the size of some masks if they are not to be very precise. Etc. You can always color/adjust by hand. Or paint the whole mask series by hand, which I often do.
It's easier to see if you import the total map first (image map shader) and attach this to the color input of a surface shader. Temporarily. Then import mask in an image shader (Y plan), set the size to the size of the area you want to show. Attach as blender to a next surface layer, and color/displace that layer or use as a mask for the trees. You'll manage from here on, I guess.

Things like roads need to be sharp, so you might want to enlarge (200% or more) the initial map and paint very sharp white lines where the roads are.

Hope this helps.

---Dune