No matter, I'm an idiot.
---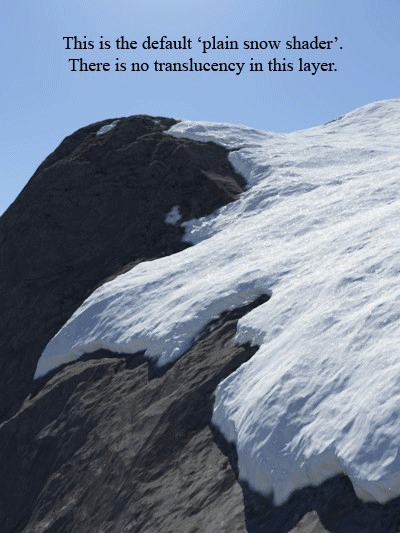 No matter, I'm an idiot.
Very impressive. This looks good. ;D

I wish i can help with your issues but i am having my own at the moment trying to create Goblins. ;)
THANK YOU! :)

Thanks , DandelO :)

Kadri.
Cool! Now I can go to Hoth without trying to jump onto an Imperial probot! ;D
QuoteSomeone with a better idea on piling snow might have some other ideas....
So what if you make a second terrain by using a plane with the same initial terrain displacements, but leave out the stones, and put the snow on there. Theoretically it can be raised independently. I've done this sometimes, but never in depth, so I wouldn't know if it'll give believable results in this case.
---Dune
Cheers, guys.

No matter, I'm an idiot.
No matter, I'm an idiot.
No matter, I'm an idiot.
Thanks for the hard work and outstanding results.

Marc
thanks for your genorisity (sp)

david
Thta's very generous, mate - thanks so much :)
Thanks. I have to have a look at these. I have been banging my head to break out of a rut.
dandelO,

Sweet job. I'm working on a personal project using your terrain. I really like your tidy node network. Good work.

I'll post the rendering when done and make sure you get recognition for your fine contribution.

Marc
DandelO (other file sharers too ), please put your name in your file names .You maybe don't mind but i do :)
When doing something with this files several months later finding the creator is difficult .
If i use something from another artist he should get recognition .

Cheers.

Kadri.
Thanks DandelO.
No matter, I'm an idiot.

how do i add it? xD
No matter, I'm an idiot.
Excellent work on the shader, I'm currently going thru it to understand how it works and then to add it to my Winter trees scene.

Thanks,
Glen
:)
Here is this shader pack again, since it's no longer on the first page...

I've placed my name in each file, Kadri. I usually do but I forgot the first time :)

dandelO's Snow Shaders - 275kb: [attachimg=#]
Looks great, Thank you for sharing!
Thanks for sharing!