Hi all,
This is is my planned entry for the contest. The canyon is an old work of mine, then I used a tutorial to make it, now, 1.5 years later, I redesigned it "a bit" (worked on it more than a day). The texturing is in early state (I used a very simple image map rock texture shader).
I saw that there is no canyon WIP yet :), I don't know what chances do this project has against forests, and valleys, but I'll work on this, I like "canyoning".
A question: Is there any limitations on what order I must use when I stitch my images together (the correct camera path order, or I can change them to group the darker images to the right etc..)?
(On the images, I used a little sharpen effect.)
---

Hi and thanks for posting this. What are your plans with this scene goign forward, I'm curious :)

As for your question: please order the images from left to right, upper row, then bottom row, like how you would like the final camera path to be. Think of this like a story in a comic book is ordered.

Cheers,
Frank
The stone texture looks really great, but in the first and the last image there's some noticeable texture tiling. Maybe you can use two or more different image maps mixed (broken up) with some power fractal to make the tiling less visible.
Yes, my further work will be on displacing and texturing. I use strata shaders, power fractals now to create more realistic canyon surface, and the second step will be the texturing: More image maps, and fractals (to create moss, shoreline etc.) will be used to add colors to the wall.

(The images now are in order, the storyline is that the camera goes into a cave, and finally reaches out to a greater lake, where a small boat will float on the water.)
great idea, and realisation...keep going!
the canyon & overhangs look good, so does the water, definately keep going. :)
I agree - textures, lighting and even the water all look good.
I refreshed the texturing, deleted the image map layer, and added Voronoi cracks and stratas (with twists and shears). I used a tutorial by Martin Huisman a year ago (canyon wall), and now I refined it (with days of work, and still not finished). Now the technical details are far different... I hope I can add some green patches, and of course work on the "river" bed. I need stones and some dry grasses, maybe.
C&C are welcome, thank you.
ps.: It is possible to vary the exposure using interpolation during an animation render, isn't it? I saw something like this in the TG2 sample video (St. Helens). In the cave I'll need it.
---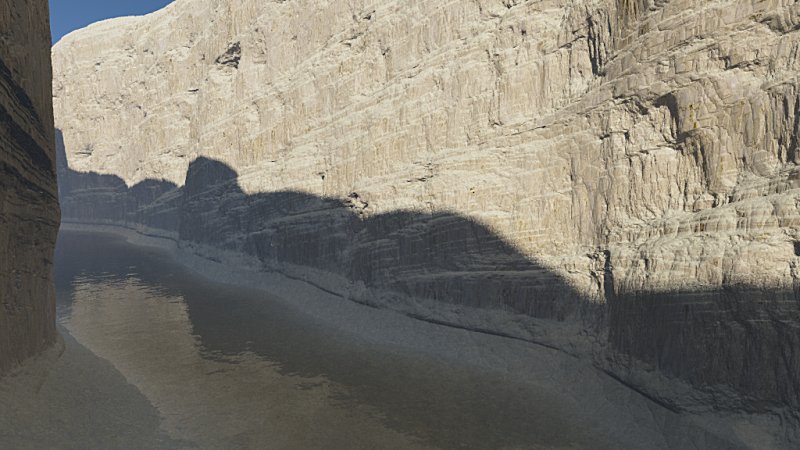 The displacements and colour of the rock are very convincing - great work!
Wow! This looks really great! The surface is fantastic!
yeah we can animate exposure, too. You should be able to supply target exposures for all six shots, though.

Thanks,
Frank
Would you be able to give some more hints on how you achieved that lovely surface? Or even perhaps a clip file? I'm currently working on something to which I would be interested to apply a surface like that.
The surfacing is quite well done :)
I'm still working on it, and I'm not satisfied yet. As soon as it is near finished, I'll write a small conclusion. By the way, I used tutorials, too, for example:
http://forums.planetside.co.uk/index.php?topic=3217.0 (http://forums.planetside.co.uk/index.php?topic=3217.0)
In my case I have to refine all settings to my scene, and I have problems separating the two canyon walls because of the strata angle/direction. But, I need that cave :)
Now the texture is two simple merged fractal breakups. I need to add shoreline, etc.
Look forward both to your ideas and to see how this scene develops. :)
Hi all,
I added stones, improved the atmospherics (illuminate sun, ray-traced shadows, haze density, colours), tried to breakup the strata (with less than more success I think).
Now I need even more detail to the wall, and improve the shoreline...
Any comments, ideas are appreciated :)
---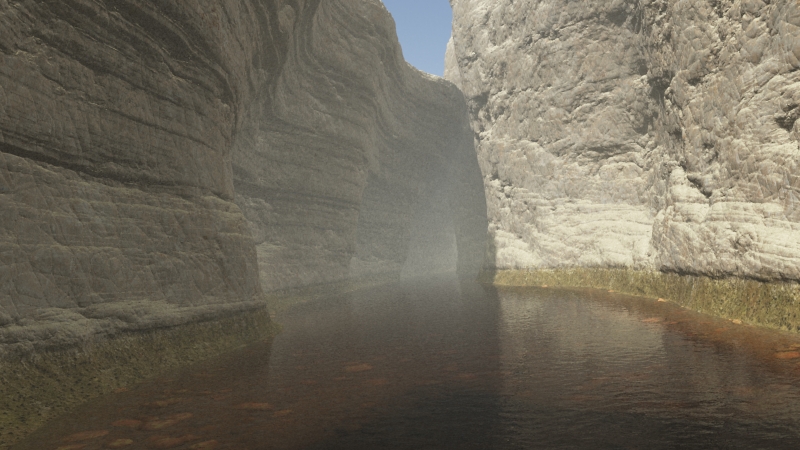 Nice wall surface :) I think it is what you want , but i would lower the haze !
To be honest, I don't think you will need more detail on the wall, it looks pretty good already, and as this may be animated, details will get a little blurred anyway. The one thing I would change is that this image looks a little grainy in the atmo, so perhaps more atmo samples? Or as Kadri says, you could try lowering haze.
I have a 1-core system, so I have to use low quality settings, including 16 atmo samples, and ray-tracing OFF for WiP renders. If I have a night to render, then I turn them on, and atmosphere samples up to 64 (or 128?).
Yes, I forgot, that it will be an animation, less "up-close" quality needed (poor free edition, no motion blur :-\ ).
Thanks for suggestions, I return to the Node Network now :)
Another render reaching the lake, leaving the cave.
Now I go to Italy for a short week (or long weekend), till my return I'm only planning :)
By the way, the cave is much shorter to avoid boring dark (f)light...
---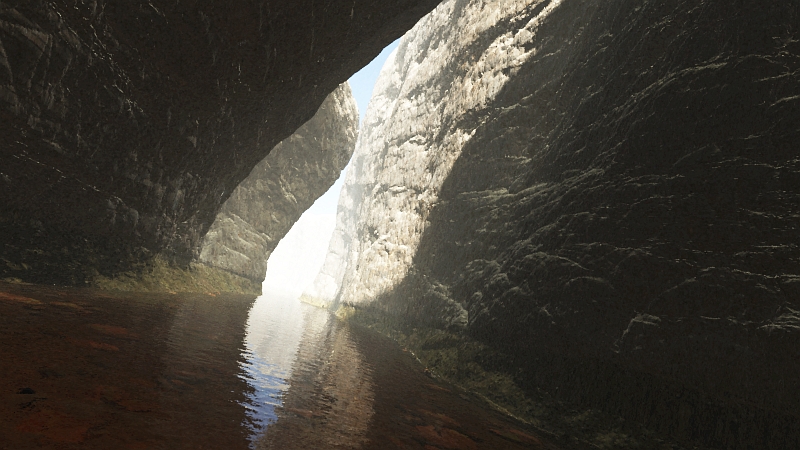 Nice atmospheric shot. Like the slight shininess of the walls.
reminiscent of Alcantara gorge in Sicily...great pic!
One more month? That is great :)
I have many ideas (some tree logs or leaves in the water, maybe not only a simple path animation, rather some curves or narrow canyons...), maybe I'll have time to work on it.
I would have submitted my entry till Juli 15th, but final renders should ha been on Tuesday. Why earlier?:)
your last render looks really great, nice work on lighting/water/canyon surfaces.

looking forward in seeing your next iteration for this.
:)
A new, detailed render, with a master quality of 0.8, AA 3, atmosphere samples 64 or 96, ray-tracing on (on atmosphere), in 800*300.
This is the part when you leave the cave - it-s a "wall-flip" so the camera turns around (upside down), so the whole path is not only a few meters above the water.
I found some cumulus on planetside forums, now I'm working on the cloud layers, added some new features (I like that distance shader :) ).
---

Very nice detail on the walls.
Agree. Nice texturing.
Added new wall at the end.
There is a serious bug on displacement at the left hand side. I have to identify, what kind of shader (combo) makes this... Editing the image won't work in an animaton :)
---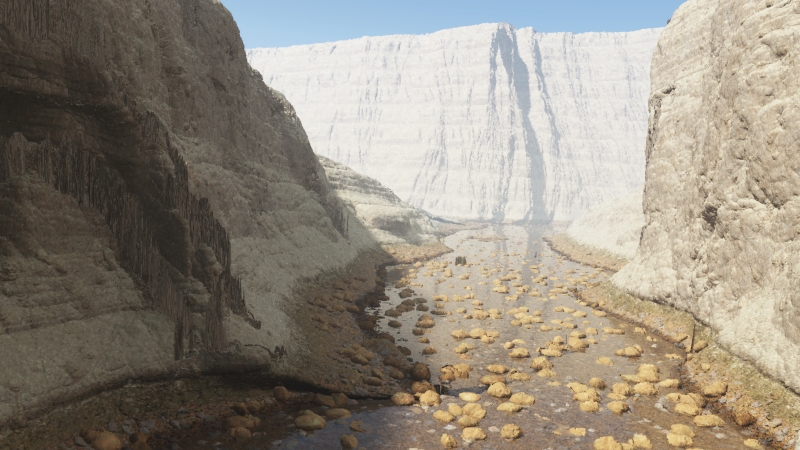 other than the displacement bug that looks really good, the details around the water and the wet ground look great! :)
What is the exact deadline (here in Europe)?
I am currently rendering, and not sure it will be finished tomorrow (1 day before the deadline).
It' August 14th, 23:59 CET.
Great wall work. Very convincing.
I'm finally finished, and submitted my work.
This is all I was able to create with TG2Free. Displacement, and displacement. 2 days of render with masterQuality of 0.95, and AA 3, with 96 atmosphere samples (soft shadows and ray-traced atmosphere, with cloud quality of 1).
I hope one day I'll animate this scene, I like it, although I worked on it for months :) On the 3rd and 4th image there is that wall-flip (camera turns upside down and back while elevating in the cave).
Thanks for all the advices and encouragement. It was a great experience.

(there are 104 quick renders in my project folder, 14 tgd and 8 tgc files, new personal record)
Good luck!
Great canyon Rudolfking! Good luck in the contest!