Again i have a problem with tgstd.tgp, when rendering scene. On another computer with the same i72600k and 16gb ram i have no problems with this scene or some another "big" scene.
I'ts just crashing (module tgstd.tgp) after a few minutes after i pressed "render". Can some one help with this? :'(
ps: sorry for my poor English
Hi Sasha, is it possible for you to share the terragen .tgd project file?
There may be some clues in your settings or I can have a look whether it happens here too as I have a similar machine.

Cheers,
Martin
Do both machines have the same amount of RAM?

- Oshyan
hi guys, project is commercial and don't finished, so i can't upload it now.
I just gather project with all files (.mtl, gicahe included), no problems in warning window.
Oshyan, yes, RAM is same. But project was checked on another week computer (core 2 duo, 8gb RAM, 9800 geforce) and rendering is ok, no crash!
my full configuration - z68 motherboard, i72600k, integral video, 16GB RAM, ocz SSD, windows 7 x64 Ultiamte
still crashing after few minutes of render
Apologize for russian screenshot, i'm from Ukraine :-[
==UPD==
i just fined some "bug", AIDA 64 doesn't identify my motherboard, this from system info - "Unknown Motherboard". But drivers was installed ok, no warnings in device manager etc.
---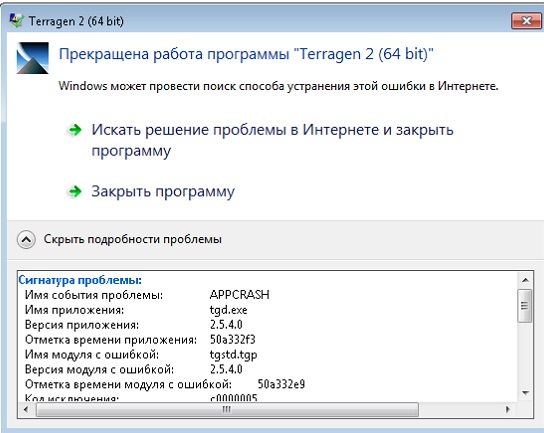 Unfortunately I don't think there is any useful information in the screenshot (though thank you for including it). Since the scene seems to work OK on 2 other systems, I think it's important to first make sure that there is nothing wrong with the computer itself. Have you run memory tests or other stress tests? I would suspect CPU/overheating issues, power supply, or memory as likely sources of a problem. All but the power supply should be easily tested using stress test applications like Prime95.

- Oshyan
Quote from: Oshyan on January 22, 2013, 06:33:04 pm

Thanks Oshyan, good idea. I will try that today. But i'm confused, i tested memory\cpu about 1 year ago, and it's work OK. I rendering every day in 3ds max+V-ray with no problems. Maya+mental rendering ok to.
Also i wana try to reinstall windows, hope it will help.... :'(