A few hours ago, I had not the slightest idea on how to start. And even less ideas on how to create a road.
So I looked through the threads and found FrankB's "curved road_0002.tgd"-file:
http://www.planetside.co.uk/forums/index.php/topic,15732.0.html (http://www.planetside.co.uk/forums/index.php/topic,15732.0.html)
It gave me at least an idea of how to create something that may look like a road. Basically it draws a nice white line into the terrain.
Before I continue: would it be OK to you, Frank and the other "deciders", to start with this file, then developing some things out of that by myself?
So, by creating a horrible node-mess (copying and duplicating some functions I'm still struggling to understand), I managed to get so far. Still no idea where this leads to...
---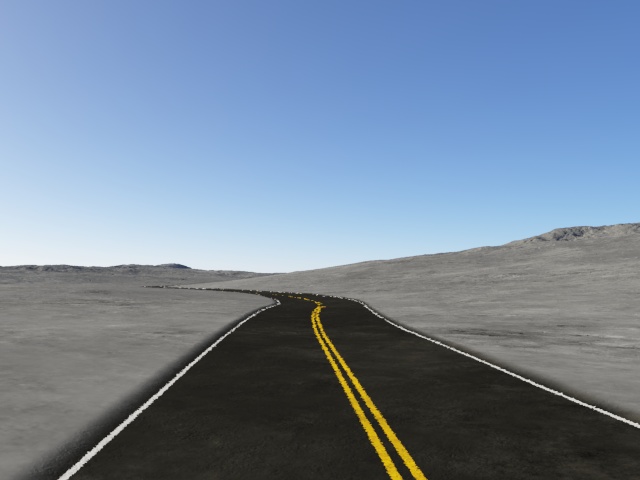 I'm speechless. Once again I have to thank you for your file, Frank. Those five or six nodes that just warp a simple shape shader brought me "on the road". I never created anything similar to a road in TG before, and I never had a look at some premade files like the NWDA road and tarmac pack. Now with your file I was even able to let the PF I used for the colouring of the road surface follow the curvature of the road. Still nothing too fancy,
but I have a road!
---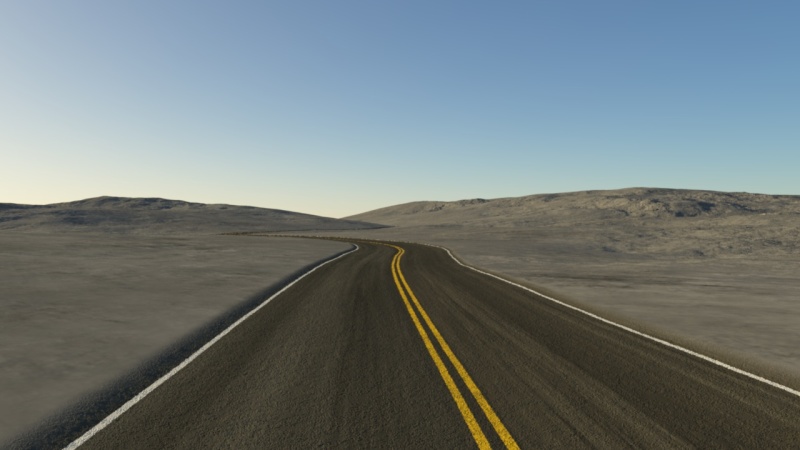 That'a great Hannes, keep it coming! You are absolutely welcome to use the setup I posted as a basis for your contest entry - that's why I posted it in the first place!
And isn't it fantastic to be able to make roads? There are so many possibilities for beautiful scenes, that include roads. I'm sure yours will look great!

Cheers
Frank

I fed another PF into the warp pattern's input to make the border of the road surface a little more irregular and made the road's overall displacement positive (I had a negative displacement to make the road look like carved into the terrain, but reference photos showed me, that it's the other way round).
---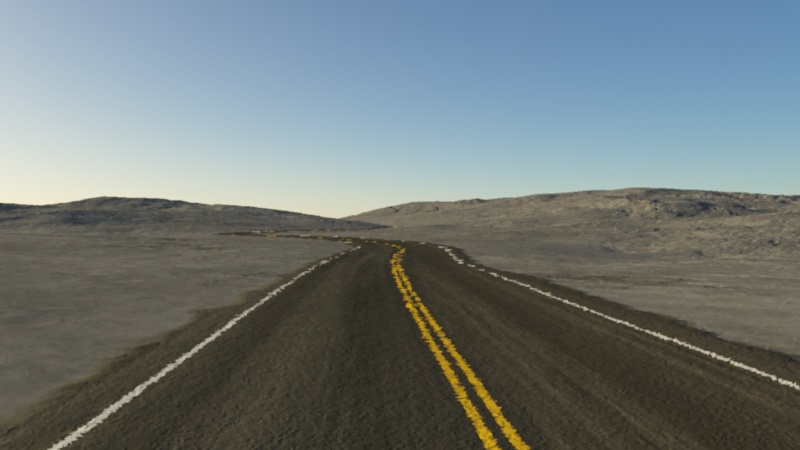 added some gravel to the side of the road, some basic overall texturing and a subtle reflective shader to the road surface to make it a bit shiny when the sun is low.
---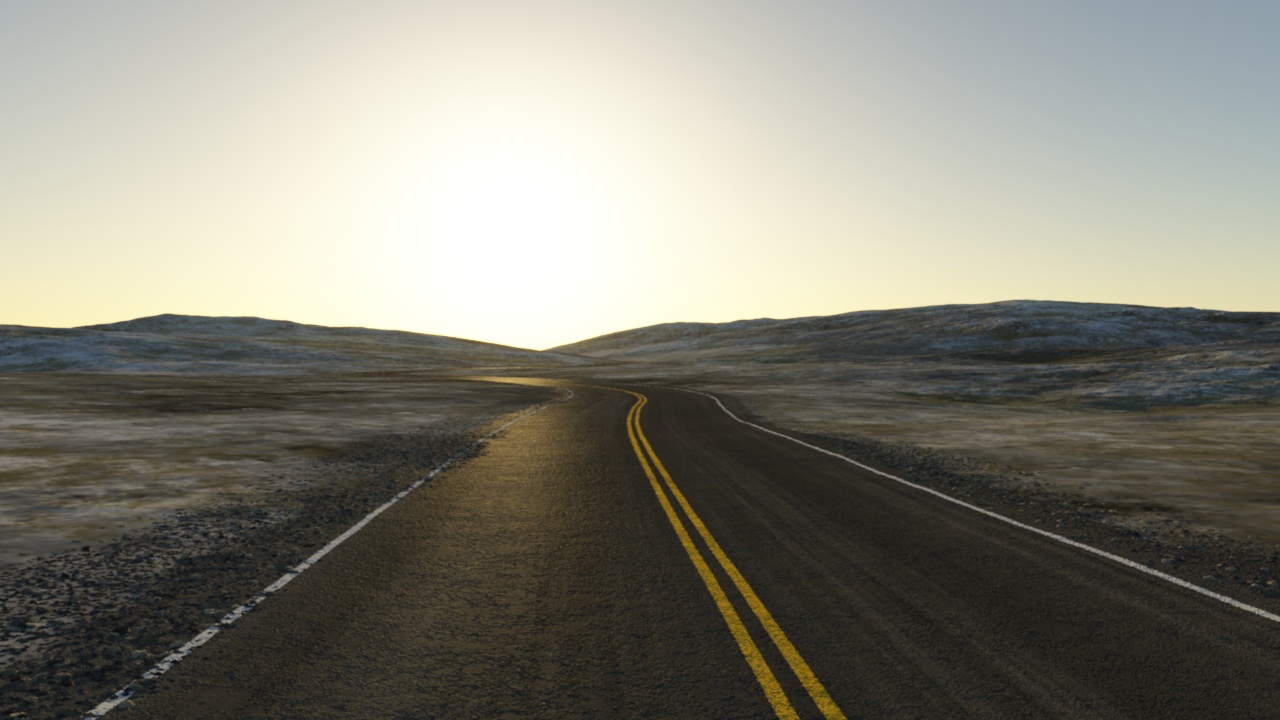 very nice :)
Yep, I like it so far. Interesting to see what you'll do to it in due time.....
Starting to build some stuff for the scene...
---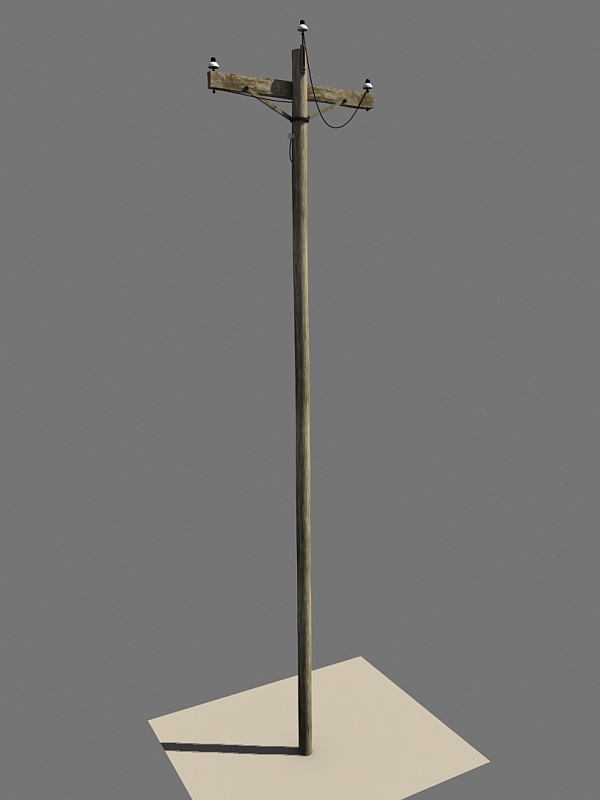 Ah great! Perhaps something you could put in the NWDA Community Store - at least after the contest?

Cheers,
Frank
Yes, why not?
Something for the details.
---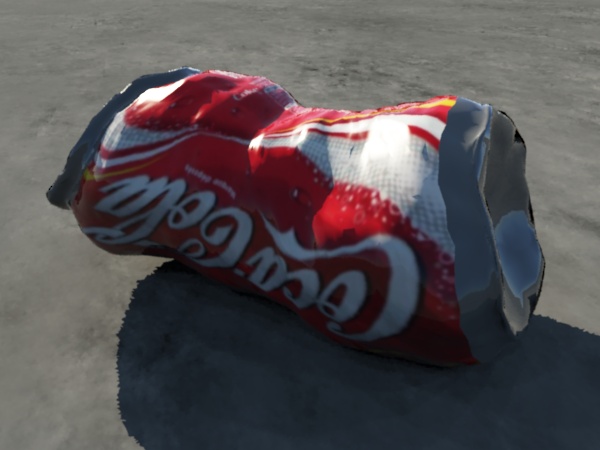 This is promising.
Keep it commin'. You'll need a LOT of trash!
Richard
I remember an interview I saw of R. Crumb. He used to have a collection of photos for reference for his drawings and comics. He had thousands of them; telephone poles, hydrants, street lights so on so forth.

I have been collecting 3D plants as much as I can, but this thread just hit me in the head like a brick... Have no idea why it never occurred to me to have things like Hannes just posted. Will have to work on that now too!

Looks like you made it past the "what to do" hump, Hannes. Looking good.
Thanks guys!
Actual state in low resolution. There'll be definitely something in the scene the guy is staring at. Probably something not from this world...
I'll add some more stuff like some scenery to the left (maybe fences, plants etc.) and a little more garbage.
---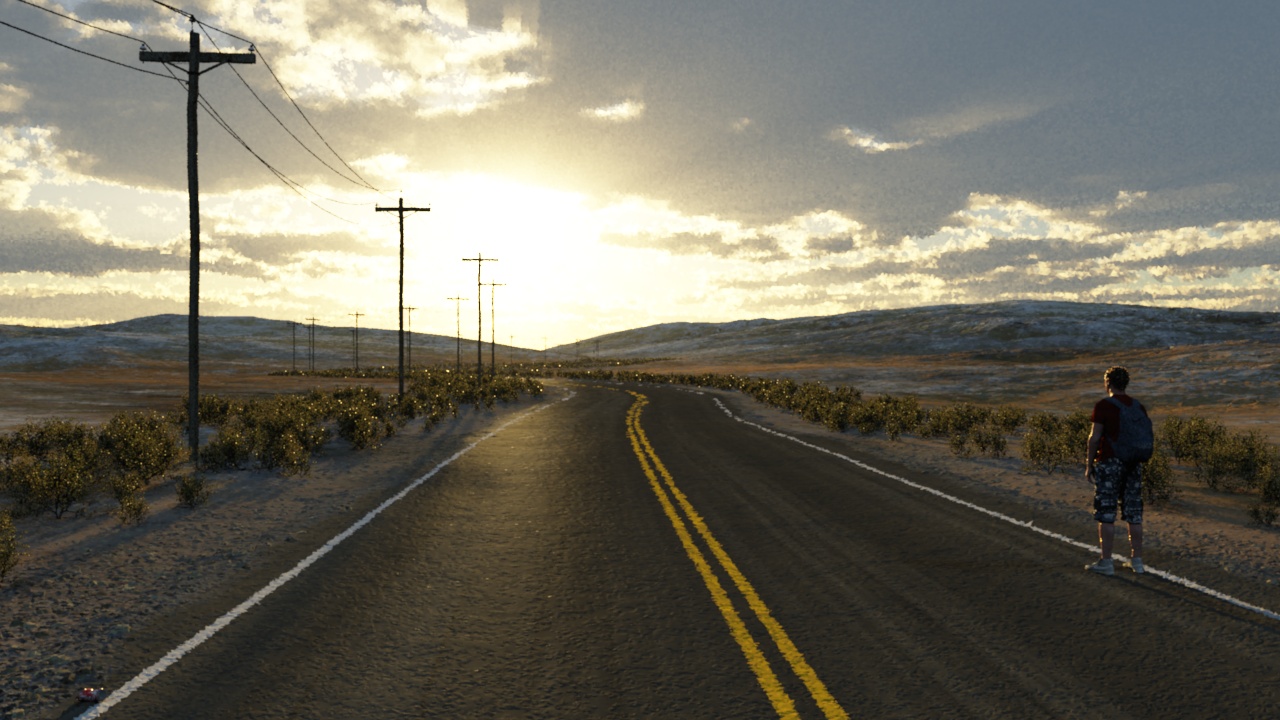 That's great Hannes!
I love the reflectivity! Seems spot on! Not easy to do.


Nice iteration. I can imagine something very alien he's staring at. How on earth did you get those power/phone lines to connect to each other. I've been thinking about that, and got the idea to end the lines at 0 (zero), so I would know where to put the next pole. But what if a road goes uphill?
Thank you!
@Frank: it's a simple reflective shader with the right balance of reflectivity and specular roughness.
@Dune: I didn't connect these in TG. That would have been really difficult. Actually I imported the terrain into 3ds max (I had to exaggerate the road's boundary displacement to see it there). In Max I created a spline next to the road and duplicated the pole along this spline. I created another spline and connected two points of the pole, converted it into a mesh and applied a bend modifier. I moved the pivot of this "cable" to the first end of it. So by duplicating it several times I could move the cables easily and rotate it to find the next pole. Of course I had to adjust the length each time.
It's quite hard to explain!
When I was finished I exported the whole array of poles and lines as a single mesh and imported it into TG, tweaked the textures properly and voilá. If the road would go uphill, it would have been more complicated, but possible doing it the same way. But it would be overkill to do that in TG I think.
Interesting, but I think doing it manually in TG2 might have been even simpler, given the fact that only 9 poles are visible, and the wires and their connections are really only visible between the first 2. For the ones further in the background, it would have been enough to place them approximately correct. I think.


That really depends on resolution. Actually there are 22 poles with four lines each. For this image I used the quick render settings, and the sun's glow might hide a lot of them and their lines, but in higher resolution you would see if you haven't worked correctly.
Here is a simple render of the poles alone rendered in 3ds max.
---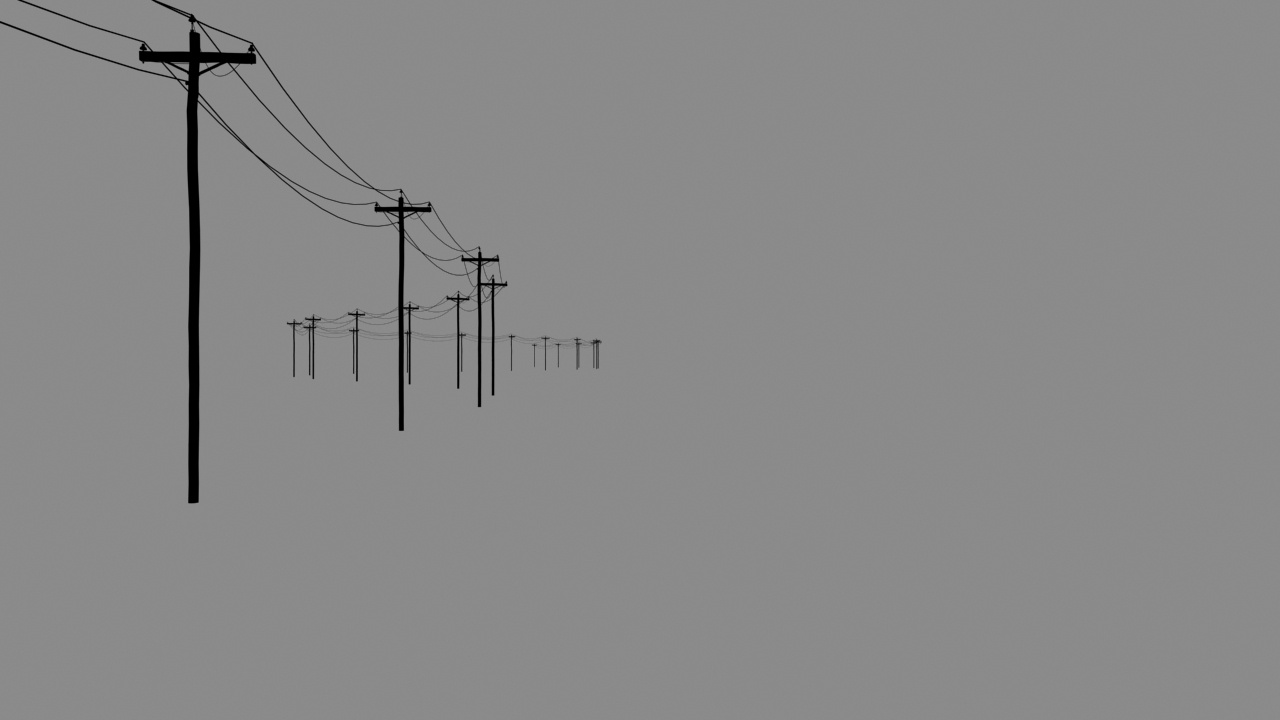 Thanks for explaining, Hannes. That would indeed be the only way, but quite a 'way round'.
Here is the actual version with added stuff. I found the barn model at turbosquid. It's free and nicely detailed. I had to tweak the textures a lot to fit into the scene.
Some weird patterns in the clouds in the upper middle directly above the sun. I think I can solve this by tweaking the acceleration cache.
I'll be taking care about the part on the right side now.
Still no object to stare at...
---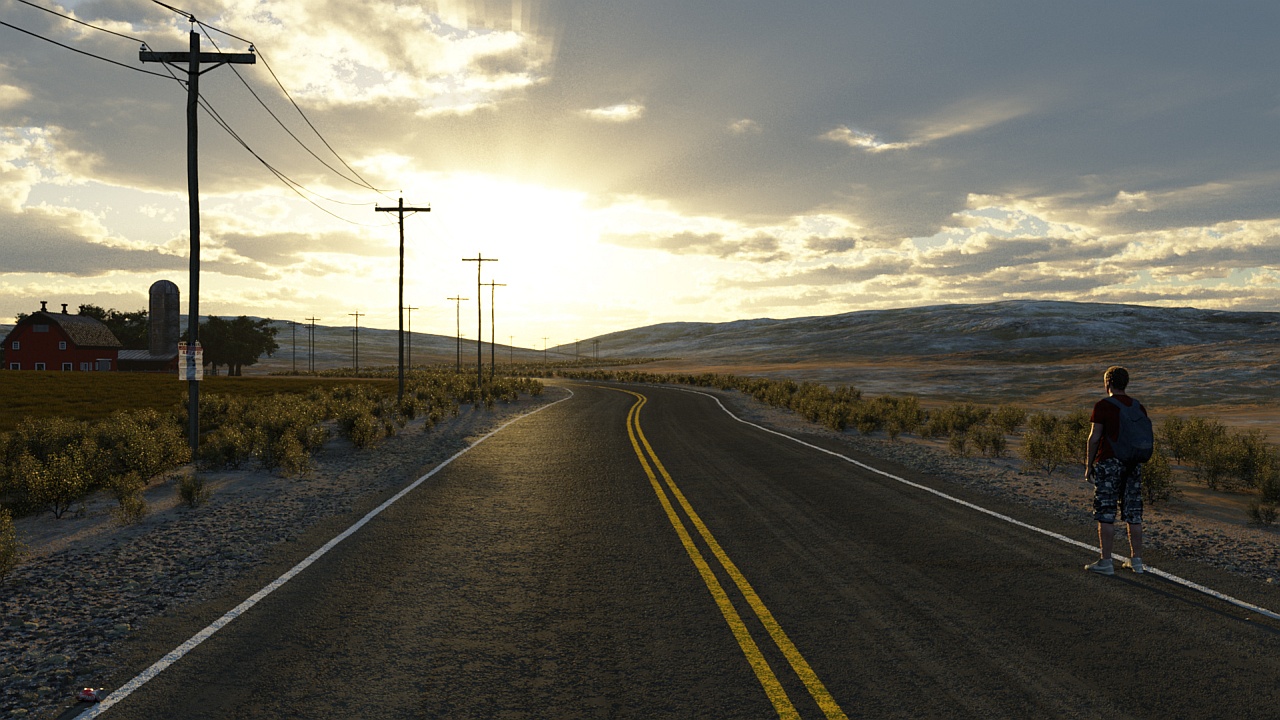 That's might realistic already. Perhaps some more (tufts of) grass in the left verge, where the shrub are? The guy is just staring at the car that's not coming. It's kind of intriguing this way, the viewer is searching the image for a clue to the guy's behavior. Don't make it too obvious, but hide some hidden gem somewhere! His spitting image coming from the other side? ???
Looking good so far Hannes. I agree with Ulco about the "what's up with the guy" part.

The cloud pattern is due to acceleration cache. Disabling removes the blocky artifacts, but the result will probably be a bit noisy, so you probably need to increase cloud quality.
Thank you, guys, I'll keep that in mind!!!
That looks seriously darn good.
I agree, looking very good. The pose of the guy seems a bit stiff, though I'm honestly not so bothered by the lack of something for him to look at. If it were me, I'd just be looking at that beautiful sky! ;)

- Oshyan
Very nice ! I like your image. I see strange line in the skin texture on legs and arm of the guy. Not sure perhaps my monitor.
I do see some roughness or lines, especially on the legs. Could be the "hairs" that were mentioned in a previous posting of this, not sure. That kind of detail is pretty superfluous in this case. ;) But I do very much like how the figure is lit.

- Oshyan
Thanks again. Here is a larger crop render of that guy. Inkydigit mentioned in my "mosquitos" thread that it might be scabies ;D
Actually there is a skin texture with some red spots and pores. The mapping of the legs is cylindrically. Maybe the texture is a bit too stretched there.
It's on my ToDo list for the final touches.
---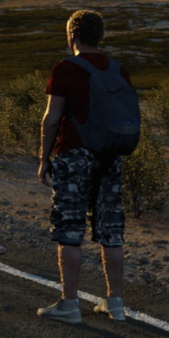 Next iteration. I brought in the spaceship I made for another image, added some more garbage and some helicopters.
---
Hehe, I like the sign!
:)
Richard
Hi Hannes. Fun Image!

I would eclipse the light of the sun a bit more. Right now you have the sun the ship and the figure as points of interest. 3 is a good number, but their not playing very well together right now.

Also if you move the figure just a little to the left that might help with balancing the elements in the comp, as well as create more visual tension, since anyone diving up behind him would be just as distracted as he. And, well, SMACK!
Thank you. I have to say that I'm quite happy with the lighting at the moment, and I don't want to change too much there.
I'm going to add some more helicopters and start the fine tuning...
Love this! Totally explains the guy's stance. Should be great in high quality. Very creative :)
Although I really liked the 'more subdued' mystery, I think this will be great as well. The sign is a great find indeed!
I added some more helis and a car.
Since there is no object motion blur in TG (yet!) I used a water shader for the rotors. It's not perfect, but this is the closest I could get.
A bit higher contrast and some chromatic aberration for testing.
---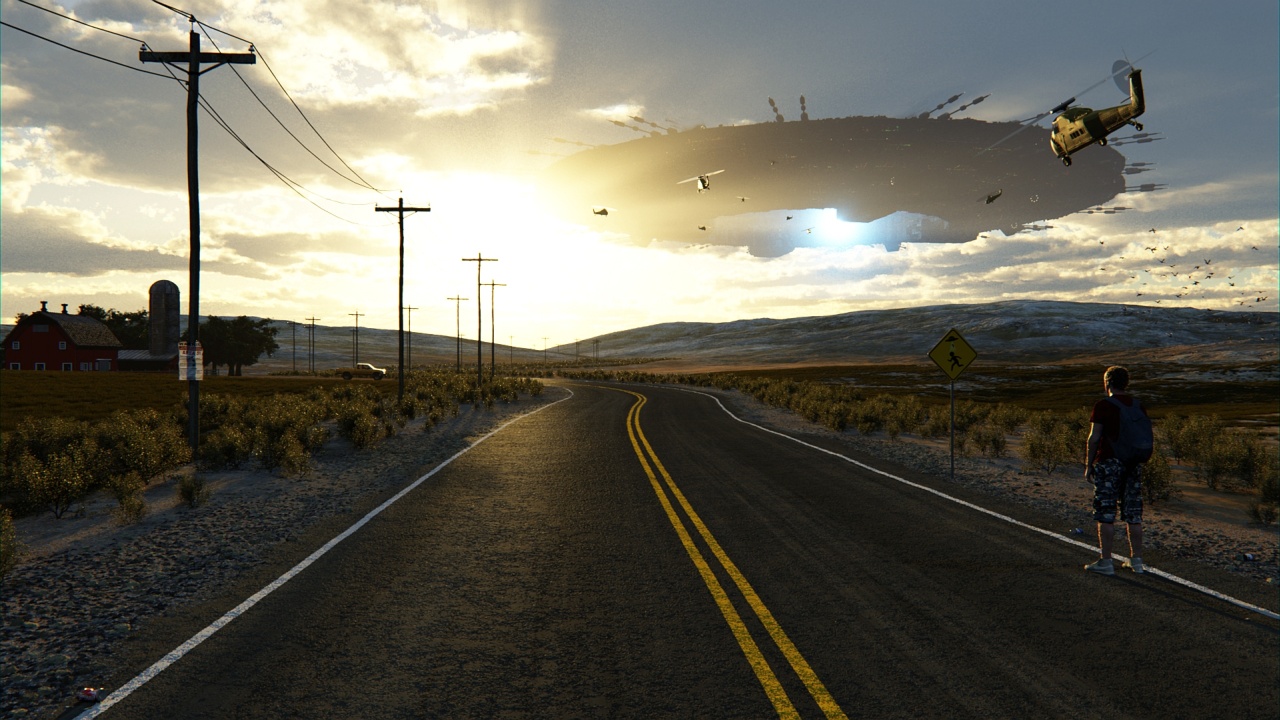 nice idea about the water shader for the rotors! :)

Hey Hannes, it just occurred to me, that the hills in the background seem to be a bit too rocky /vegetation-free, compared to the vegetation amount in the valley.
Could be intention, but could also be an oversight, so I'm just mentioning it.

The alien ship it still in a lit of pixel noise. How much do you have to bump up setting to get it noise free? I would guess that means a long render time.

Cheers
Frank
You're right about the hills, Frank. I didn't want to make it too green, but a bit more would make it look better.
And yes, I am a bit nervous about the rendering time of the ultimate final render. The clouds are still a bit noisy too and there are the strange artifacts above the sun, so I will have to increase the samples and the acceleration cache.
But there is still time left...
Quote from: Hannes on March 14, 2013, 06:12:22 AM
...so I will have to increase the samples and disable the acceleration cache.
But there is still time left...

Yes to both :)
Sure...
I broke up the road marks a bit and added a subtle layer of dust/dirt.
Don't know why there are holes in the terrain now (these tiny little light blue dots). I know that this is usually a displacement issue, but I haven't touched the road surface until now.
---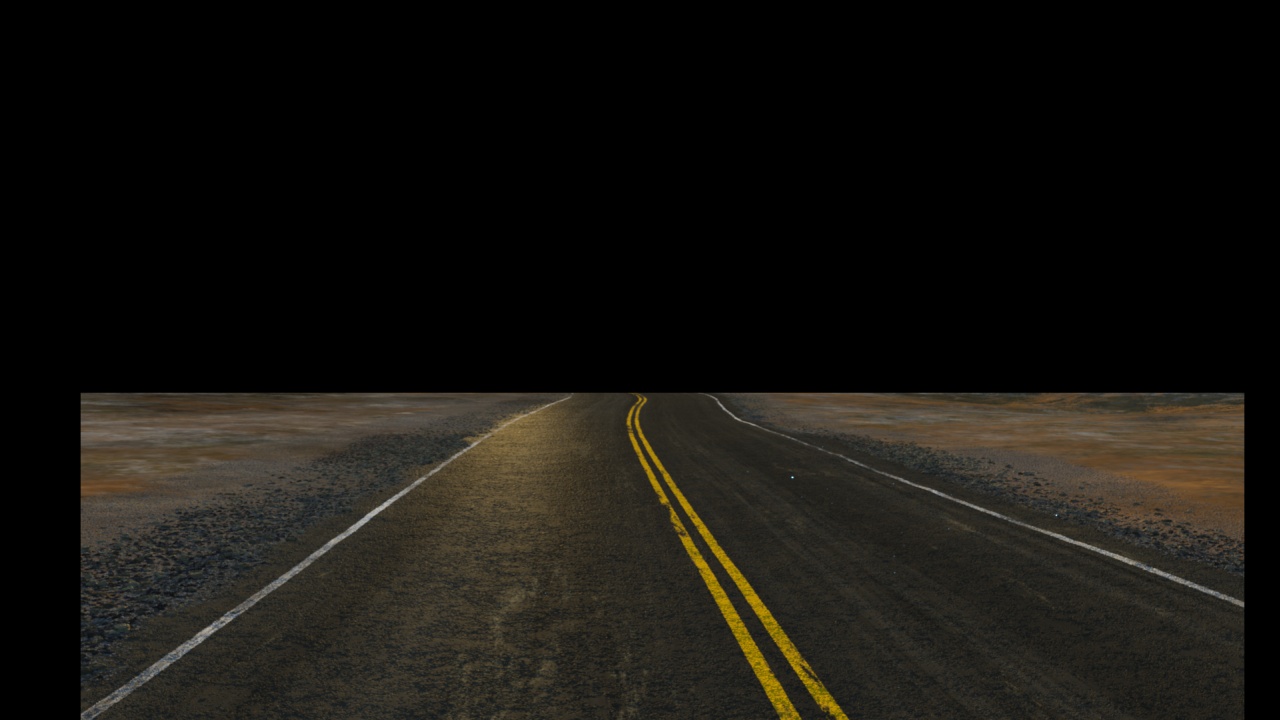 I like road63 with this car, helicopters and spaceship. The guy are very ZEN !
High detail really helps.

Cant wait for the final!
Actually I am rendering with a detail setting of 0.6, and I don't think that I'll go higher than this. Probably I will render in a higher resolution and resize the image afterwards.
These holes weren't there before. I didn't change anything in the terrain or the settings of the road surface. This is really weird. I disabled all the objects and most of the shaders for testing purposes and the artifacts are still there.
I am thinking of opening an earlier version and adding the further improvements step by step to see what causes these holes.
OK, I'll stop whining now. I found a way to get rid of the holes in the terrain. The funny thing is: there were no holes in the terrain! It took almost two hours to find out that the weird render artifacts were indeed reflections of the UFO's blue light on the road's reflective shader. Embarrassing, isn't it?
That leads me to another problem: how can I have the blue light enabled without having blue dots on the road? Unchecking specular highlights didn't help. The dots were still there. The only way is to disable the light.
I didn't notice this before because I always added small crop renders to the image in Photoshop, so that I didn't have to render the whole picture all over. The "dotfree" road was from a render without the UFO and it's light.
Added some dirt onto the road surface and broke up the road marks a bit. I also added some dry grass patches to the road sides and some more garbage.
Has anybody found the cigarette ends? ;D
Still no idea how to get rid of the reflections...
---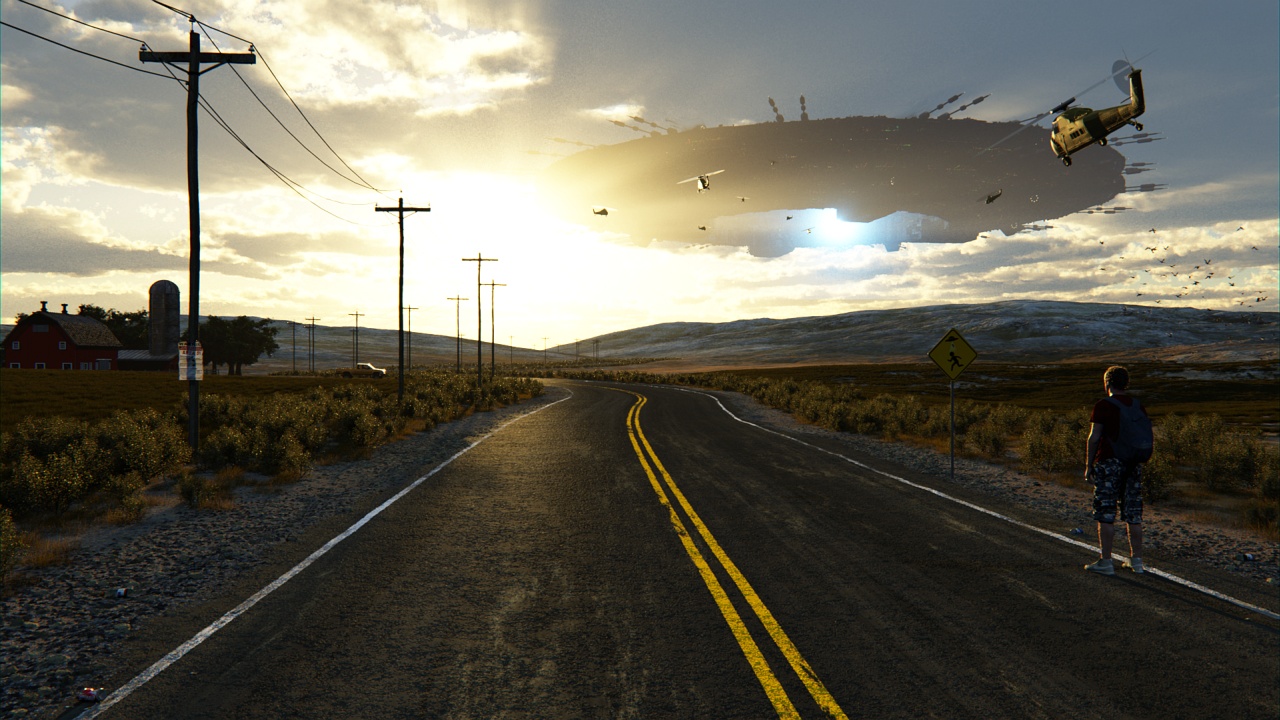 Barely visible, but they are there.
---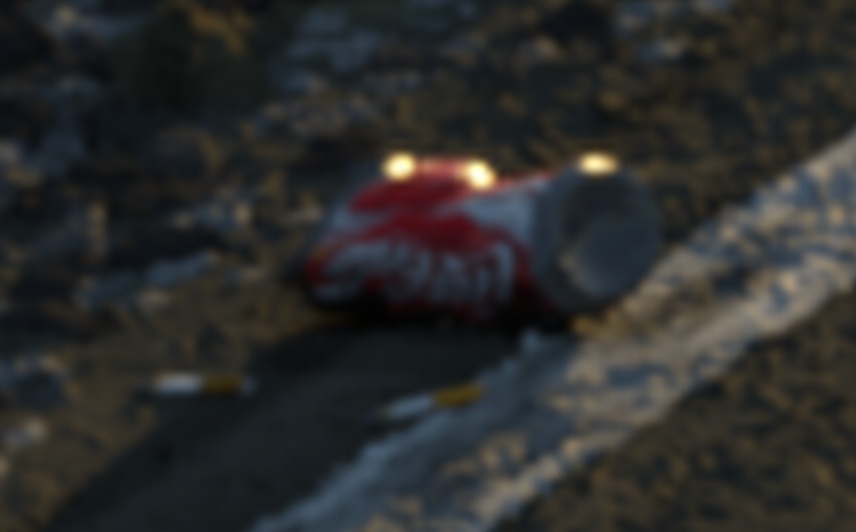 The tiny details are what can make or break the realism in a scene. Your attention to detail is superb, nice work so far.
This is looking mighty fine. I'm not sure about the reflection issue, it seems semi-realistic given your setup, but I don't think it's worth trying to figure out how to get rid of them; unless it's not allowed, just do some minor touch-up in Photoshop.

- Oshyan
You could try a single sided plane close to the light source and face it away from the camera. Maybe set to "visible to other rays" but turn off "visible to camera" and "cast shadows". (Or would that show up in the sun rays then?)

James
Thank you for the great tips!
Oshyan, I'd rather cut off my right hand than using Photoshop for this problem ;D !
Thanks, jamfull, this could work. But in the meantime I found another solution: I masked out the area where the weird reflections appear by a painted shader. Not really elegant, but effective, and it makes me feel much better than cheating with Photoshop.
Before I try jamfull's fantastic trick, I'll see, if the reflective shader looks the same in the image with ray traced reflections unchecked. Then I could try again to uncheck "specular highlights" in the blue light's settings.
OK, it worked as I said. I turned off "ray traced reflections" in the reflective shader and "specular highlights" in the light's settings. No nasty reflections anymore, the road looks the same like before and it's even rendering a bit faster.
Anyway thanks again, jamfull!

Oh yes, no need to use raytraced reflections here! Even without this bright spot problem. In fact, most often in TG you don't need RT reflections, it just burns render time (e.g. with shiny leaves or something).

- Oshyan
Done! I just sent my final image to nwdacontest@hotmail.com.
I added some more little things and tweaked some settings. Here is a smaller version of my entry. The full res image will be shown in the thread that contains all the entries.
---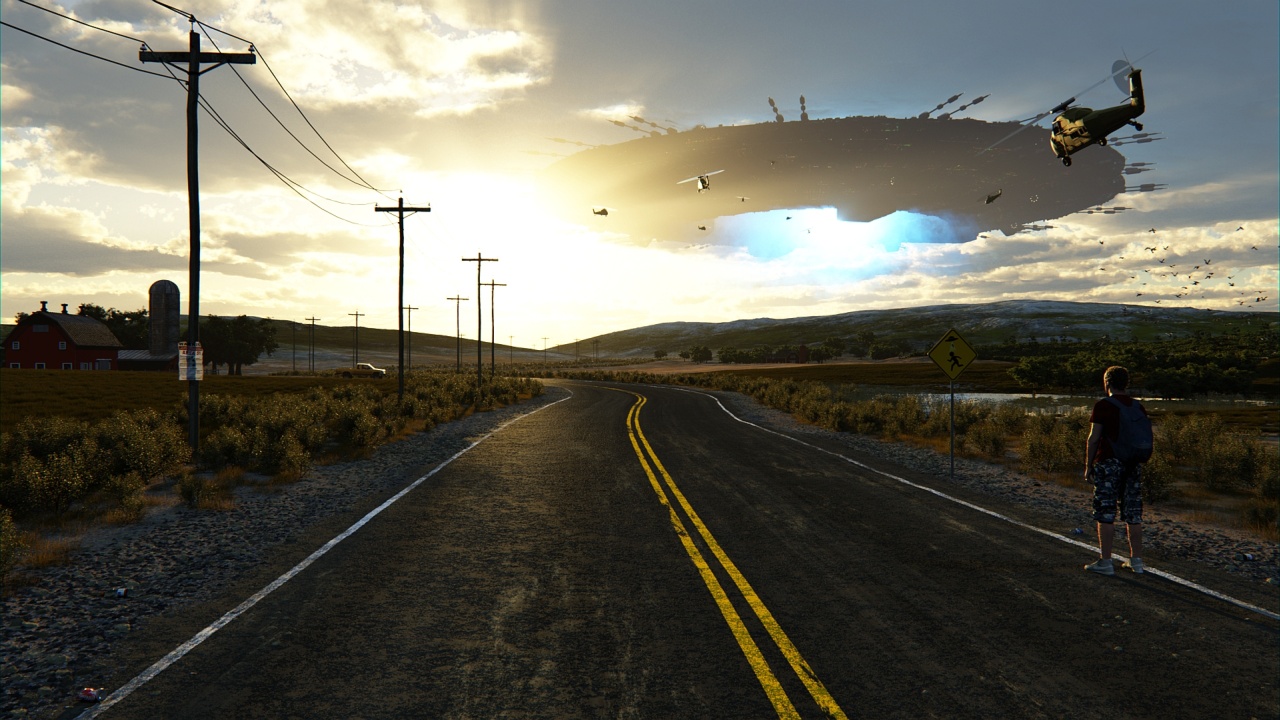 Hmmm, what's with the address "nwdacontest@hotmail.com"?
I tried to send it twice, but the mail couldn't be delivered: "mailbox unavailable."

It should work now!
Looking forward to your submission :)


Cheers,
Martin
Good job, Hannes! Great scene!


Thank you guys, it worked.
I'm feeling a little lost being done after working for a long time on this image...
Nicely done, well done :)
Richard

Stunning!
That is very, very well done!
Quote from: Hannes on March 21, 2013, 06:24:25 PM
Thank you guys, it worked.
I'm feeling a little lost being done after working for a long time on this image...

I can imagine that! Make another one! ;)
It's the best therapy!
Super image Hannes!
Fantastic job, Hannes. Well worth all your efforts, and I can imagine you're feeling a bit like people who stop working when they're 65. They drop in a black hole. Best therapy is indeed starting a new one.
I don't want to be picky, but there's one tiny thing that struck me; the hind rotor of the front helicopter. Did you use a water shader to blur it? It looks like a gray disc, and I would imagine seeing 2-4 blurred fans.
---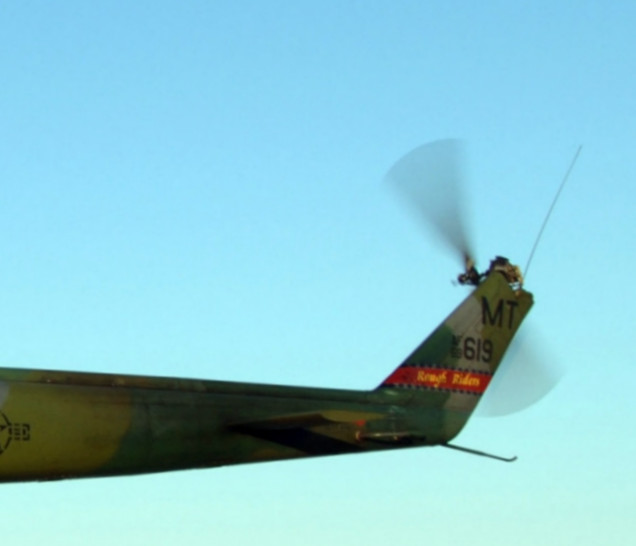 Thank you all!
Dune, I know that the shading of the rotors doesn't really look good, but as I already wrote, it's the closest I could get. It's a water shader.
I'd love to make it look like in the picture you posted, but unfortunately TG doesn't support image map greyscale falloffs, so I have no idea how to make it look correct.


the thing about the rotor may indeed be a bit picky ;-)
There is a method, Hannes. Try this.... (small fix-up in an army tent object) no waves of course, reflection set to 0. Image map shader to UV
---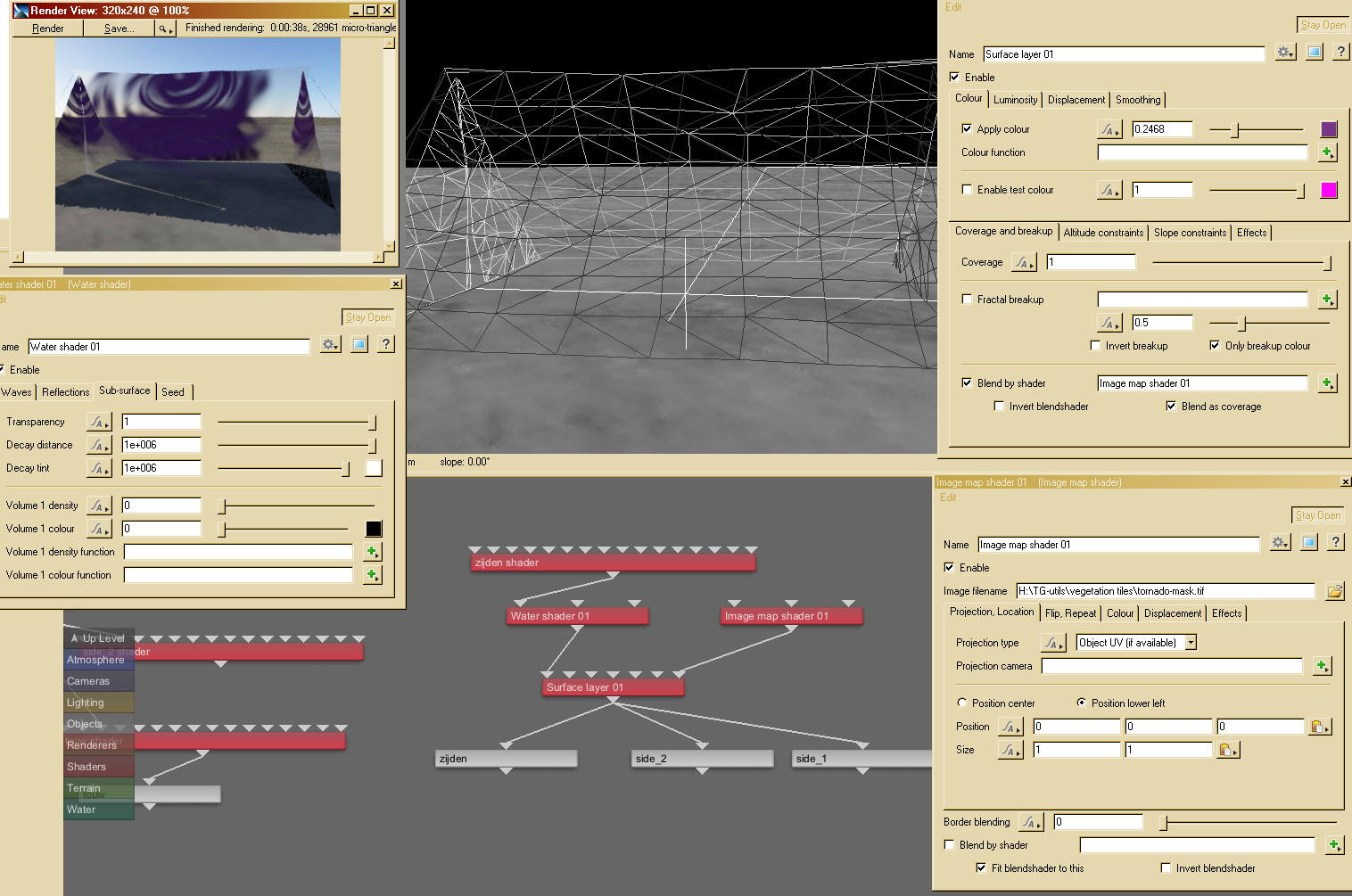 Its great Hannes. The road is as crisp as I have seen. The lights work well at this quality level.


If you need something to do, do an animation of this scene! :o
Holy shit, it works!!!
Thanks so much, Ulco! I have no idea why this works, but now I need to rework at least the part where the helis are.
Dear NWDA-guys, am I allowed to update my entry? I'll send the new image to you as soon as it's ready.
---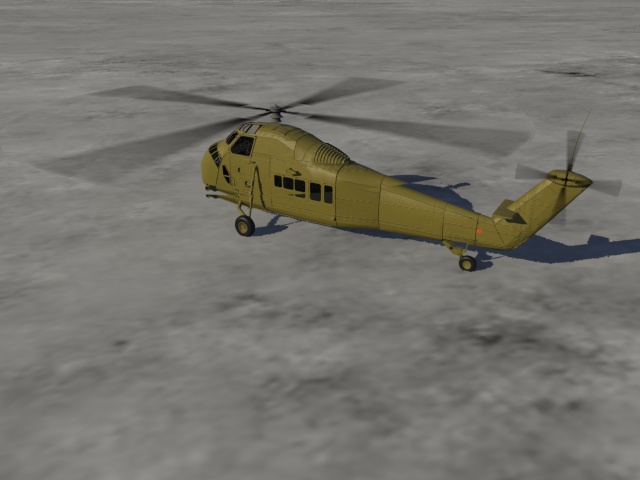 yeah sure. You may make as many changes as you wish until the deadline!
:)
We split the awards, won't we, Hannes... ;)
Yes, and Frank deserves a lot too! ;)
Very small update for a so called finished image...
---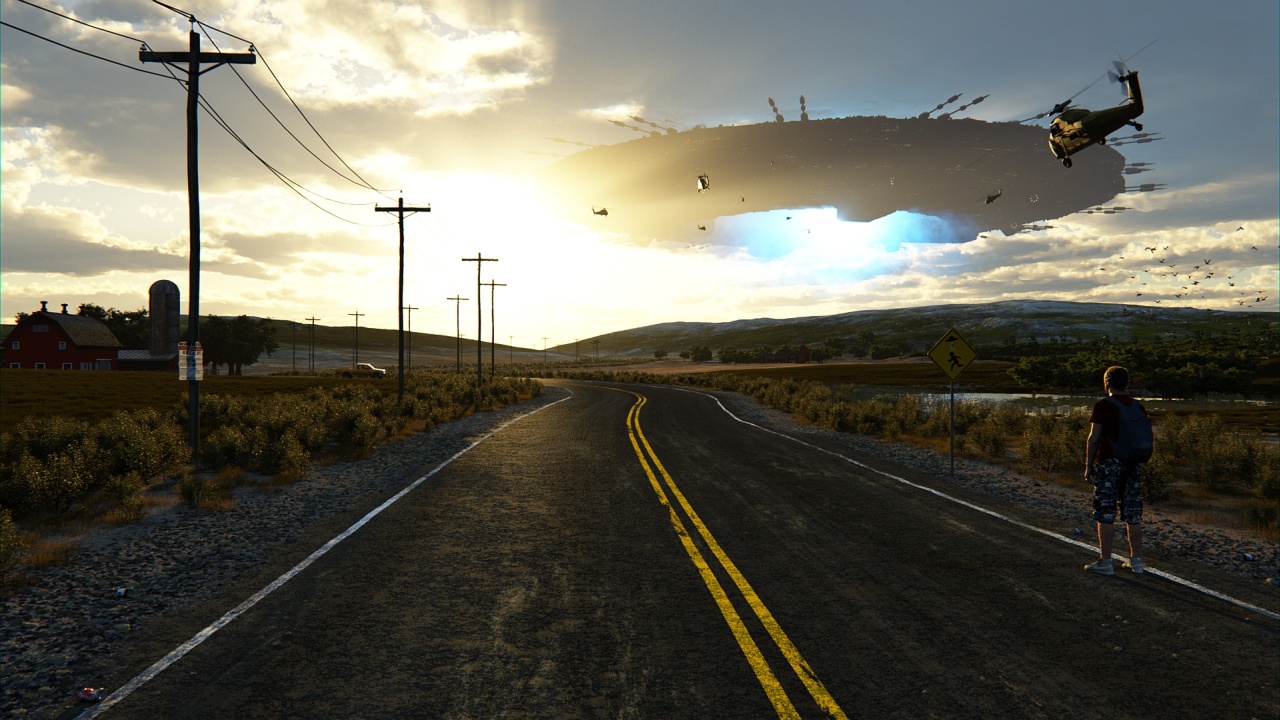 Very nice !!!
Very, very good Hannes. Think I got my UFO from your Mother Ship.
I feel a bit like the guy in the scene here.... goosebumps!
this is EPIC!
:)
Great and scary work