Well, after some unsuccessful starts, I decided to resurrect and refine an earlier scene of mine...
All well and good, until after 33 hours of rendering my mac has become unresponsive... The mouse pointer moves but that is it... It took 24 hours just to do the sky on a 1280 pixel width render... It looks great, but about a quarter left to do nothing is moving... What a nightmare!!!
What shall I do now? Leave the render for a while longer?
Reconsider the sky settings and lay out?
Or start with a new sky and re-render?
Not a happy bunny!
Cheers
Jason
I feel your pain! lol
24 hours to do the sky at 1280, well either it's the most incredible sky ever or maybe your render settings are a tad to high. I'd go back to the drawing board and see what gives.
Good luck
Richard

Yeah let's have a look at those settings and the overall scene so we can see what your scene requires vs what it is using now?
Thanks guys! I had to hit the kill switch on the mac... I'll do a smaller render to post here and re look at that sky(of course it was awesome!!)... Maybe send you a clipfile Martin...
Cheers
Jason :)
Sure Jason, no problem.
Also don't forget to supply us with the render node's settings.
Ok, I have deleted problem nodes, (especially a low level ultra diffuse cloud!) which were causing problems... re-built the node network, and a render has finished, but, I have a render bucket discrepancy issue...is the easiest way to fix this; a crop render and comp in post-work, or another method?
cheers
Jason
I'd try a crop. Should be fast to check out if that suffices.


Thanks Frank... I thought that would be quickest... I'll let you know how it worked out soon!
Cheers
Jason :)
quick answer is...no!
some post-work may help, but the obj I am using may need to be changed/altered as well...
:)
At long last! This image was saved from two composited .exr files (one full render and one crop), some selective erasing to eliminate the render bucket discrepancies... et voila!
Possibly some more tinkering to do... what do you folks think?
cheers
Jason
:)
---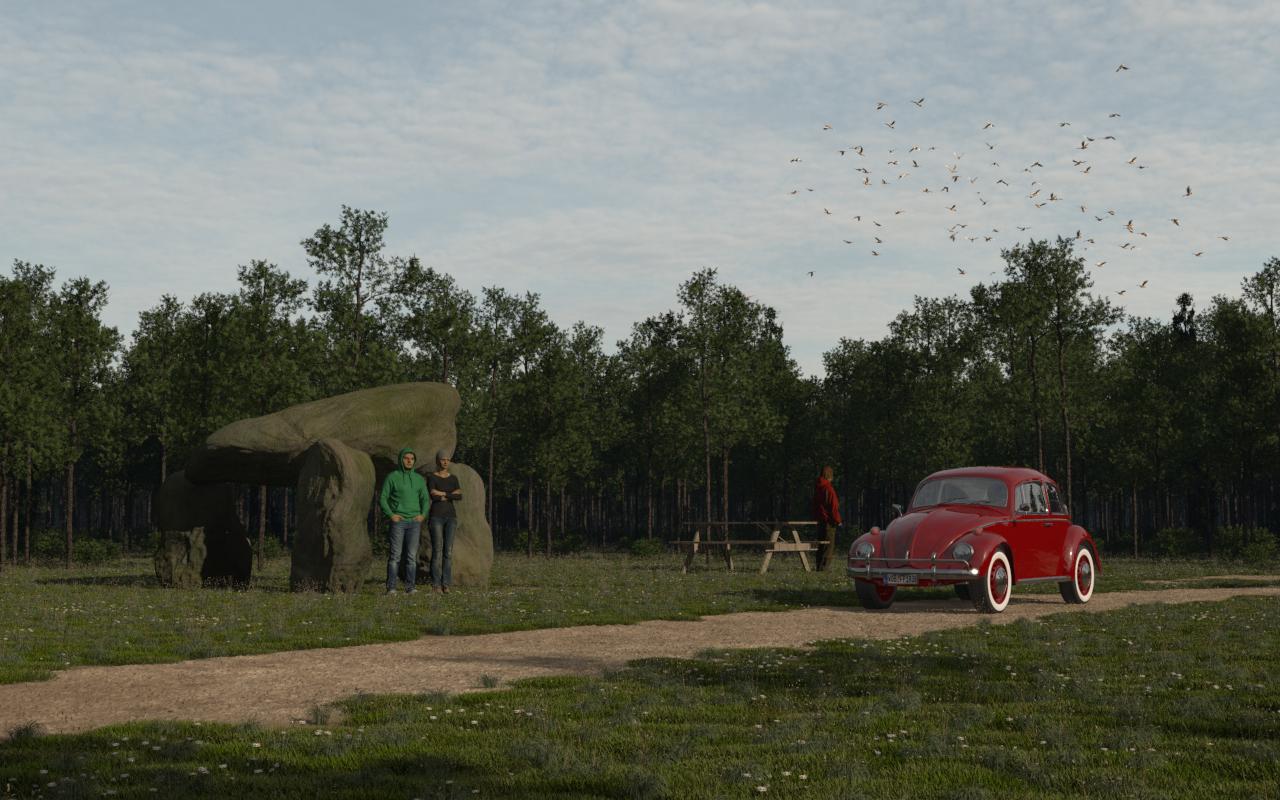 I don't know whether this one is eligible for the contest Jason as it's pretty much the same as a previous finished work from you:
http://browse.deviantart.com/art/Giant-s-table-285737444


I'll get back to you about this, ok?


Cheers,
Martin
? Ouch... I checked the rules, I guess it isn't clear... I haven't tried to mislead anyone... So if you could let me know soon, the clock is ticking! :))
Jason
As I stated in the opening post: It is a refined and elaborated version of a scene, the pov's are slightly different also... I can supply you with the original tgd and the new one as well, if you like... What is the verdict?
Cheers
Jason
:))
Hi Jason,
No stress.
At first sight, which is important, we didn't see much difference aside from the removal of a big cloud layer.
Especially I instantly recognised it which I probably couldn't if it would be altered more from the original.
It's correct that the contest rules don't provide in this and in retrospect it perhaps should have.
The reason it isn't in the contest rules is that we don't know any CG competition where old finished/published work is allowed as submission.
Therefore we would like to encourage you to keep on refining this scene and setup into something "new".
For instance, Gregsandor also uses an old unfinished project which he's revamping for this contest into something "new".


If you have any questions then please let us know :)

Martin
Hi Martin, no, no stress... Just keen to go forward, I have commitments that restrict the amount of time I can spend on this project... Now that clarifies things for me.... Now I can work out where to go next...
Cheers
Jason
:))


The only issue I see is that it's not really about a road, and the contest is specifically a Road Contest. There's a gravely area, but I should change the POV to make it more as the centerpiece and work it out to be a proper road, be it a gravel road. That would be my advice.
The road can either be main subject of the image or a supportive element of the image subject.


Cheers,
Martin
Still, if there's a jury or poll, a clearly visible road may have more chance. That would be a large part of my criteria if I were to judge.
Thanks for the input guys... The theme is 'roadside' so I will keep that in the forefront of my mind( and image ) !
Cheers
Jason
:)
always liked that render Jason, look forward to additional work on this Cheers man
The beetle needs some axles.From this point of view there's really something
missing down there. ;)
Keep going J,J.

thanks Danny and J, concocting ideas as I type... onwards and upwards!
a new pov may solve the missing metalwork... maybe a new car... not sure yet...
cheers
J

:)
ok, so I have been tinkering a little - I found this place, I quite liked it so, I tinkered some more.... there are some things that are wrong, these can be fixed easily enough I hope.... what do you think?
cheers
Jason
:)
edit: btw, very minor pw=saturation and exposure...etc...
---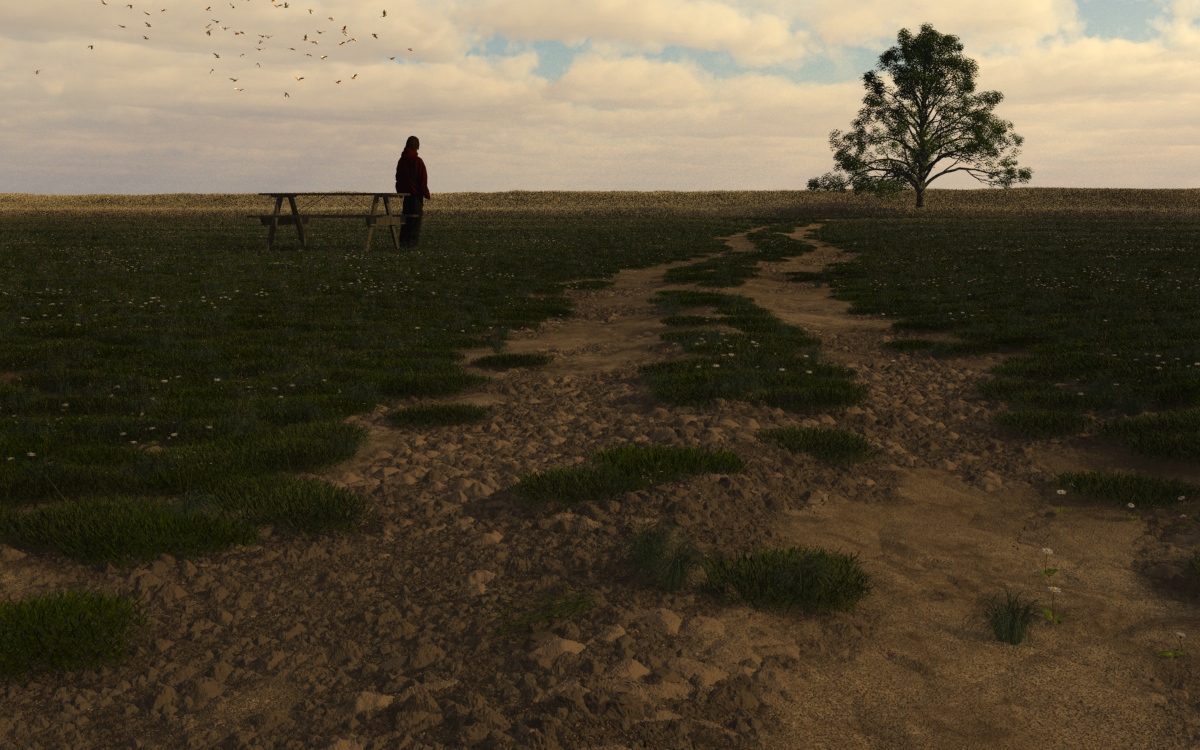 Yeah looking good. The breakup of the road is very very nice!
The stones/pebbles could be a bit smaller and use a bit more detailing, perhaps.

What else are you planning?

Cheers,
Martin
Looking good Jason. Maybe a beam of sunlight shining down on the road would be effective as well.
Thanks Martin and Bob, the on the 'things to do' list include - fixing the fake stones-scale/textures etc...
Removing the stray daisies from the ruts - fix the tree placement -maybe remove or replace it- not sure yet? - increase exposure/GI settings, maybe some random weeds, a fence and gate before the field/ditch.... It has been said that TG tinkering never ends...how true indeed... More updates to come soon....
Cheers
Jason :)


Hi folks!
Here is the latest iteration:
Very minor pw = saturation/contrast/jpegging...
Still some tweaking to do...
What do you think so far?
Cheers
Jason
:)
---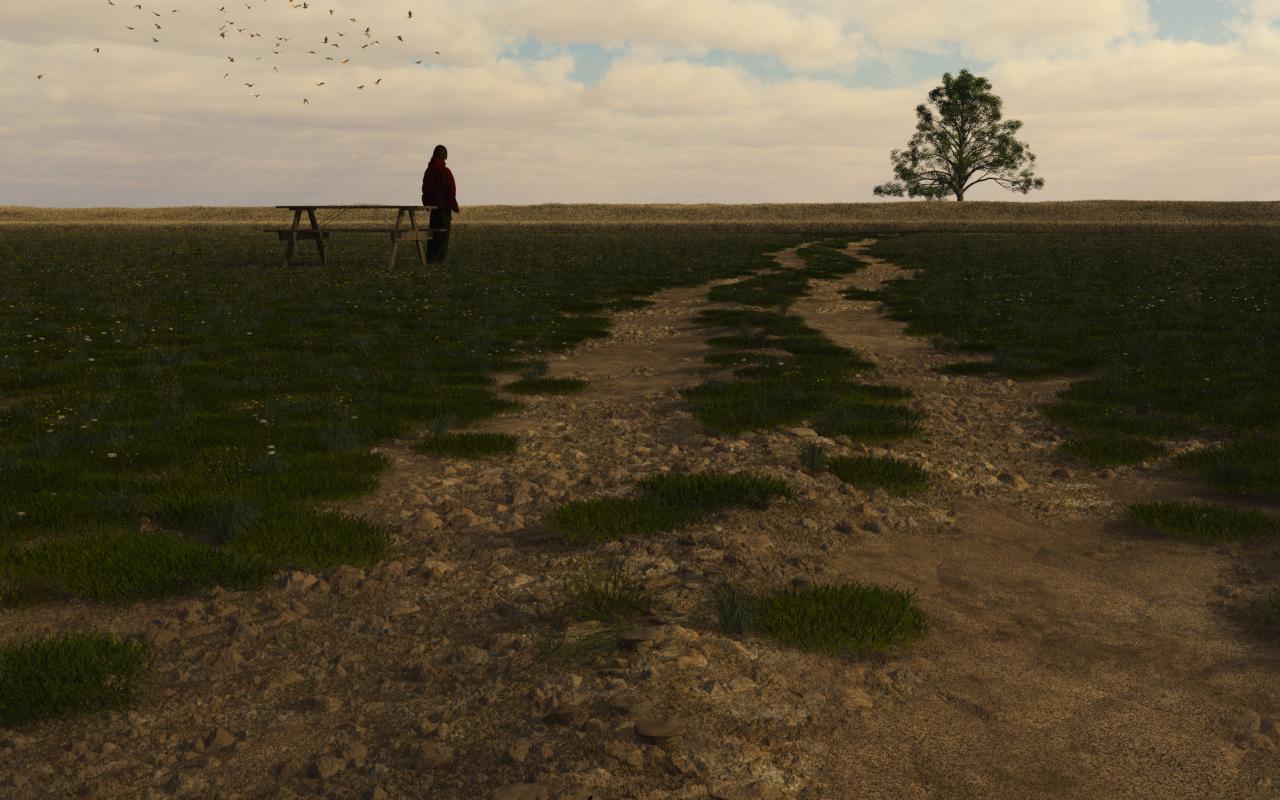 the no pw version, just jpegged...
:)
---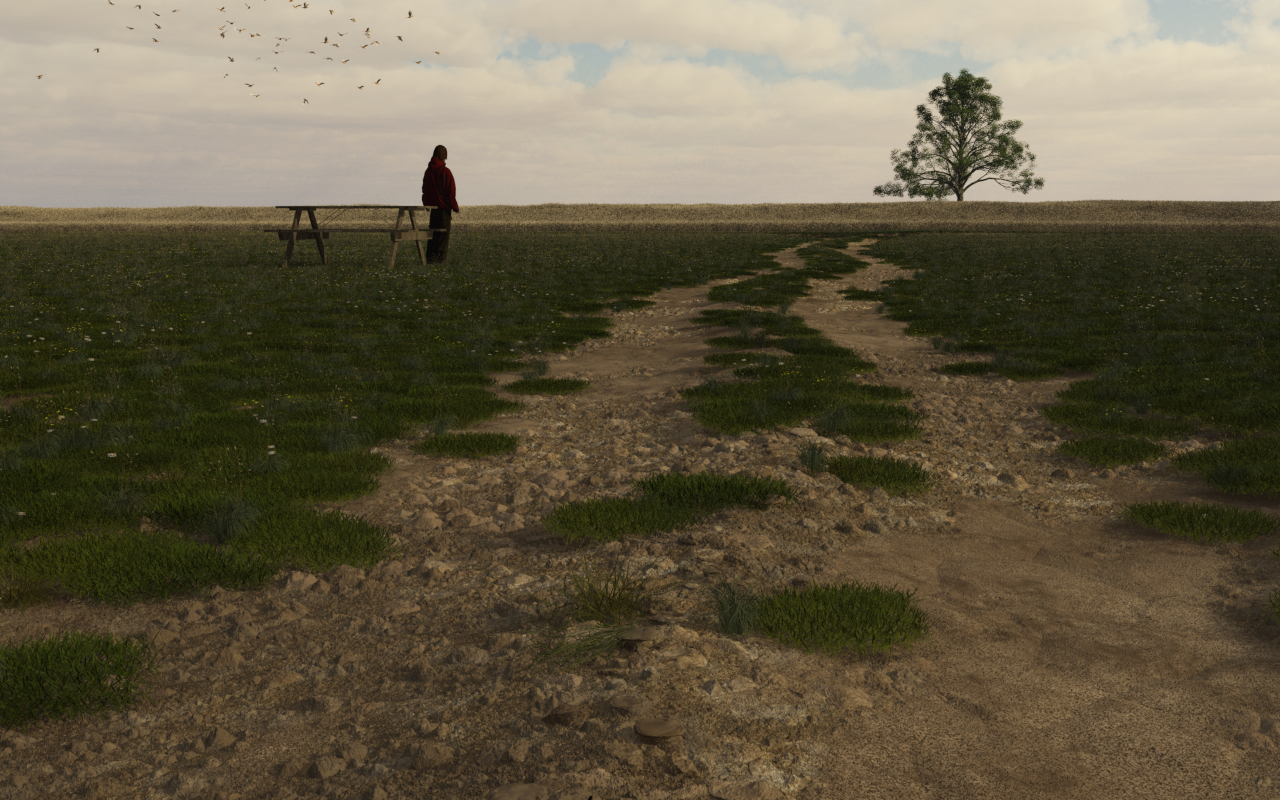 Quotefix the tree placement -maybe remove or replace it- not sure yet?
A solitary Oak would be nice
http://i.istockimg.com/file_thumbview_approve/6270637/2/stock-photo-6270637-solitary-oak-tree-in-the-fog.jpg
http://www.cambiumllp.com/wp-content/uploads/2009/10/solitary-oak-and-sky-1024x432.jpg
http://thumbs.dreamstime.com/thumblarge_118/1170550067zb20o8.jpg
your last render looks great, :) though the only problem i have with it is the pov, its low enough to ground where you can easily pick out the fake stones

though the road does look pretty good already.
Thanks Badger and Lane!... Last couple of days left...so much to do!!...Badger...mmm, a solitary oak...perfect, that is the look I initially wanted, I think I have got that sorted now...& @ Lane, well, I have shrunk the biggest fake stones a little, but I may still raise the camera a little... not sure yet.
Lots to do tonight... plenty of crop renders, some object placements to fix and some re-seeding etc etc,

Cheers
Jason
:)
I like this last render; but, would like to see more light. Based on the clouds, maybe the scene is in shade. As mentioned before, a beam of some rays lighting up the center of the road would be nice.
Thanks Bob, don't think the sun is going to peak through the clouds in time for the deadline, but, who knows, I might return here for another day (or 10!)
:))
last few things to do...
J
A nice mood in this one Jason ! :)
merci Jo!
:)
...skin of the teeth....
title: 'Journey's end?'
:)
had to abort render very late last night; (exploding stone syndrome) (22.5hrs!) don't ask (burning the candle at all three ends!!!.... :))
quick meltdown avoidance procedure kicks in...
eventually:
...
what a journey!
immense fun!
good luck to all!
J
:)
---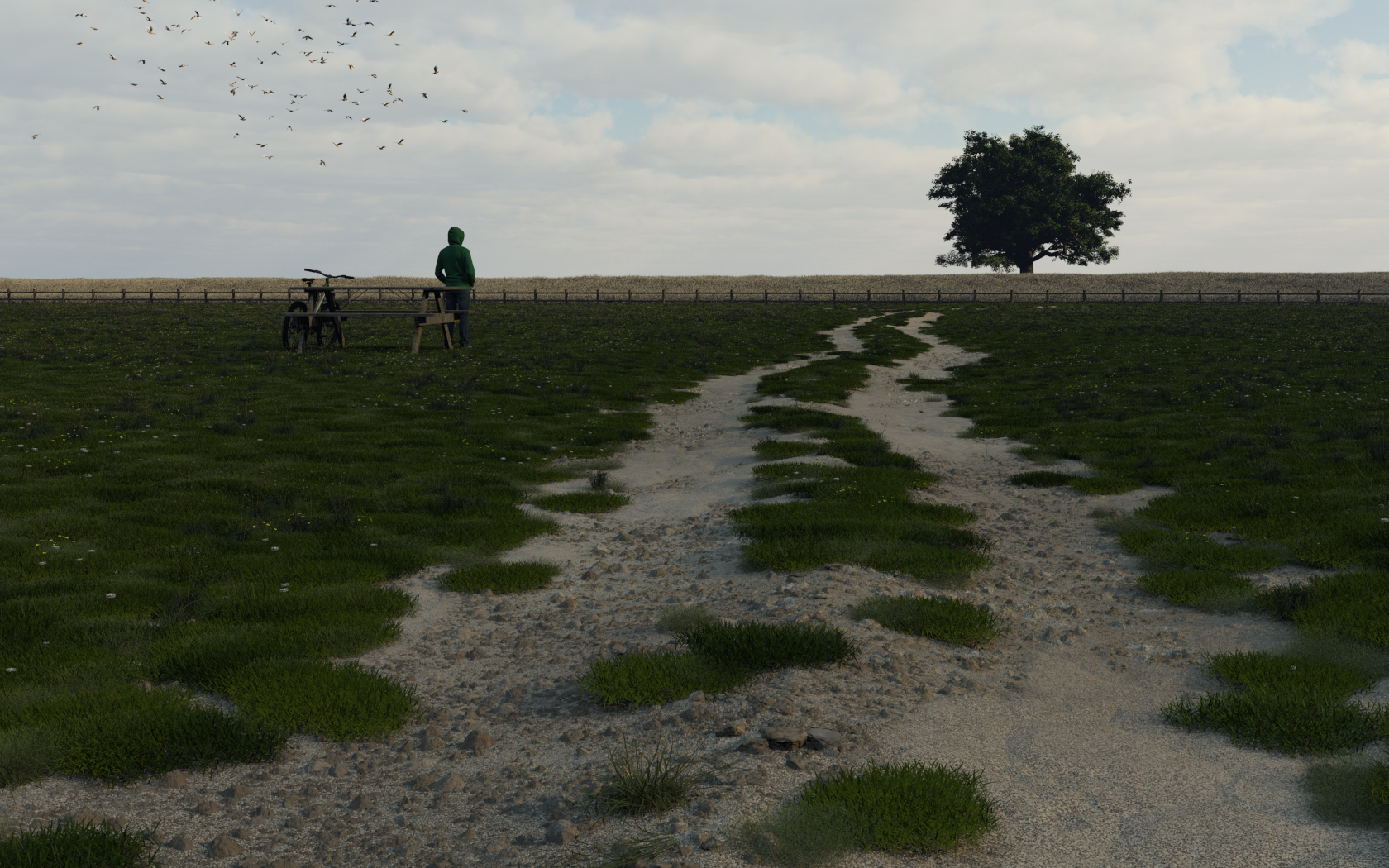 That's actually quite nice! Good job!
- Cam
Good luck, Inky! There's more to this than you see, is my opinion.
Thanks Cam and Ulco... It is weird, but the image seems a lot darker in my web browser/devices (safari/iPad/iPhone) than it does in TG/photoshop etc on my iMac?
Cheers
Jason
:)
It is rather dark and dull, actually. Like an overcast situation. But I thought that was intended.
Hi Ulco, yes it is overcast and in cloud shade... I think my iMac monitor is just a little too bright maybe...
Cheers again
Jason
:)
Yes, a bit dark, but I was surprised after seeing the thumbnail to get a rather nice sense of realism, calm, peace, contemplation. Nicely done.

- Oshyan
The darkness contributes to the "there's more to it " aspect,methinks.
Nice one.
Thanks Oshyan and j meyer!
:)
Jason
Agree with Oshyan. A nice image Inky !!!
Has a real feeling to it. I have been in that exact moment.
Thank you Jo and Michael!
:)
Jason
roadside - nodeside!
:)
Jason
---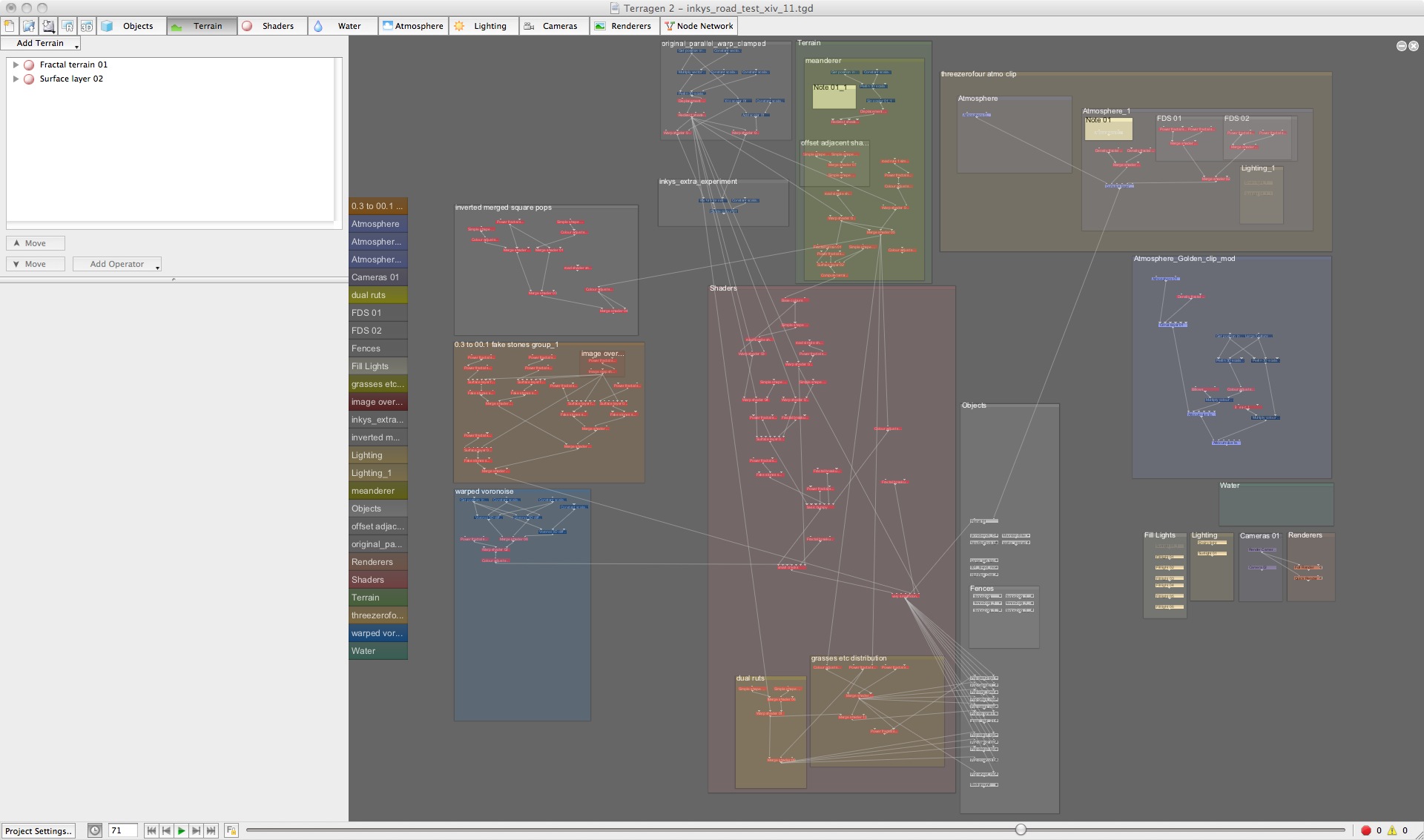 A lot of work went into this one; but, one can see it was well worth it.
Wow Inky - that's impressive to say the least!
it was a lot messier before I took the screen grab!!! ...even now there are still approx' 40 nodes that are obsolete (not including the disabled nodes!)...
what this competition has taught me is:

to label as many nodes, if not every one!
write lots of note nodes to yourself!
save often and incrementally.
ask questions.
experiment!
have fun!
cheers
Jason