I was trying to change the size of the default heightfeild to change it and generate a new height field when I got the following up on the screen, I don't know weather or no this is a known issue issue or not. Sorry I wasn't able to save a TGD file as my computer decided it was going to hard reset for some reason after I got the screen grab.
Regards to you.
Cyber-Angel
---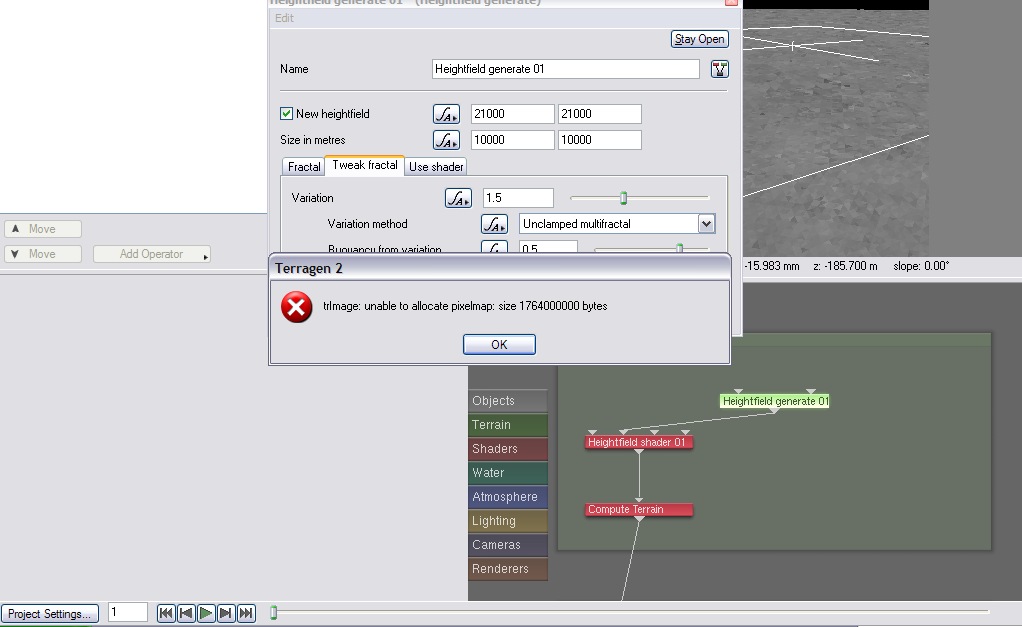 21000 x 21000 terrain.... that would create a 860Mb terrain which could explain the error.

AFAIK this number is only used for exported terrains (and is the pixel dimensions of the file exported) so you shouldn't really need to change it unless you were actually saving the terrain as a TER to load into another program... in which case you may want to calculate the size of the file beforehand.
Generated heightfields do have a base finite pixel resolution although like imported heightfields they are enhanced with procedural detail by default. The error message seems to indicate that the heightfield may be generated at 32bit precision, requiring twice the memory of a 16bit and thus 2x 860MB or about 1.7GB (1,764,000,000 bytes). Even if you had enough physical memory (RAM) for this operation it is almost certain that Windows could not allocate a large enough contiguous block to allow it.

- Oshyan
Ah that would explain it then and any way that much memory is greater than the allowable memory address space for a 32 bit system that kind of memory allocation is only really allowable on a 64bit system, which I don't have.

Thanks for the assistance.

Regards to you.

Cyber-Angel