Under this thread I want to introduce some of my (newer and older) astronomical art renders, made with Terragen 3 and 4.
One the one hand, the depicted landscapes and sceneries are purely fictional, but on the other hand I try to be as realistic as possible and integrating the known facts of exoplanets in my renders (so for example the apparent diameters of planets and suns, light conditions on the surface, colors and atmospheric conditions...).
Because I have an affinity to astronomy and astrophysics , some descriptions will be a little ,,scientific".

[attach=1]

Let's imagine the antipodes of the Solar System: A place in space, about 60'000 lightyears away from here, behind the center of the milky way galaxy.
The inhabitable moon of an entirely water-covered Super-Earth orbiting a young Class A main sequence star, part of a triple system with two red dwarfs, visible over the horizon.

[attach=2]

This is the surface of the above mentioned Ocean Planet. The ocean of this planet covers the entire surface; no continents, no isles.
It reaches down several hundred kilometers (or miles, if you wish) with an immense pressure at the bottom, creating exotic materials like "Ice VII". It's not clear if such a planet is habitable (for humans) or not, despite the water. Because the planet is a Super-Earth (bigger and more massive than earth) the atmosphere also is very dense and under heavy pressure.

The Ocean Planet in very impressive, great work on the water.
Yeah! Great work, especially the ocean.
Mimic above, excellent
echo cyphyr...great stuff.
Always a fan of sci-fi (or sci-probability) images - you are off to a great start!
Great images!
Thanks to all of you for your comments.
Other renders will follow.
Another render of my "archive":

A panoramic view of an upcoming thunderstorm on a habitable exomoon.
This earth-like moon orbits a Jupiter-like host planet somewhere in the universe. The gas giant itself revolves in the habitable zone around a sun-like main sequence star. So to say a ,,warm" Jupiter.
Billions of years ago, the gas giant formed in the outer regions of this system, then moved in by gravitational perturbances to its present position, stable for the next couple of billions of years. This movement devastates and changed the whole system, by ejecting planets in the interstellar space or in the sun itself.
I am supposing a geologically very active moon with a ,,heavy climate", because the near gas giant is affecting its moon with his gravitation much more than our moon is affecting the earth.
Big tides not only in the water but also in the atmosphere, so severe climatic events are common, but life is very adaptable.

Three very beautiful images.
My newest render: An early and frosty morning on Mars on an ancient landslide, and I mean a really ,,frosty" morning, about -90° Celsius. At night the carbon dioxide in the atmosphere has frozen and, with the rising sun it will sublimate soon.

[attach=1]

It was a little tricky to create the half buried fake stones, partly covered with dust.

Nice images. I like especially the second one.
A new render of my "Red Worlds"-series:

[attach=1]

An imaginary view of the surface of Barnard's Star b, the nearest exoplanet orbiting a single star.

Nice. Perfect for a Riddick movie.
A suborbital flight over an habitable exomoon orbiting a gas giant:

[attach=1]

Only Terragen 4 and a minor color correction
Nice sense of scale. I'm sure this is an alien world so my Earth-based assumptions don't count, but given the water and terrain colors, those very yellow beaches do seem a bit odd. Perhaps there is a deep sulfur sediment at the bottom of the entire ocean? :D

- Oshyan
Who knows. Perhaps this exomoon is habitable for humans, but not without restrictions... ;)
For comparison: Version II with less yellowness of the beaches.
[attach=1]
Yes, for my taste this is better. But of course it is your scene and up to *your* taste! :)

- Oshyan
Very cool!
Amazing works!
A little astronomical sci-fi:
A hostile planet orbiting a young red dwarf binary system. The strong X- and UV-radiation is inducing Cherenkov radiation in the strange crystalline mountains.
Very inventive with the back story...I often feel that's what makes an image; oddly enough...I really like this one!
Quote from: raymoh on July 16, 2019, 02:16:19 pm
A little astronomical sci-fi:
A hostile planet orbiting a young red dwarf binary system. The strong X- and UV-radiation is inducing Cherenkov radiation in the strange crystalline mountains.

Cool seeing stuff like this coming from TG again. Nice work.
Nice idea and nice render. Could you get the crystalline structures a bit more glossy and trancelucent? That would improve the overal view very much I think :)
Quote from: DocCharly65 on July 17, 2019, 01:13:09 am
...Could you get the crystalline structures a bit more glossy and trancelucent? That would improve the overal view very much I think :)

Echo this. Would really like to see how it turns out.
I am here because of the title. And not disappointed.
:)
I'm working on my crystalline mountains.
Meanwhile an older render: An imaginary desert planet with two moons.
Cool mushroom formations!

- Oshyan
Usually I'm not too fond of alien worlds/planets, but if executed nicely like this series it's definitely a joy to watch, great work! I especially like the water world and some of the dense atmosphere ones.
Thank you! Like I mentioned in my opening post, I'm always anxious to be as "realistic" as possible in my renders. Only the landscapes itself are purely imaginative.
Now here is an edited version of "Cherenkov's Planet". 3 layers of reflective/translucency shaders, raised the brightness, less fog and added some rays to one of the suns to accentuate the high radiation of this "flare event" that occurs to this red dwarf. Needed some render time.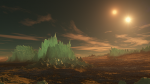 Cool! The spikes look a bit like jade.
Looks great!
A render from my "archives", now here on Planetside:
A stony plain covered with ice and snow on a supposed martian-sized moon of HD 220773 b, a gas giant a little more massive than Jupiter.
In about a ten year cycle most of the faint atmosphere of this moon is collapsing at apastron, due the highly eccentric orbit of its host planet. So the most of the visible snow and ice is the ,,condensed" atmosphere itself.
At periastron the atmosphere will ,,rebuild" to its normal martian-like state.
I presume that HD 220773 b has a thin ring of debris like Jupiter and we are admiring the ,,string of pearls", the exact ,,edge on"-moment of the ring. In a couple of minutes this spectacle is gone, like a solar eclipse.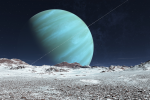 Also something from my archives. This render needs some scientific explanations.
2.5 trillion years in the future: This previously Red Dwarf with 16% of the solar mass has evolved in a so called Blue Dwarf. Most of the hydrogen in the entire star is consumed. By increasing the surface temperature and luminosity (to about a third of the solar luminosity) it reaches a new equilibrium that lasts another 5 billion years.
In this far future of the universe most of the more massive stars are ,,dead", changed into White or Black Dwarfs, Neutron Stars or Black holes. The luminous part of the still existing galaxies now are made of evolved Red Dwarfs. Very slowly the era of the luminous stars is going to an end... in about 100 trillion years the universe will go dark and black for human eyes (if the theories of the expanding universe are ,,true").
The render: An evolved Red Dwarf in the sky of a previously cold planet outside the habitable zone. Because the increased luminosity the planet is now in the middle of the new habitable zone, and ice of different origin aged billions of years begins to melt and forms a new atmosphere and shallow ponds, birthplaces for a second evolution.
There is no more geological activity and the entire planet is a vast plain, mountains and valleys eroded to boulders, stones, pebbles and dust in the last 2.5 trillion years. Nevertheless life will find a way.
Terragen 4 and Pixelmator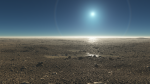 Such a seemingly simple scene, but I really love that low mist! And the balance of specular really works for me too.

- Oshyan