Just a small render I made today where I was trying to understand a bit more the displacement maps and tried a bit of ray tracing.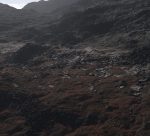 Not bad :) Cool mood!
Well done!
Big like!
Was able to make a new test scene at lunch I am not very focus on the background again playing with displacement and ray tracing.