My adventure with Blender continues, so here is another house for your use and abuse.
I feel I'm getting better at it if I may say so myself. One vertex at a time.
There is a small glitch on the building's right wall - displacement function results in a dark rectangle showing up. Just keep the walls smooth. Sorry for that!
Enjoy!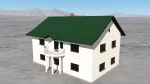 https://drive.google.com/open?id=1wz0eG_bb5wqZQdZLkbE0TWHkrOPvMZu_