Hi All,
I have done nothing with TG for ages (no excuse given Covid). I was rather taken with a Windows 10 login picture of Torres Del Paine National Park in Chile so downloaded the area from terrain.party (what a great tool for height maps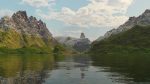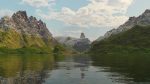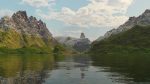 !) and produced this. Simple render using a rock texture image for the base terrain then mixed in some colour power fractals. I'll keep working on it. Oh and you may be wondering at the sparse vegetation - it's cold, high and sparse there! The other odd feature is the tall spike of rock in the background. It does exist!
So, maybe say "welcome back"? Great render anyway, not only in size. I see you're still working on it, so here's my thought; maybe use displacement intersection to get some old smooth snowfields (but perhaps that's not possible with an imported heightfield). Also, I would vary the greens and let them gradually fade into the snowy areas, perhaps change its hues in higher areas as well to a less lush green. If you use a loose altitide mask (no final altitudes), you can warp that as well, and have a less regular vegetation line.
Thanks for the advice Ulco. I will carry on working with it :)
Second attempt. Thickened the snow at higher altitudes and added to the terrain colours. I'm quite pleased!
Great update!
Nice return...... I am also returning !
Will try that link you included !
Thanks !
Paul