Ok not sure what has went wrong or if it's just my computer.
I was trying to save my project file for the first time (with this project).
I tried in two places, one in a folder inside my documents, and one in documents.
The file shows up in explorer, but i'm not sure if it's actually saving everything or not.
I've attached the message on my screen.
Reproducing my steps might be a bit of a problem since I'm not exactly sure everything I did. I've left my TG2 open for later use since it's not saving (at least I think).
Sorry if this is a bit wordy.
Programs I had running (not everything, just what had a spot in taskbar)
---------------------------
-TG2
-AOL 9.5 Refresh Beta Download
-Google Chrome
-Avast! AntiVirus
-COMODO Antivirus+Firewall Free
-Threatfire
- Ad-Watch Live
My system specs are
----------------------
-OS: Windows Vista SP1 Home Premium 32-bit
-PROCESSOR: Intel Pentium Dual CPU T2310 @ 1.46Ghz
-RAM: 1.00 GB
-Windows Experience Index: 3.2 [Graphics is lowest item]
-Laptop
-about 1.5 years old
---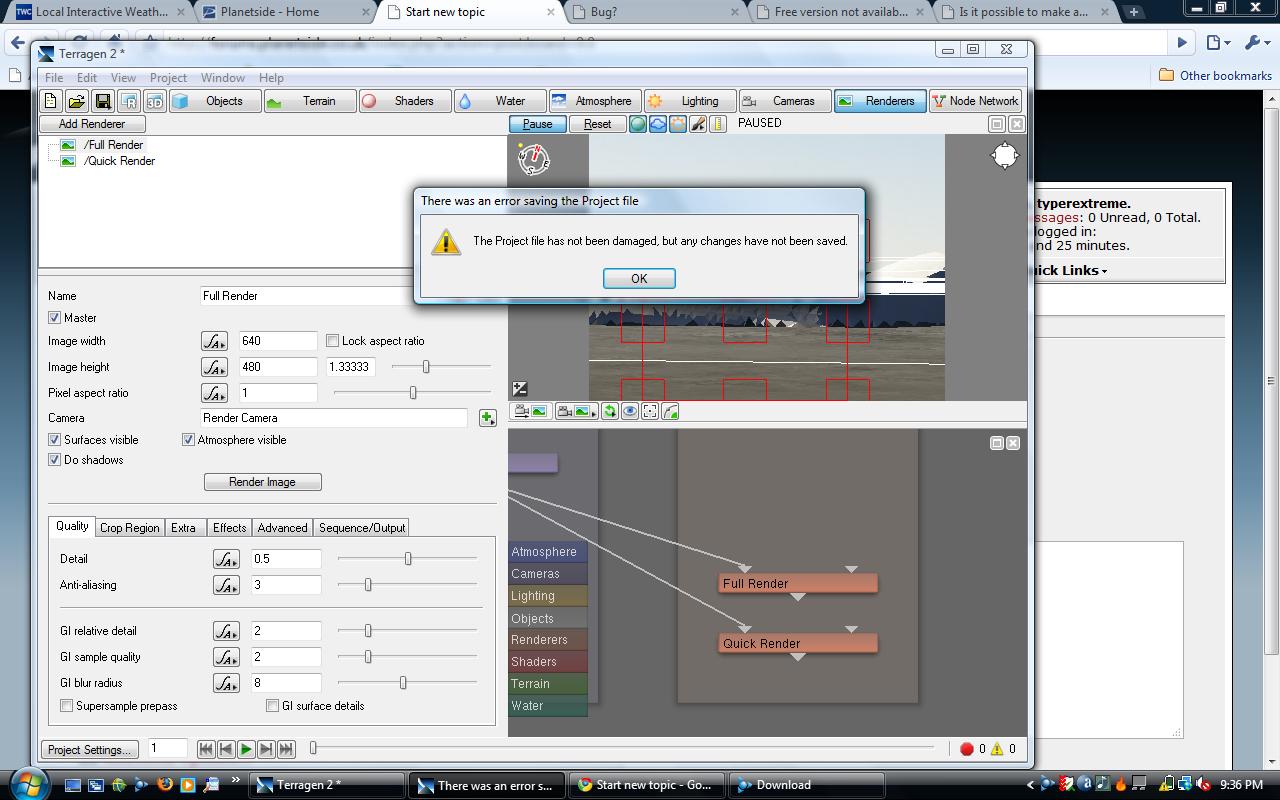 Try opening another instance of tg2 and loading the file you are trying to save, to see if it was actually saving.

You also might want to try to close down some of those other programs first and see if it will save.

Also, its quite unwise to run multiple anti virus programs, as they often will eat eachother up, use up more resources, etc.
Are you using a non-English version of Windows or have any special characters in the path? Try saving to the C: root (it can be in a folder off the root).

- Oshyan
Hi,

What version of TG2 are you using exactly? You can see that on the splash screen or the About Box, which I think opens from the Help menu on Windows.

Regards,

Jo
To neuspadrin: I know I shouldn't run multiple anti virus programs, i just installed the COMODO one a week ago and needed to train it a little bit to get everything right.

My project did save in all the places i tried before reporting this, guess i should've thought about opening another terragen to check. :)

To Oshyan: I'm using English. I tried saving in "C:\Documents\" [I think this folder is actually from my laptops manufacturer] and it didn't give an error of any form and the title bar has the location i saved in.

To Jo: "V2.0 (Build 2.0.3.1) Free" and yes it opens from the help menu.
Hmm, so I'm not entirely clear the results here. It sounds like it may have been a pathing issue? Can you reproduce this problem?

- Oshyan
Okay, i'll try and clarify here.

I opened another instance of tg2 and checked the other save files that had been left when the program reported the project file was damaged. All of these had in fact saved correctly. I just didn't know this at the time. When I had tg2 save into "C:\Documents\" (which already existed as a folder on my computer) it did not tell me the project was damaged, and changed the program title from "Terragen 2" to "Terragen 2 - C:\Documents\Untitled.tgd" like it has done when it saved correctly with no problems.

I don't honestly know what happened. I also do not know if I can reproduce it.

If you think it is something in the TGD file i can send you that.

By reproduce do you want me to attempt to retrace my steps in a new project, or just try saving in the same spots again with a blank project (or one with some changes from default)?

edit: ok i just tried saving a completely new (like just started tg2 and hit save) in "C:\Users\my username\blank.tgd". It gave me the same error.
If your username really does have a space in it as your example indicates, then that's probably the problem. TG2 doesn't handle spaces in paths very well at the moment. It's definitely on our fix list. If you can save properly to a path without spaces, then this is probably what's going on.

- Oshyan
Sorry Oshyan, i'm being a little misleading about the username b/c i don't want to give it away, it DOES NOT include spaces in it. The full path to the Documents folder has no spaces in it either. i should have labeled the spot a different way.
Hmm. Any special characters in your username then? Regardless, this sounds like a manifestation of an error we're aware of and will correct in the future. In the meantime a workaround is to save in a more simple folder structure.

- Oshyan
The username is Ian
So the path to my user folders would be : C:\Users\Ian\
I'm wondering if maybe my installation got corrupted by something. I'm attaching 2 pictures. One is the Process Access Rights on "C:\Program Files\Planetside Software\Terragen 2 Free Edition\tgd.exe" and the other is the Protection Settings on the same file. I don't know enough about this to know if it could be causing the problem.
---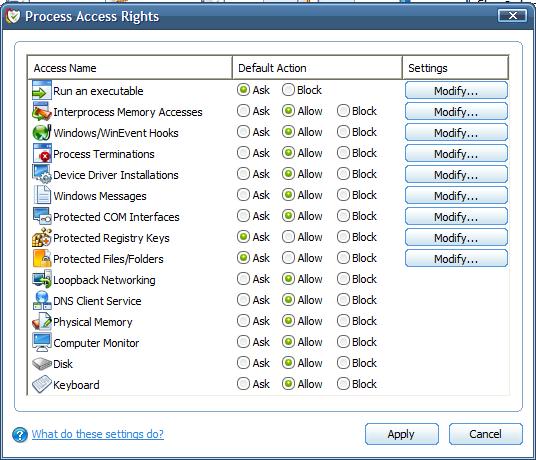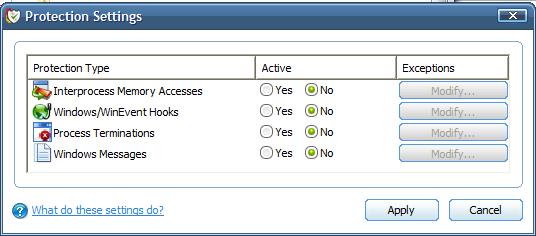 It just seems so much like the known pathing issue, I'd be surprised if it was something more unusual. In any case you have a workaround, is that right?

- Oshyan
I never had the pathing issue before i upgraded to Gold edition. Um, yeah I have a workaround, i'll just save somewhere else not in my user folder.
Quote from: typerextreme on May 08, 2009, 11:11:05 pm
I never had the pathing issue before i upgraded to Gold edition. Um, yeah I have a workaround, i'll just save somewhere else not in my user folder.

Were you using the beta until you upgraded to "gold"? Or one of the prior Technology Previews? Did you get a chance to use 2.0.2.1 (the initial release), before upgrading to 2.0.3.1? If so, did the problem occur there too?
- Oshyan
I've used Tech preview 4 through Beta, then i got 2.0.3.1, somehow managed to skip 2.0.2.1 so I don't know if it would have happened in 2.0.2.1 although it never happened in tech preview 4, 5, or the beta

[edit]: as odd as this is going to sound, it works this time with no errors, at least the project i just saved in 4 places.

Very odd indeed! Let us know if it happens again.

- Oshyan
Quote from: Oshyan on May 10, 2009, 04:07:23 pm
Very odd indeed! Let us know if it happens again.

- Oshyan

Will do. I believe you can lock this now or whatever.
>:( it happened again. but i'm going to remove all Terragen stuff from my comp with RevoUninstaller (not if this will make any difference later or not).
Once the Terragen stuff has been removed from my computer i will restart, and download a fresh copy of the terragen installer and run it.

I can't remember for sure about the previous time, but this time I have Snarl and Pidgin running, and it is possible i had Pidgin running before [it likes to hide with the other inactive stuff sometimes]. If I continue to have the problem, I will try turning off Pidgin before saving and if tg2 saves correctly, I will open Pidgin again, try and save the same project file and see if I get the error. All in all, I will post the results after I'm done.

I also noticed that the project file i saved last night that i turned around today and reopened had moved the camera entirely from the spot it was in. i can package everything up if you want. I have two versions of the project file, one has what i did last night, and the other is today's changes in an attempt to fix the position of the camera, which saved correctly [plus gave me the file save error, but it worked fine saving].
Hi,

Sorry to hear you're still having problems. Can you remember where you tried to save the file?

TG2 has a safe save mechanism where the file first gets written to a temporary file and then placed where you want to save it. This way if something goes wrong when saving the file your original file ( if there is one i.e. this isn't the first save ) is untouched. I think this is probably what is causing you problems, but it would be great to know why it was causing you problems so I can fix it!

Regards,

Jo
Hi Jo, I really don't know whats causing the problem. Today was the first time it had the problem since May 11, 2009, 09:35:14 PM.

Um, I tried saving it here:
C:\Users\Ian\Documents\ian projects\terragen projects\prairie\prairie_1.tgd (i typed the _1, didn't use save incremental)

This was the first save with the filename prairie_1.tgd

I have uninstalled TG2 completely, reinstalled it, and am re-rendering my scene, which by the way saved fine both after I adjusted the quality of the render and after i adjusted the sun elevation. I have absolutely no clue what caused the problem. I'm leaning towards my system though. maybe too little memory or something of that nature.

Subsequent saves with prairie_1.tgd were fine after doing the uninstall, reinstall.

I don't think the camera issue is your department Jo, but it might be. If need be, I can open another topic.
------------

As for the camera placement issue, when I adjusted it and saved the file it kept the camera position fine, but the original (prairie.tgd) lost the values and placed it some distance from where it should have been.
I don't know if it's related, but you do appear to have a very low amount of RAM. Any reason you haven't upgraded that?

- Oshyan
Hi,

I'll have another tinker on Vista tomorrow to see if I come across any issues. The intermittent failure is a puzzling one. It could be related to running out of memory, but I don't think it's too likely.

Regards,

Jo
Oshyan: The reason is because i'm 17 and yet to get a job and my laptop according to Kingston Memory i can only go up to 2gb. Right now I have 1gb. Maybe i will eventually, although i hope to just get a new laptop, cause this one has a history of problems associated with it.

Jo: It could be memory though cause i know when i use tg2 my comp slows down a lot, occasionaly DEP kills tg2 for some reason. I never thought to look and see why. Although that was during the beta so i dont know now.
You should be able to add an exception to DEP for TG2. I'd recommend doing that.

RAM upgrades are pretty cheap right now. Depending on the system you can get a GB of RAM for less than $30. Have you looked at pricing for your specific model to upgrade?

- Oshyan
looked at it before replying, $28 for 1 unit or something like that, not entirely sure if its two 1gb blocks or one 1gb block that the package comes with. and i might wind up buying one this summer, once i get a job.

I might just save up enough money to just buy a whole better laptop, mainly cause this one has decided to be a major butthole for anything and everything. It hates our home network and the other computers on it. So i'll probably wind up doing that and keeping this one for a backup or something.

I turned off the Application DEP, just left on hardware DEP. It had an issue with my antivirus and kept terminating it while it was in the middle of a scan causing my computer to fail out the scan but at the same time keep it trying to scan. not fun at all.


*sigh* :-\ It did it again. Although I've narrowed it down to two things possible.

1) Pidgin running at the same time as TG2.
2) Physical Memory usage: >= 90%
3) none of the above, and i don't have a clue what.

I've narrowed it down to these two because, in order to stop the message from appearing, I closed pidgin and watched the physical memory usage in task manager drop from 91% to 89%
It seems very likely that it's memory-related. Hopefully you can upgrade soon.

- Oshyan
I may have read the status bar wrong on task manager.

It says (these are averages)
Processes: ~ 55-60
CPU Usage:
w/o TG2: ~ 8 - 40% (depending on if windows update is running or something else is uninstalling)
w/ TG2: ~ 75 - 100% (depending on rendering or just letting 3d preview work)
Physical Memory: ~ 75% - 95%

Those numbers aren't exact, they are more just the common range. But what i told you earlier may have been wrong. Physical Memory may just be how much I have available atm. I'm not sure exactly how to interpret that number.
You want to look a the Physical Memory -> Available bit on the Performance tab of the Task Manager.

- Oshyan
Ok since I don't know how to read this i'll just attach the screenshot from reeeeally recently. like right when i got the email about the reply.
---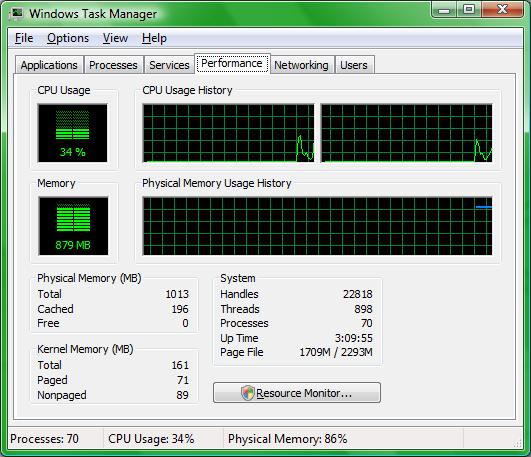 Yeah, your physical memory is all used up. Not a good way to run a computer. Time to upgrade!

- Oshyan
Lol I know. Although right when i took that screencap, and this is still going on, the Amazon MP3 Downloader was/is downloading a couple of albums, i'm still looking for/previewing songs or albums plus i have Pidgin running. I know it's alot but frankly the computer is running better with all that than it does with tg2. not sure why though.
Those applications are less stressful on the os as a whole, where as tg requires pretty much everything to itself. in you're case you need to make sure that you arn't running anything in the background when doing tg2 most likely.
I try to use the windows task manager and COMODO Internet Security's task manager to close programs that aren't windows required. Which means i can only usually reduce the number of running programs from anywhere around 65-69 down to 49-52. I could be missing some though.

I think i could close a couple of others that are from my hardware and windows, without causing harm just as long as I restart the computer before i try and do anything else. Those would be the Synaptics Touchpad thing, [i have a wireless mouse], Windows Defender (i usually disconnect from the internet because i can't use it when running tg2), whatever SeaPort.exe is, something for my sound card, search indexer, and i attempt to kill wmpnscfg.exe and wmpnetwk.exe but they usually just come right back up. I turn CIS to disabled for everything because nothing should start up when all the computer is doing is terragen 2. If any of you think this would be a safe bet to terminate when using tg2 tell me please, i'll terminate them the next time i use tg2.
I am using Terragen 2 version 2.0.3.1 on Mac OS 10.5.6 and I can confirm this error message whenever I try to save a scene to a non-startup drive. When I save the file to my desktop it saves fine. When I get this error message, it does NOT save the file though I can continue to work on it. The workaround is working ok for me at the moment, but I don't know why this is either and I did not have the problem in previous versions.
Hi teksurgical1,
Quote from: teksurgical1 on June 02, 2009, 10:55:17 pm
I am using Terragen 2 version 2.0.3.1 on Mac OS 10.5.6 and I can confirm this error message whenever I try to save a scene to a non-startup drive. When I save the file to my desktop it saves fine. When I get this error message, it does NOT save the file though I can continue to work on it. The workaround is working ok for me at the moment, but I don't know why this is either and I did not have the problem in previous versions.

I believe your problem is something entirely different to the one in this thread, and will be fixed in the next release. The reason you didn't have a problem in previous versions was that the procedure which is causing the issue wasn't in the previous versions. I take full responsibility for this, and like I say it will be fixed in the next release and the workaround I mentioned is the way to go until then.
Regards,
Jo