Recent Posts
1
« Last post by paq on Today at 01:15:24 AM »
Good to know, thanks !
2
« Last post by Matt on Today at 01:05:25 AM »
Soft shadows are calculated from the size of the light source. This is controlled by the "aperture width".

Shape can be either 0 (circle) or 1 (square). I will turn this into dropdown menu for the next version.

Matt
3
« Last post by Matt on Today at 12:31:28 AM »
It might be the Compute Terrain. If so, try using a much smaller patch size that is meaningful for the size of the landscape you're creating.
4
« Last post by Matt on Today at 12:26:25 AM »
So to have a better preview of the real detail I will get with the .vdb export, can I rely on the <visualize voxels> option form optimization tab ? Or will the final VDB capture more detail than that ?

They are fairly similar in terms of resolution. But the shape of the voxels may not be the same. The VDB voxels are axis-aligned whereas the Terragen render allows voxels to follow the curvature of the planet.
5
Having issues with a surface layer after a Compute Terrain for lateral displacement. It's able to select geometry that isn't there and thus effects offsets and the scene. Where are these duplicated SSS shapes coming from? There is no low geometry there for the surface layer to even calculate at those areas outside the trench.

The surface layer attempting to grab the sides of the trench isn't even selecting the sides of the trench properly either.
6
« Last post by masonspappy on May 21, 2019, 11:46:43 PM »
LIke very much!!
7
Hey Everyone

Very new Terragen user here! I have experience with Blender and World Machine but am always blown away when I see Terragen renders. I am just playing around with the free version until I get the handle on the workflow before looking at one of the subscription levels.

I have created a few of my own basic renders and have looked over the internet for example projects to reverse engineer; I specifically found one called Dune's Beaver Lodge in the NWDA store. I rendered the Beaver Lodge file without changing anything and it created a beautiful crystal clear image.

My renders so far seem hazy or like the "atmosphere" is really heavy and I am unsure if there is due to my render settings (or lighting) or the limitations of the free terragen version?


9
« Last post by remoz on May 21, 2019, 11:24:58 PM »
just downloaded and installed the free terragen version.
Is it possible to export geometry and texture maps with the free version?
10
« Last post by Stormlord on May 21, 2019, 06:10:17 PM »
Thank you so much for encouragement!
@ Dune
Thank you!
@Otakar
Thank your for your comment, you can bet, that I keep always my scenes.
The beach is my new starter when I ceate someting with a beach zone.
@ Oshyan
Your Ideas to get a better result is highly appreciated and you're absolutely right!
I found Dunes Grass Patches here in the forum and I plan to implement his grasses into my scene. First tests and I got my personal "Aha!" effect.
Now I know what you meant by recommending some smaller plants as well. Today I just scanning some pretty leafs here to get some good foliages
to scatter them on the ground later on (maybe?).
Also the water's edge mentioned...
I have to find out how to make it work... Just reading here in the forum, learning and try to understand as usuall.
By the way... When I rendered the first image, I immediately had to think upon "Lake Tahoe" because of the shape of the lake in this early first rendering.
While saving, I decided to take that name for my first ambitoned project. It is not intended to make a copy of the "Lake Tahoe", just trying to catch up with the original.. :-)
I decided to post this starter pictures intenionally because I like to document my first steps to see the step by step development of the whole scene (like the 15 miles on erie channel project).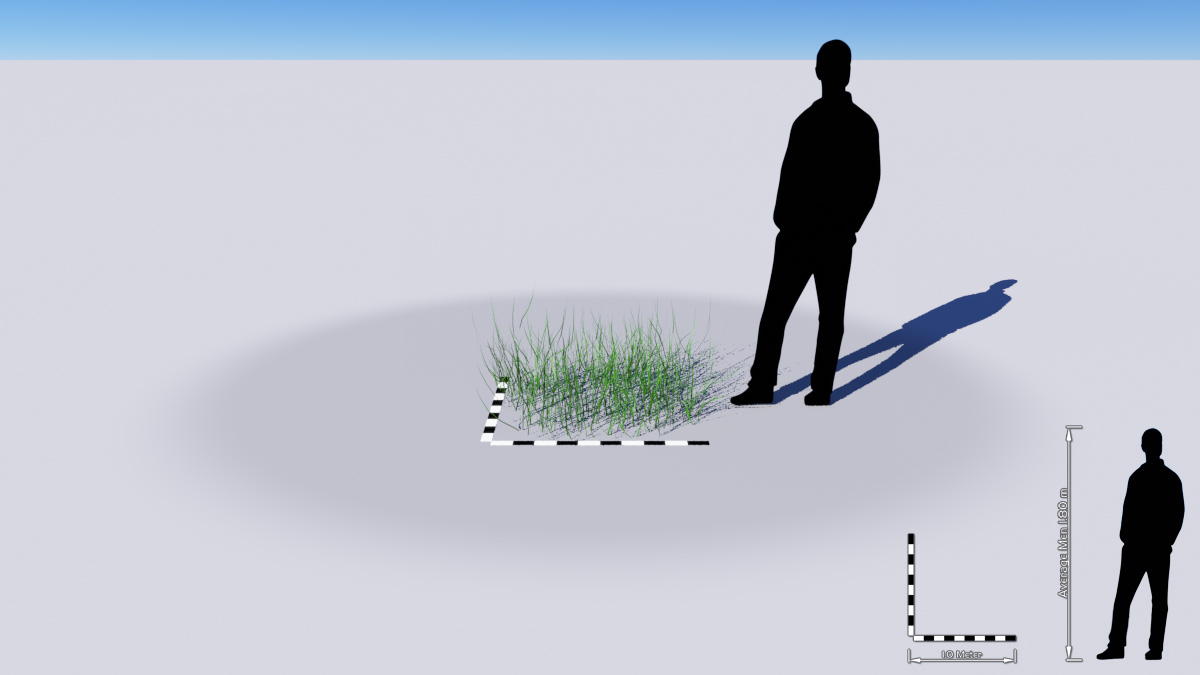 True scale scene for smaller objects like stones and grasses
(Meanwhile in a small village in Germany)
So stay tuned, I will try to take the project further!
STORMLORD