11
« Last post by N-drju on Today at 10:37:59 AM »
Guys, I need your help!

I use a traditional, very simple setup for snow on trees, like the one below: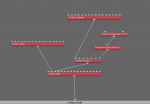 However, I would like to have a population gradually becoming white, the higher the altitude.

In other words - below 500 meters = green. Above 500 meters = snowy.

I tried to make it through the surface shader that is already present and which gives the white coloring, but to no avail! Tried different options but with no success.

It's a Christmas render. The matter is urgent!