Terragen 4 Free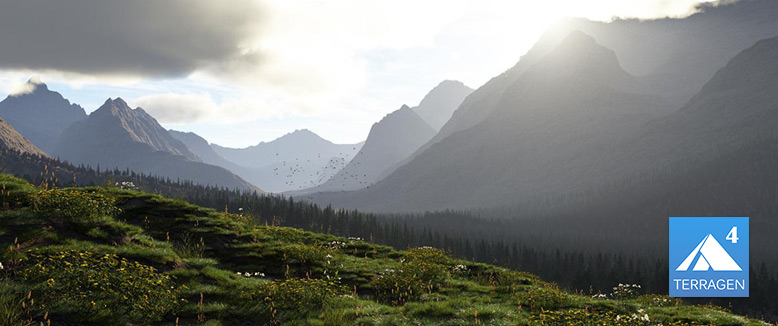 Terragen 4 is available both as a free download and as a licensed purchase option with additional features. The free version may only be used for non-commercial purposes, or 30 days of commercial evaluation, and the following basic limitations:
Render Size Maximum: 1280×900
Render Detail Maximum: 0.6
Antialiasing Maximum: 6
Maximum Number of Rendered Populations: 3
Maximum Render Detail for Micropolygon Export: 0.1
No Animation
A complete list of the differences between the free and licensed versions of Terragen 4 can be found on our Product Comparison Page.
You may purchase a commercial license which will remove these feature restrictions. Your license grants you access to the full capabilities of Terragen 4 and 1 year of Maintenance (updates and support).
The Terragen 4 downloads on this page are for the free non-commercial edition. They may also be used by commercial users on a 30-day trial basis only.
PC
64 bit version of Windows 7 SP1, Windows 8, or Windows 10
Minimum 4GB of RAM – 8GB or greater recommended
Minimum 2Ghz CPU – Dual Core or better recommended
Mac
OS X 10.8 or newer
Intel only (PPC not supported)
Minimum 4GB of RAM – 8GB or greater recommended
Minimum 2Ghz CPU – Intel Dual Core or better recommended

In order to download, we ask that you register and provide your email address. You will have the option of signing up to our free version mailing list, a monthly newsletter which includes tips, news and other info, as well as discounts on licenses of Terragen 4 products and more. If you don't wish to receive the newsletter, simply opt-out when you receive your newsletter confirmation email.