Terragen 4 Free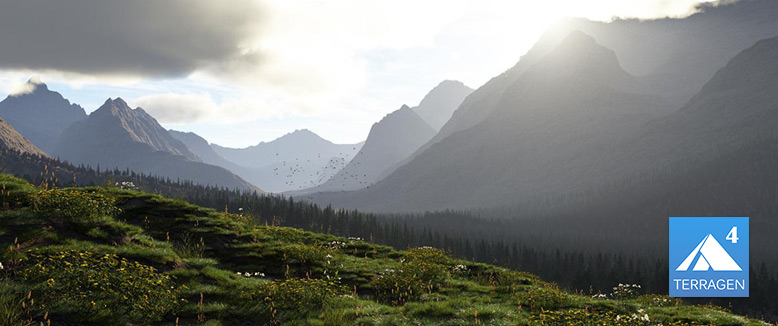 In order to download Terragen, we ask that you register and provide your email address. By providing your email address you will be signed-up to our free version mailing list, a monthly newsletter which includes tips, news and other info, as well as discounts on licenses of Terragen 4 products and more. If you don't wish to receive the newsletter, simply opt-out when you receive your first newsletter.
Terragen 4 is available both as a free download and as a licensed purchase option with additional features. The free version may only be used for non-commercial purposes, or 30 days of commercial evaluation, and the following basic limitations:
Render size maximum: 1280×900
Render detail maximum: 0.6
Antialiasing maximum: 6
Maximum number of rendered populations: 3
No animation, motion blur or GI cache to disk
No output of EXR or VDB files
Other differences listed on our Product Comparison Page
You may purchase a commercial license which will remove these feature restrictions. Your license grants you access to the full capabilities of Terragen 4 and 1 year of Maintenance (updates and support).
The Terragen 4 downloads on this page are for the free non-commercial edition. They may also be used by commercial users on a 30-day trial basis only.
PC
64 bit version of Windows 7 SP1, Windows 8, Windows 10 or Windows 11
Minimum 8GB of RAM – 16GB or more recommended
Minimum 2GHz Dual Core CPU – Quad Core or better recommended
Mac
OS X 10.8 or newer
Intel CPU or Apple M-series (via Rosetta 2 emulation)
Minimum 8GB of RAM – 16GB or more recommended
Minimum 2GHz Dual Core CPU – Quad Core or better recommended