Frequently Asked Questions
Purchasing and Licenses
Maintenance Policy and Renewal
Perpetual (non-subscription) licenses of Terragen come with 1 year of "Maintenance". This is a common term in the software industry which generally refers to a period of access to software updates and enhanced levels of support or other services.
Terragen Maintenance consists of the following benefits:
Access to all Terragen updates during the period of Maintenance, including both minor (e.g. 4.1) and major (e.g. 5.0) versions.
Priority support via email and forums.
Once your Maintenance expires, a perpetual license will continue to function indefinitely. You can use the most recent version of Terragen you installed at the time of your Maintenance expiration. However you will no longer have access to any newer updates that are released after the expiration of your Maintenance period.
Perpetual licenses of Terragen are sold with 1 year of Maintenance, which is renewable thereafter on an annual basis. You can find current Maintenance pricing on our Price List 
As of Terragen 4.1.25 (a free update for all Terragen 4 license owners), you can see the number of Maintenance days you have left by using the "Show License Info" option in the Help/Application menu. You can also determine your Maintenance end date by referencing your original purchase receipt. It will be 365 days from your license purchase (or the date of your last Maintenance renewal).
You can find the License Info box by going to Help->Show License Info on Windows or the Application Menu -> Show License Info on Mac. You should see the the name your license is registered to, followed by the date of expiration of the license, if any. Most licenses are perpetual and do not expire. Below that you will see the number of remaining days of Maintenance (shown highlighted in red in the image below).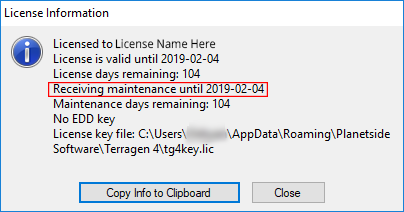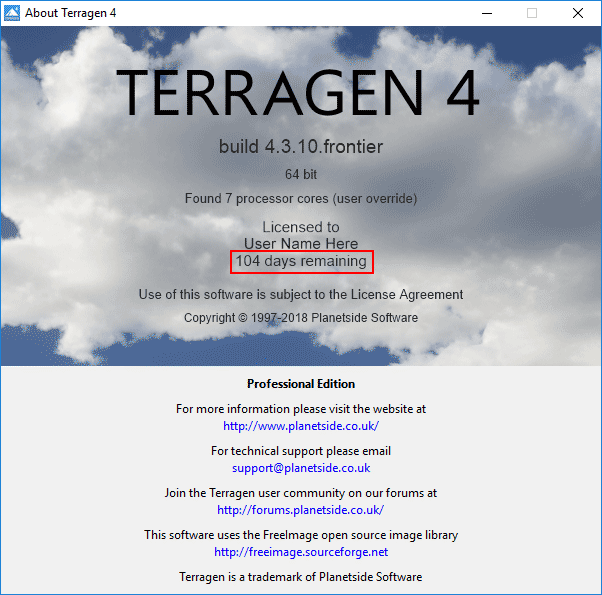 If you'd like to renew an expired Maintenance contract, simply login to our website on the My Account page. Then click the "View Licenses" link in the "License Keys" column next to the product you wish to renew. On the next screen you should see a "View Upgrades" link in the "Upgrades" column. Once you click that link you should see a list of your possible upgrade/downgrade options. Click "Upgrade License" to renew your Maintenance.
Please note that we do currently allow you to switch to the Creative version from the Professional version when you renew your Maintenance. This is considered a downgrade and if you use the new license key you will lose the features of the Professional version. The Maintenance renewal for Creative is considerably cheaper so if you find you don't need Professional version features any longer this may be a valid option for you to continue receiving updates. You can always choose to switch back to the Professional version in the future if you need a missing feature.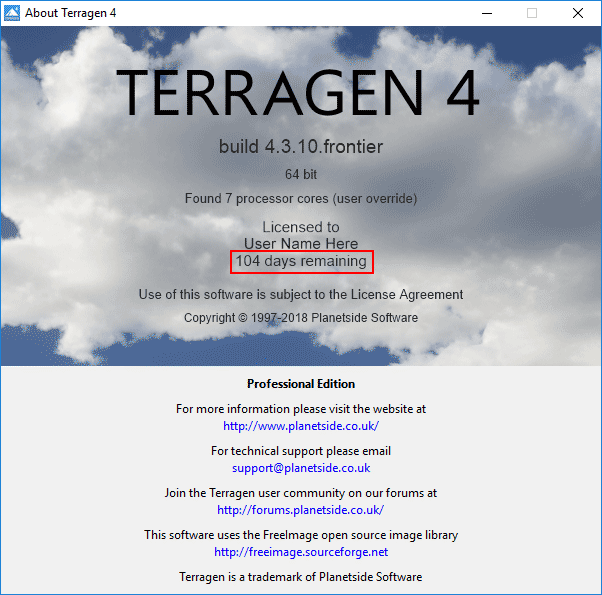 Subscription Policy and Renewal
All licensed versions of Terragen (Creative and Professional) are available on a subscription basis as an alternative to perpetual licenses. When you subscribe to a version of Terragen you receive a license key that unlocks licensed version features as long as you continue to pay the subscription fee. Your subscription will be automatically renewed unless you choose to cancel prior to the next renewal date. If you cancel your subscription, you will have access to licensed version features until the end of your final subscription period (depending on the length of your prior subscription).
Subscriptions are available on a monthly and yearly (annual) basis. Yearly subscriptions are paid in full in advance and come with a discount vs. monthly pricing as a result. Please see the Price List page for current subscription pricing details.
You can see the number of days you have left in your subscription on the startup splash screen and in the About box.
You can find the About box by going to Help->About on Windows or the Application Menu -> About on Mac. You should see the version number of Terragen, followed by the name your license is registered to, and the number of remaining days in your subscription immediately below that. It should look like the screenshot below.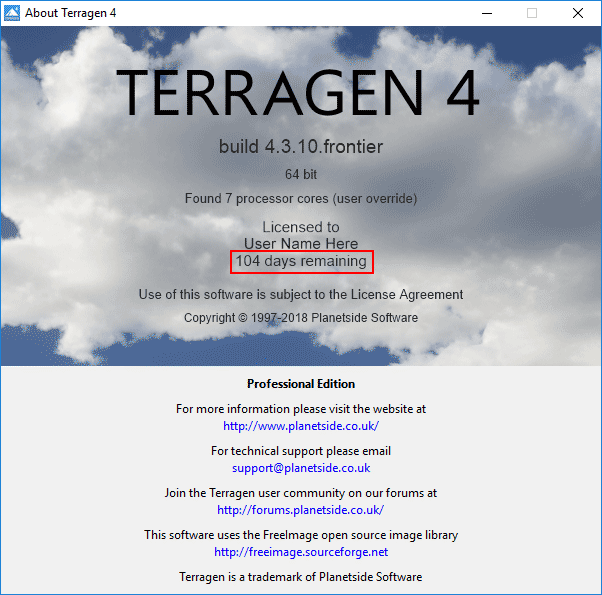 You can get more details about your license by using the Show License Info option, also accessible from the Help or Application menu.

Your subscription will renew automatically on the expiration date, ensuring you don't lose access to licensed version features unexpectedly. You don't need to do anything to renew unless your credit card expires or is cancelled. In that case you will need to enter the new card details once your current subscription period expires.
If you wish to cancel your subscription and/or avoid automatic renewal, you can do so through My Account. You will retain access to licensed version features through the end of your current subscription period. So for example if you have a year-long subscription and you cancel at the 6 month mark, you will retain access for 6 more months, to the end of your 1 year subscription period. We do not provide refunds or pro-rate subscription pricing.
Software Updates, Releases, and Versions
We provide complete change logs with each major release of Terragen, and some minor releases. A full list of change logs in chronological order can be found on our Change Log page.
We frequently make new and less tested upcoming releases available for open testing by the public. We call these "Frontier" builds, and they are made prior to the official public release of a given feature set or other update. They include the most recent updates and features at the time of their publication, and are intended to allow users to optionally review, test, and give feedback on upcoming releases.
We do not recommend that Frontier versions be used in mission-critical situations such as in a production environment. However you may wish to test these versions by installing them alongside your existing version, or on a separate, test-only workstation, so that you can get experience with upcoming changes, and provide any feedback you may have.
Please email support@planetside.co.uk with any comments, feedback, questions, concerns, or bug reports about Frontier builds.
Resellers and Affiliates
We do not currently have a formal reseller program. If you have a customer that wants to buy one or more licenses of Terragen, you may request a quote or invoice from us which you can pay on behalf of your customer. Once payment is received we can send the license and download information.
We recommend that you provide the customer's information to us in order to give them an account on our website so that they can access their license key and additional downloads more easily, as well as ongoing updates.
If you are interested in discussing a more formal long-term reseller relationship, please contact us at registrations@planetside.co.uk with details about your company and any proposed terms.
We do not offer discounts for resellers at this time. Please contact us if you would like to discuss mutually beneficial terms for a more formal reselling arrangement: registrations@planetside.co.uk