The new version really allowed us the freedom to realize the creative ideas we had for environments. I don't think I could give up my Terragen addiction at this point!
Rob Nederhorst
, former VFX Supervisor at Speedshape
Terragen can be so good I've been accused of stitching photos together, and not a single client has questioned the realism of the output. Most of the time I've managed to turn the job around far more quickly than the other routes available.
Going into TRON:Legacy I had experience supervising shows requiring a lot of atmospheric work so I wasn't particularly concerned about that aspect. The deeper we got into the show however the more and more demanding the work became.  Tron:Legacy was a show on a different level, and it required solutions and results both artistically and technically on a different level. Terragen delivered! With it artists filled the "grid" with heavily art directed and detailed cloudscapes. And you couldn't rely on any "tricks" because this was a stereo show that demanded a completely immersive experience.
I think its would be a crime to only mention the software and not the designer and programmer behind it, Matt Fairclough provided to us unbelieveable support, custom coding, retooling, and improving aspects to the software allowing the art direction that was needed. I will never hesitate to recommend Matt and his software to anyone needing "world building". I dare you to try it, you will not be disappointed!
Chris Harvey
, VFX Supervisor – Prime Focus
Terragen has been giving me incredible skies and environments for many years now. The team has taken an exponential leap in terms of photographic reality. I have done several projects with Terragen 2 where it has generated lighting and reflection HDRIs and those became the only light source in the 3D renders. With the ability to load georeferenced DEM data so easily and so accurately, guesswork is gone and you can concentrate totally on image fidelity. It's a piece of software I would not do without at this point. A serious primary asset in the tool belt.
Rob Nederhorst
, VFX Supervisor – Radium / ReelFX Creative Studios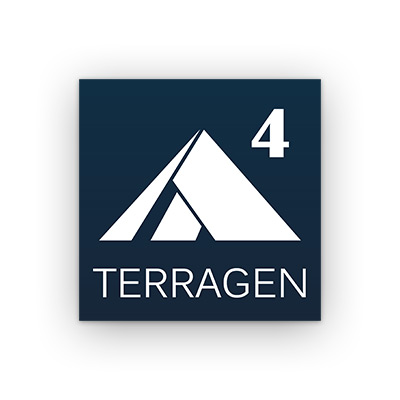 What is Terragen?
Terragen™ is a powerful solution for modeling, animating, and rendering realistic natural environments.
Find Out More...