Terragen Sky
Point, Click, Sky
Terragen Sky makes creating realistic skies, clouds and atmosphere a fast, creative and engaging experience. The core of the Terragen 4 sky model is utilized along with some new technology, providing a system that can be used in a vast array
of
applications
—
from
2
D
renders
to
interactive
360
°
HDR
environments
for
LED
virtual
production
volumes
.
Point, Click, Sky.
Simply click anywhere – The Sun is repositioned and the preview updates
Easily add cloud layers.
Simple Checkbox – Easily toggle on & off cloud layers.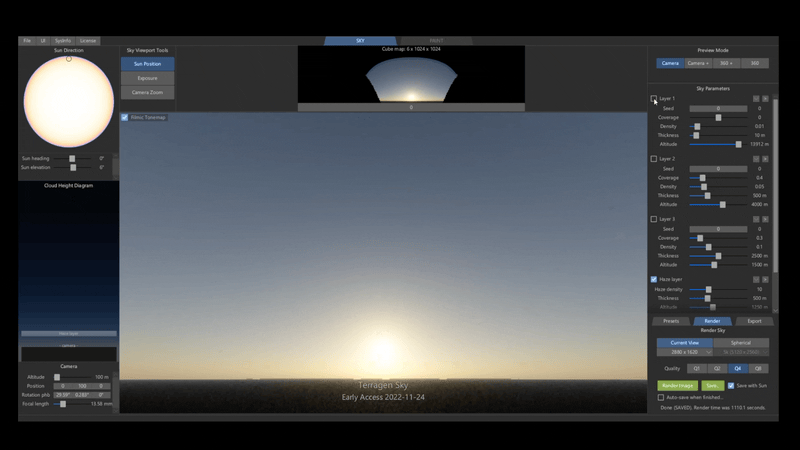 Sky Replacements
Terragen Sky allows for effortless creation of 2D sky images for background replacement, traditional matte paintings, or 360° HDR Environments for complete sky replacement.
The iterative process is fast and easy. Adjust your sky designs in real time. No more searching for relevant images with the right angle of the sun, and no more compromising on fidelity.
Simply click on where you want the sun to be and start adjusting the cloud layer's type, thickness, altitude and coverage with incredible ease. Animated cloud and sun time-lapse can easily be achieved by exporting the Terragen Sky scene to Terragen 4.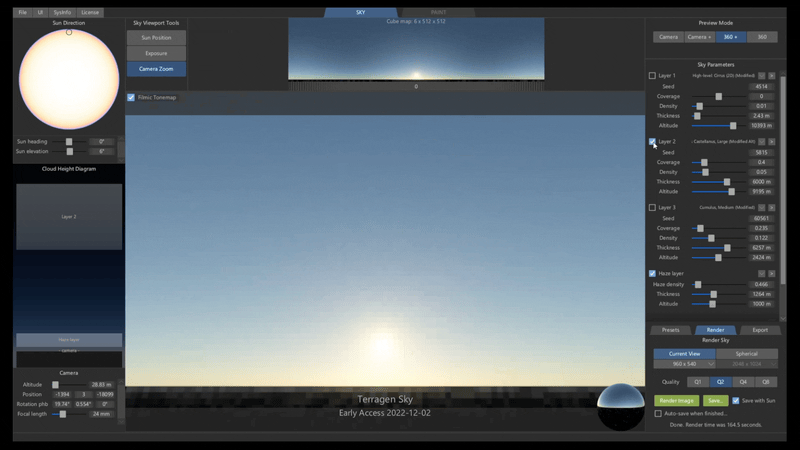 360° HDR Environments
Terragen Sky creates completely customizable, editable, and artifact-free 360° HDR Environments from horizon to horizon.
Terragen Sky allows you to concentrate on creating, instead of wasting time removing artifacts..
Producing high quality HDRs from photography is challenging due to 'visual pollution' from cloud movement, electrical pylons, birds, tops of buildings, jet contrails, street lights etc. Removing these artifacts takes time, and reduces the overall fidelity of the HDR image.
Terragen Sky makes this a non-issue.

Virtual Productions / LED Volumes
Virtual production is rapidly expanding in episodic and commercial work, and along with it the use of LED volumes. Using Terragen Sky as a dedicated environment and atmosphere system can be advantageous.  Not only can Terragen Sky render 360° HDR images in almost real time, but it can be prioritized based on your production's workflow.
Need the entire 360° HDR Environment to be progressively refined in endless fidelity? Click the "360+" button to instantly calculate the 360° HDR Environment then refine the light solution in the direction of the camera's frustum.
Or click the "360" button to progressively refine the entire 360° HDR Environment in endless fidelity.
Terragen Sky can update and output to a variety of DCC applications including V-Ray, Unreal Engine, Octane, Clarisse and others that automatically update their environment images. Just click the "Live Send" button — even in mid–render.
Remote Procedure Call (RPC) communication ports are in development to allow active cameras to be updated in real time.
Unreal / Unity / Game development
When it comes to game development,
Terragen Sky gets the lighting just right.

With a simple click in the viewport you can position the Sun to easily accommodate the time of day.
No more "painting out" artifacts in your HDR photographs, as Terragen Sky's 360° HDR environments are completely artifact-free from horizon to horizon.
When you need more "God Rays" just enable the Haze layer or increase the Atmosphere Haze density.
Architectural Rendering
Terragen Sky provides more realistic lighting solutions right out-of-the-box, compared to other packages offering basic cloud and sky models.
An extensive selection of pre-rendered 8K 360° HDR Environment presets are included, encompassing different times of day. 
All environment presets can be customized to create additional unique looks, or create your own custom sky environment from scratch.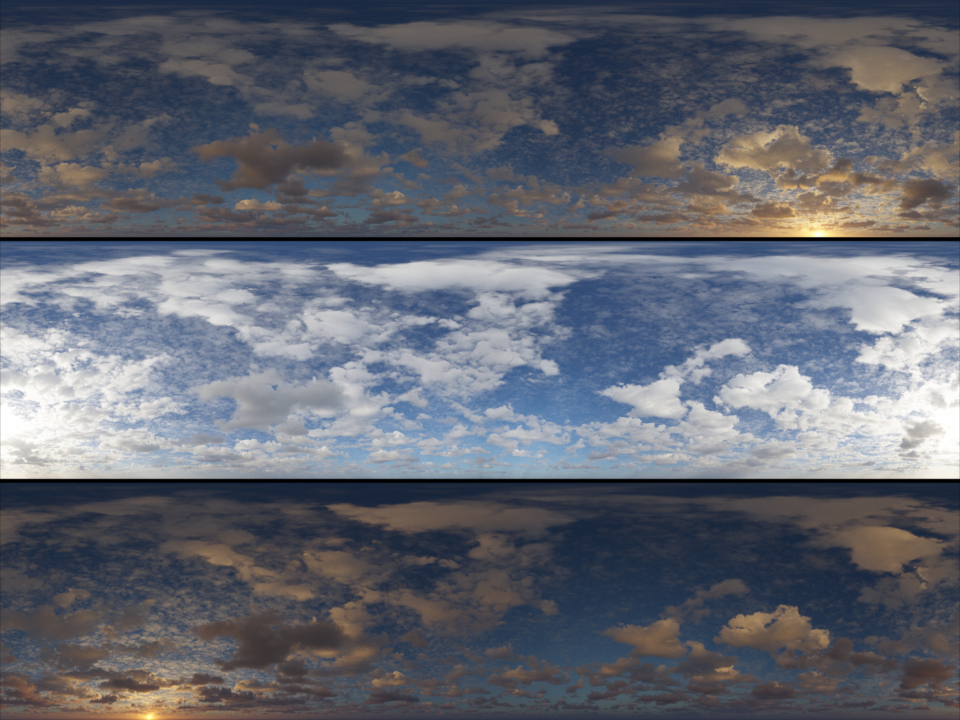 Early Access – Available Now
If you have an active Subscription or your Maintenance was valid on December 1st, 2022 for Terragen Professional or Creative, you have early access to Terragen Sky.