Terragen 4 Professional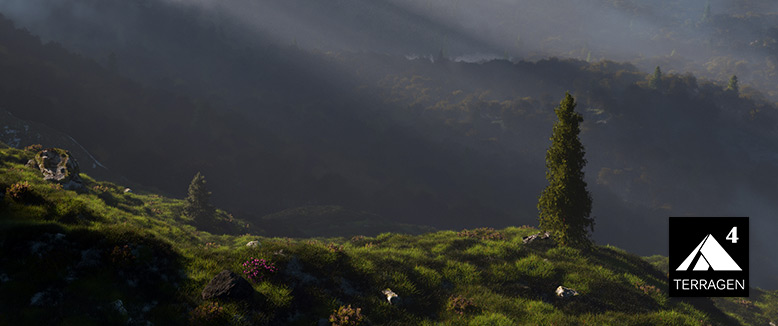 Terragen 4 Professional is the flagship product in the Terragen 4 line. It includes all the features of Terragen 4 Creative, as well a great deal of additional tools and technology specifically developed for professional use, and is the most full-featured Terragen product available. All licensed versions of Terragen 4 also include animation functionality, allowing you to animate nearly any setting or element in your scenes. To learn more about how the feature set of Terragen 4 Professional compares to other versions, check out our product feature comparison.
You can find out more about the Terragen 4 product line on the product tour pages.
When you purchase, you receive:
Terragen 4 Professional without feature restrictions (see Product Comparison for details)
Animatable parameters, motion blur, improved anti-aliasing for animations
1 year of Maintenance, which entitles you to free updates for all minor and major versions within your maintenance period (you may purchase Maintenance renewals at a discount for subsequent years)
License for a single user, with 1 Workstation (Interactive) installation and five additional render node licenses
PC
64 bit version of Windows 7 SP1, Windows 8, or Windows 10
Minimum 4GB of RAM – 8GB or greater recommended
Minimum 2Ghz CPU – Dual Core or better recommended
Mac
OS X 10.8 or newer
Intel only (PPC not supported)
Minimum 4GB of RAM – 8GB or greater recommended
Minimum 2Ghz CPU – Intel Dual Core or greater recommended