Terragen 4.3 brings new Easy Cloud animation animation tools, further rendering optimizations, OpenVDB export, and new rendering methods to experiment with, along with numerous other improvements and bug fixes. Read on for the highlights, or check out the full change log for full details.
Simple animation controls for Easy Cloud
Quickly create realistic cloud movement and shape "evolution" automatically
OpenVDB cloud volume export
You can now export Terragen cloud shapes to the open source OpenVDB format, compatible with a wide range of other applications. This feature is only available on Linux at this time.
Reduced render times for Easy Clouds and more
Optimizations to Power Fractal Shader V3 reduce render times for Easy Cloud and other scenes using the Power Fractal
Deferred Shading render method
This new rendering mode improves anti-aliasing of textures and lighting (e.g. soft shadows) on terrain and other displaced surfaces. May render faster or with higher quality than normal micropoly rendering. Image quality and render time depend on anti-aliasing settings.
New adaptive anti-aliasing options
Experimental new render anti-aliasing modes allow for higher quality renders with lower visible noise in equivalent render time. Higher levels of adaptivity are also possible, providing lower render times for equivalent quality in appropriate situations. These new options will be particularly important for the upcoming path tracer rendering method (available in 4.3 in an experimental state).
New Sample Rate render element
Useful for optimizing sampling settings with adaptive anti-aliasing
Path Tracing on surfaces
Path tracing provides increased realism in lighting interaction of objects and terrain. This is the fundamental rendering method employed by most major modern renderers. This rendering method will be slower than normal rendering, and may have some differences in material handling (e.g. specular surfaces). We don't recommend using this for production at this time.
Numerous fixes and improvements to rendering
These improvements together result in more consistent and high quality render output for many scenes.
Improvements and additional options for "Fuzzy Zone"
New options in Surface Layers and Distribution Shader provide more accurate results when needed.
Improvements and fixes to FBX import
Better handling of rotation order and Euler flips, added import of rotation and scale for nulls
Improvements to UI responsiveness and functionality
Progress dialogs are more responsive for long operations such as Heightfield Erode and can be more easily aborted, among other things.
Fixed crashes, possible memory leaks, and more
Although many of these issues occurred only rarely, we continue our focus on stability and reliability for Terragen
The 4.3 update is free to all users who have current Maintenance. We have also updated the Free Non-Commercial edition. To download the new version or check your Maintenance status just use the Check for Updates option in the Terragen Help/Application menu. Note that Terragen needs access to the Internet for this to work. Alternatively you can login to your account on our website and go to the details and downloads for your most recent Terragen purchase.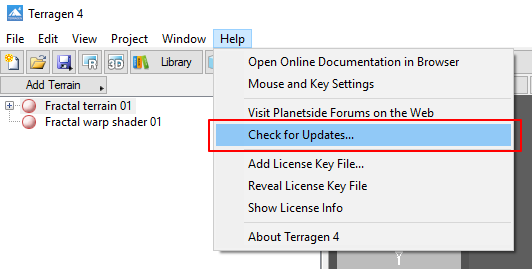 Maintenance lasts for one year from your original purchase, and then must be renewed annually to maintain access to updates. If your Maintenance expired before August 23, 2018, you'll need to renew it in order to access version 4.3 and future updates.