Check for updates!  Terragen Sky Early Access 2023-09-15 is now available!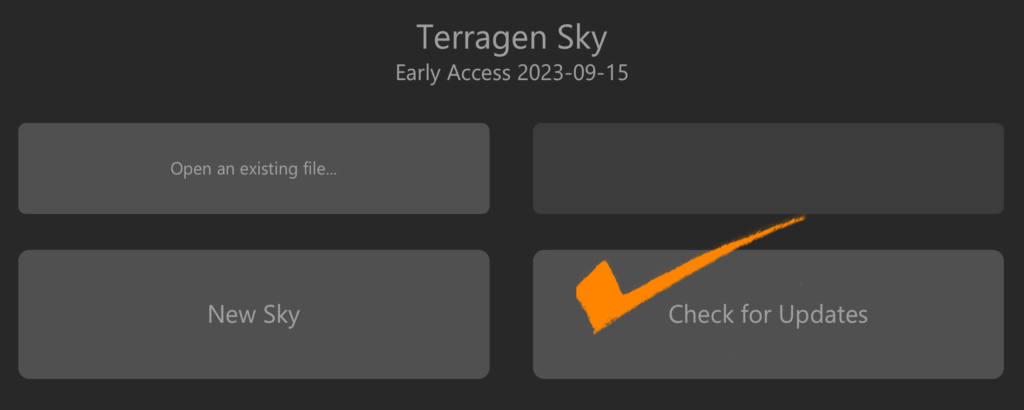 This latest build of Terragen Sky Early Access marks the fifth update since launching the program in December of 2022. In the latest build we see massive increases in resolution, a whole new file format to export, and enhancements to the Live Send 360 feature.
Live Send 360 Updates
The Export tab now sports several new checkboxes. You can choose to send the image to the Live Send 360 folder immediately after loading a preset, or at specified intervals as it renders.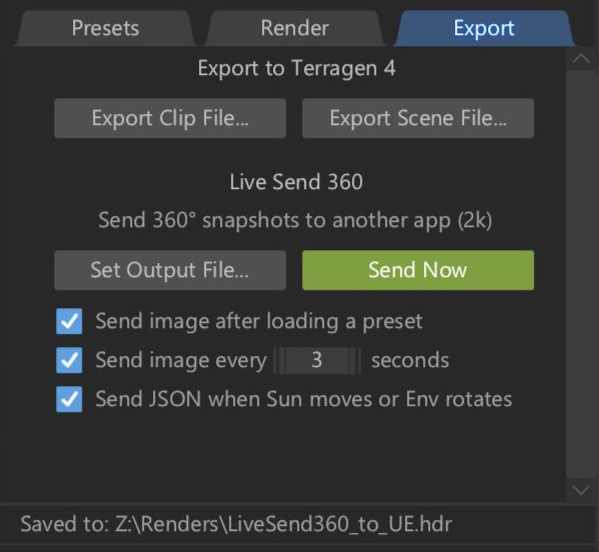 You can even export certain project data to a JSON formatted file, such as the Sunlight's position and colour, as well as the sky rotation from the Environment Rotation Roller. Third party applications supporting dynamic updating, like Unreal Engine, can access the information and their project assets can be synced with Terragen Sky.
Be sure to take a look at this video from Terratuts to see these new features in action.
Radiance HDR Output
Terragen Sky now supports Radiance HDR (.hdr) output. This option is available when saving a rendered image, setting up Live Send 360 or saving a copy of a pre-rendered preset.
32K Output
We've increased the maximum output render resolution to 32768 x 16384 in the Professional version.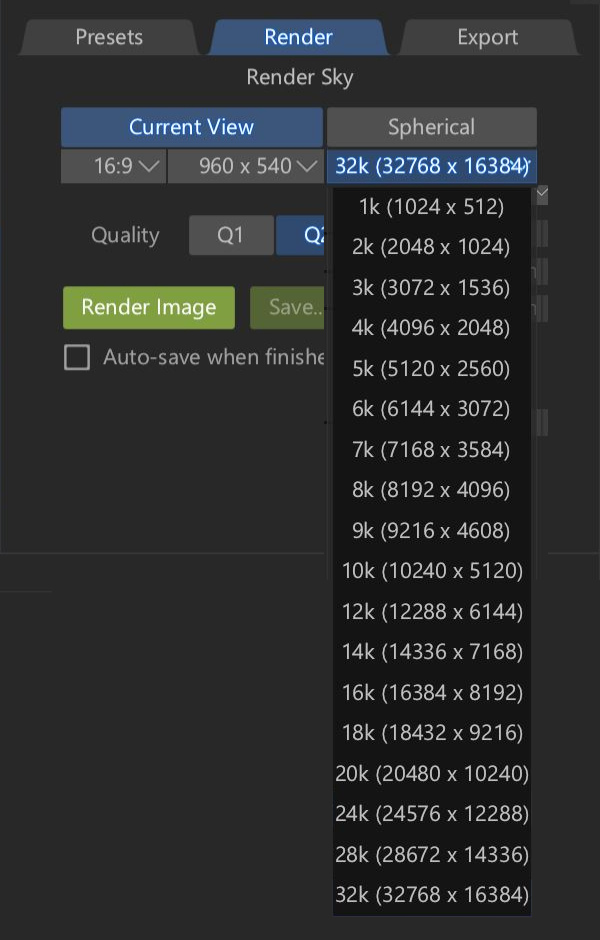 Early Access – Available Now
You can download Terragen Sky Early Access from your registered online account if you have a current subscription to Terragen 4 Creative or Terragen 4 Professional, or the Maintenance subscription on your perpetual license is currently active.  If your Maintenance expired before December 01, 2022 you'll need to renew it in order to have early access to Terragen Sky.
To download Terragen Sky please login to your account on our website and go to the details and downloads for your most recent Terragen purchase.
For more information about Terragen Sky click here.
---
GPU Development Update
Behind the scenes our development team is working towards integrating GPU rendering into the Terragen 4 product line, including Terragen Sky.  If you'd like to know more about GPU development take a look at this post focusing on what we've accomplished to date, what we're working on right now, and what's in store for the future.